This May 20-23, 2019, Toronto will host the 25,000 attendees expected at the Enercare Centre for COLLISION 2019, one of the largest technology conferences in North America. The York University School of Continuing Studies has joined the conference to showcase its Data and Technology continuing education programs—designed to reskill and prepare the workforce of tomorrow.
The School of Continuing Studies has set out to redefine the educational landscape in Canada, developing innovative programs to address the talent and skills gap in critical industries. Canada has a more educated workforce than ever before, but the talent pool does not have the competencies organizations need most—subject-matter and technological expertise combined with broader "human skills" such as communication, critical thinking and complex problem-solving. Experts estimate that half of all jobs are likely to be disrupted by technology and automation in the next decade, and public and private organizations must prepare to retrain, reskill or upskill their workforce in order to remain competitive.
#MachineLearning Students & #WomenInTech Represented at the Conference
The students who joined the winter cohort of the School of Continuing Studies' Certificate in Machine Learning will be attending the conference as a group to network with industry leaders, to represent Canada's Machine Learning future workforce and to take part in a unique and immersive experiential learning opportunity.
Special passes are also available for female attendees who represent Women-in-Technology (WiT) disciplines to highlight the need to bridge the gender gap in STEM. WiT ticket holders will have full access to the conference, plus exclusive access to the WiT mentor programme, technology lounge and other networking opportunities.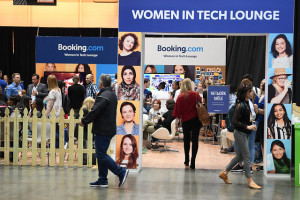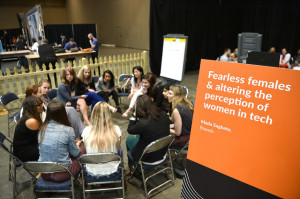 17 Conferences Under One Roof
The School of Continuing Studies will join hundreds of conference participants including expert panelists, guest speakers, company founders, investors, activists, educators and thought leaders who will gather to tackle trending topics. The conference boasts over a dozen individual "topic tracks" such as artificial intelligence, data, cyber security, software & web development, healthcare technology, marketing, design, music, and sustainability—among others.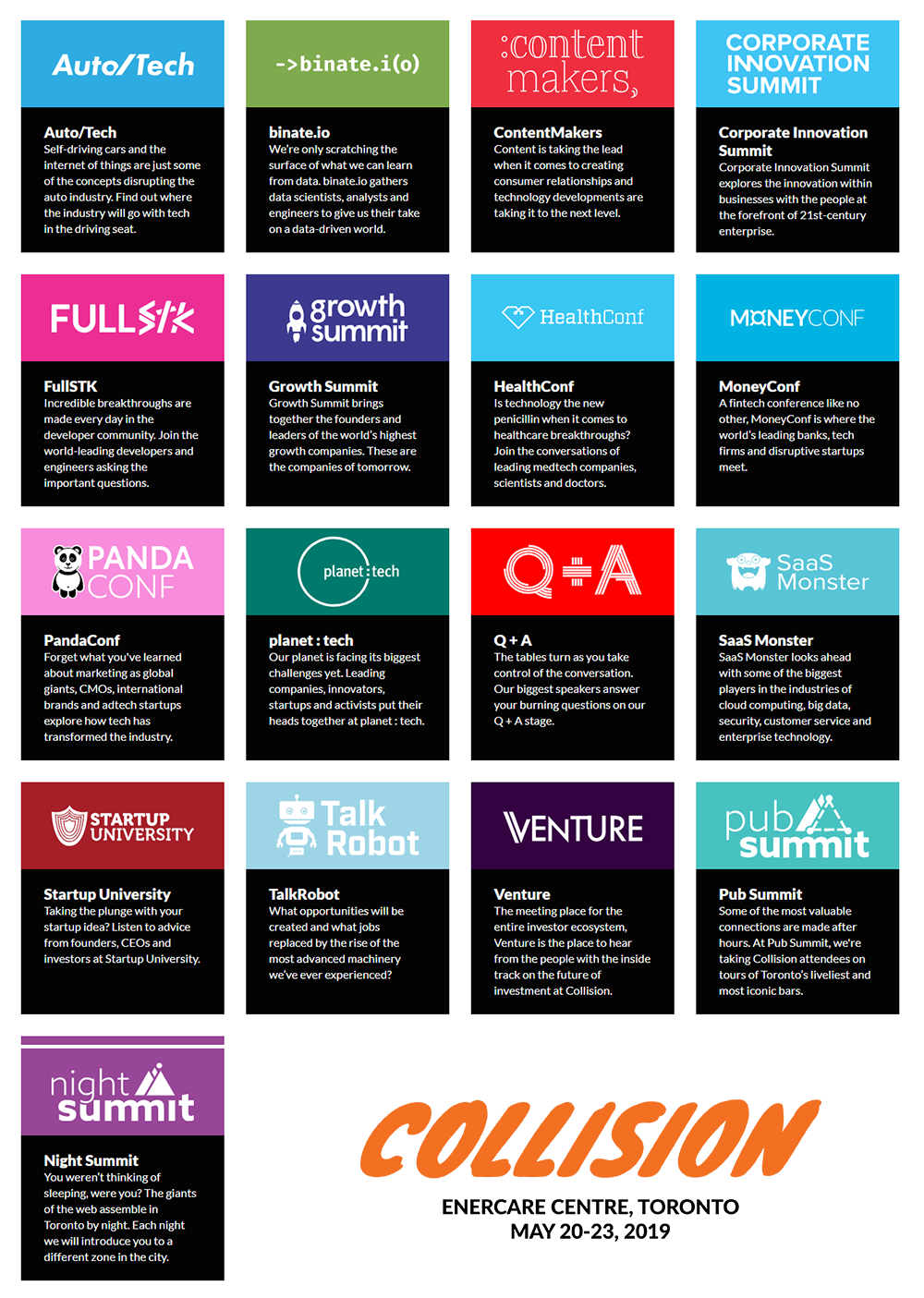 Speaker Lineup & Conference Schedule
The conference will also host an incredible lineup of speakers, including Toronto Mayor John Tory; Christopher "Jillionaire" Leacock, musician in Major Lazer; Katharina Borchert, Chief Open Innovation Officer at Mozilla, and Alex Chung, Founder & CEO of Giphy, among many others.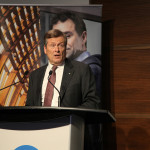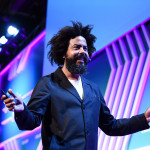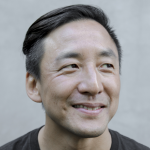 Preparing Tomorrow's Workforce, Today
At Collision, the School of Continuing Studies will feature its continuing education certificates in areas such as:
---
Media Contact:
Christine Brooks-Cappadocia
Director, Continuing Professional Education
School of Continuing Studies, York University
---
About York University
York University champions new ways of thinking that drive teaching and research excellence. Our students receive the education they need to create big ideas that make an impact on the world. Meaningful and sometimes unexpected careers result from cross-disciplinary programming, innovative course design and diverse experiential learning opportunities. York students and graduates push limits, achieve goals and find solutions to the world's most pressing social challenges, empowered by a strong community that opens minds. York University is an internationally recognized research university – our 11 faculties and 25 research centres have partnerships with 200+ leading universities worldwide. Located in Toronto, York University is the third largest university in Canada, with a strong community of 53,000 students, 7,000 faculty and administrative staff, and more than 300,000 alumni. York University's fully bilingual Glendon Campus is home to Southern Ontario's Centre of Excellence for French Language and Bilingual Postsecondary Education.
About The York University School of Continuing Studies
The York University School of Continuing Studies provides meaningful continuing education opportunities that combine guided instruction with practical application. Our programs are designed to develop the well-rounded professionals that employers value with both the deep discipline-based knowledge and the broad skills required to communicate and be effective within a multidisciplinary team. With a variety of options to suit your learning style and schedule, adding a recognized, respected credential has never been more accessible.