This week, thousands of attendees  are taking part in COLLISION's web-hosted talks and networking sessions, all about technology's role in current global challenges.
On day 1, more than 32,000 attendees from over 140 different countries heard 634 speakers. Among them was York University President Rhonda Lenton, who joined tech innovators and thought leaders to share her insight on change in post-secondary education. Day 2 promises another top selection of speakers, and we have featured our top talks to follow below:
Check out our favourite talks from Collision Day 2*:
11:25 A.M. – CHANNEL 2 – AMBIENT INTELLIGENCE: THE NEXT FRONTIER FOR AI
Bharath Kadaba, Chief Innovation Officer at Intuit



Thinking of a career in AI? We offer a program to help you reach your goals: Machine Learning.
11:25 A.M. – CHANNEL 2 – HOW BRANDS CONNECT IN A VIRTUAL WORLD
Melissa Selcher, CMO at LinkedIn
Neil Parker, Co-founder & Chief Strategy Officer at co:collective



Interested in this talk? Check out these related programs: Digital & Content Marketing.
2:35 P.M. – WORKSHOPS & MASTERCLASSES – WOMEN IN TECHNOLOGY: POWER YOUR TOMORROW
Colleen Ward, Vice President at TD Bank
Tina Robinet, VP, Business Shared Services Technology Solutions, Women in Technology Executive Chair at TD Bank Group
Norie Campbell, Group Head and General Counsel at TD Bank Group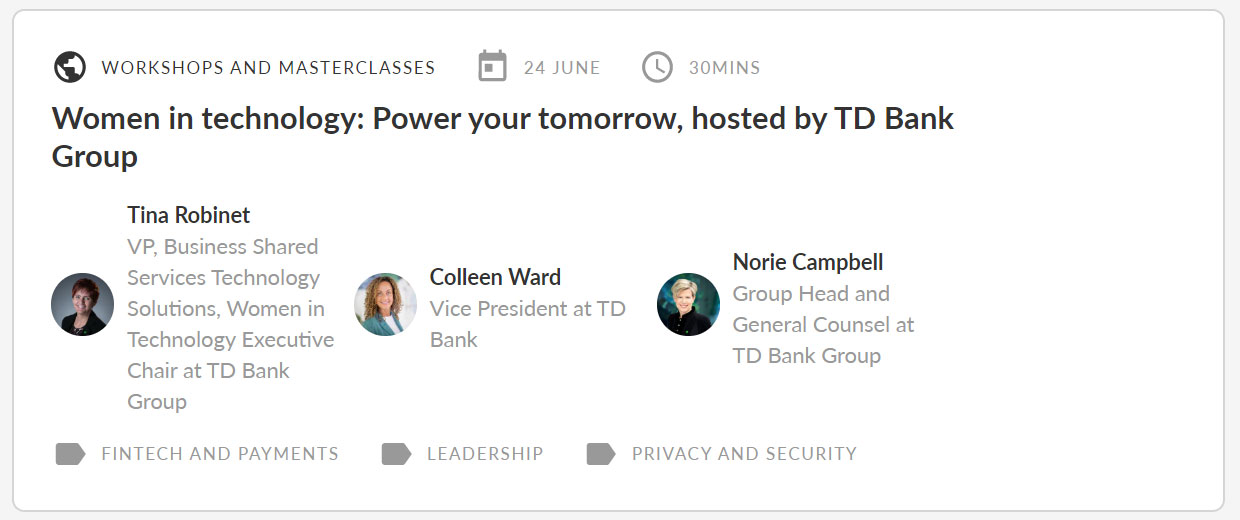 If you're interested in being part of #WomenInTech, explore 16 different options to help you grow your career with accelerated Data & Technology Programs.
4:15 P.M. – CHANNEL 2 – FROM THE FRONT LINES OF CYBER SECURITY
John Gilligan, CEO & President at Center for Internet Security
Steve Grobman, SVP & CTO at McAfee
Dave Gordon, Writer at Edge Leaders



Cyber Security got your attention? Browse our growing portfolio of related programs: Cyber Security, IT Audit Execution, Risk Management, Blockchain, Cloud Computing Strategy.
4:40 P.M. – CHANNEL 2 – DATA PROTECTION POST-COVID
Andrew Sullivan, President & CEO at Internet Society
Lee Rainie, Director – Internet & Technology Research at Pew Research Center
Steven Levy, Editor-at-large at Wired



Are you curious to find the story behind the data? Hone your skills with these programs: Big Data Analytics, People Analytics, Information Privacy.
* All images courtesy of Collision Conference.