"The
Winter 2021
section of the People analytics program was 
sold out
.
Register soon
 to reserve your spot for
Fall 2021
."
Leveraging your workforce data doesn't need to be difficult
Human resources professionals no longer have reason to fear data analytics. Thanks to new and emerging tools, analysis has become easier and no longer requires a strong statistics or programming background. By effectively using company data, the HR department can optimize its HR-related strategies and activities. These plans have significant cost savings to a company's bottom line. This is called People Analytics: a method of analytics that identifies how employee factors connect to a business's target outcomes.
As more organizations adopt human resource information systems, HR professionals have access to more systemized data than ever before. Companies need HR generalists and specialists who can look at this data and see more than just information, but who can interpret and translate it into actionable workforce solutions and communicate the value of these solutions to upper management.
Data analytics is one of the most in-demand and fastest-growing skill sets today, with Canada facing a skills gap of approximately 150,000 data-literate managers and analysts. So, while many organizations are embracing HR technologies, 46% of adopters do not have the fundamental data-driven skill set within their teams.
Data analysis is quickly changing the way companies do business. Now is the time to commit to learning this vital skill set in an accessible and practice-oriented environment.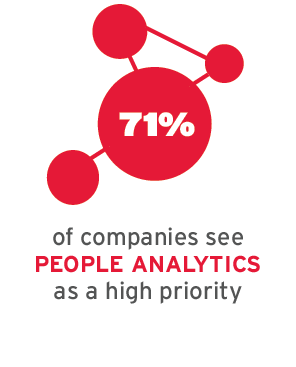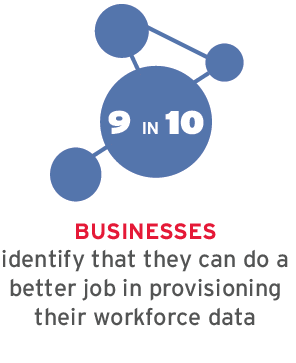 * Some restrictions. Additional fees apply.
Learning analytics has never been easier
The Certificate in People Analytics is the first program of its kind in Canada where, in an accessible and structured environment, you will work to become more comfortable visualizing data and using insights to tell a story. This online, 3-course program was created in collaboration with people analytics practitioners and designed to introduce students to the fundamentals of data analytics.
In 6 months of part-time study you will develop your skill set for foundational analytics, allowing you to find and apply data-driven insights to address HR-related problems. Examples of workforce solutions that you could develop through people analytics include reducing the cost per hire, improving candidate selection, raising the employee retention rate, and improving employee engagement.
Upon completion of the Certificate in People Analytics, you will also be able to:
Define HR-related business problems through an inquiry-based approach
Explain common issues in adopting people analytics and propose solutions for these issues
Consider the ethical and legal concerns in implementing people analytics solutions
Communicate data insights through visualization tools such as data models
People analytics is a collaborative process, necessitating teamwork across departments to solve complex issues. This program's course work will also develop your cross-functional competencies such as critical thinking, persuasion, negotiation and public speaking.
The final capstone project allows you to apply what you've learned during the program towards a real-world HR issue. Upon graduation, you will have the knowledge and practical experience to probe data for statistical insights and make thought-out HR and talent management decisions.
Who should take this program?
The Certificate in People Analytics is ideal for experienced HR professionals looking to upskill and advance their careers. If you are an HR manager wanting to steer your organization towards implementing people analytics solutions, or an HR generalist/specialist seeking to move into an HR Information Systems (HRIS) unit, this program is perfect for you.
This program is also beneficial for analysts wanting to focus on workforce analytics and learn more about the needs of HR professionals.
Program Format
As of March 16, 2020, all our Continuing Education programs will be delivered 100% online for the foreseeable future. Please see details in the
online delivery
section.
The Certificate in People Analytics is delivered in two different formats depending on your term of study.
In the Fall Term (September), the program is offered via blended learning, which combines online coursework with one required weekend online session per course (3 weekends over 6 months). In total, there are six (6) live, online sessions that take place over weekends (Saturday and Sunday). The live online sessions are facilitated by expert instructors and allow you to interact with your instructor and peers.
In the Winter Term (January), the program is offered in a 100% asynchronous online format. Log in, study, participate in discussions in your online course forum, submit your work, talk to your instructor and log off when you need to. As long as you stay on track with your course work, and finish within 6 months, you're free to make the program work around your commitments.
Fall – Blended
(Online Coursework +
6 live online sessions)

Winter – Asynchronous Online
(No live online sessions)

Format: Part-Time, Blended
Delivery:  online coursework + 1 required weekend online session per course
(3 weekends total, 6 live online sessions held over Sat & Sun)
Program Length: 6 months

Format: Part-Time, 100% asynchronous online (no live sessions)
Delivery: online coursework –
(no live online sessions)
Program Length: 6 Months
Our flexible online formats are designed to meet the needs of a wide range of students. You will be able to complete the full, 3-course program entirely online over the course of 6 months, and choose the best format that helps you balance your full-time work, family, or other commitments.
More Information
Online Delivery
In Ontario, gatherings are restricted, and universities are offering limited classes in-person for the foreseeable future. We have been successfully delivering many of our courses online for years. So please know that you will not be compromising on your learning experience. When the situation changes and it is once again safe to offer face-to-face instruction, full-time programs will make the transition back into the classroom.
Until then, this program will be offered in an online asynchronous format or "live online" format depending on the term. The Live Online format offers students the structure and group interaction of a face-to-face experience without travelling to York's campus. Our live online classrooms enable students to hear and interact with the instructor and other students like in a regular classroom. Course materials and assessments vary by course but students can expect online articles, videos, practice opportunities, discussion boards, etc. to help learn the content.
Upon completion of the Certificate in People Analytics program, graduates will:
Define a HR-related business problem through an inquiry-based approach that includes for purpose, scope and requirements
Explain the common issues experienced in adopting people analytics, propose solutions for each and calculate the return on investment for implementing solutions
Formulate the process of analysis in addressing a specific business problem
Assess for existing and potential collected data in identifying which business problems can be solved with people analytics, while also considering ethical and legal issues
Communicate insights in response to a HR problem supported by data visualization tools
Create measures of data quality and processes to ensure reliable data models and reports
Design and present data models that respond to workforce issues, i.e. talent acquisition, labour relations, employee engagement, etc.
The Certificate in People Analytics is a direct registration program.
Arjun Asokakumar
Arjun is the Director of Data Science for the enterprise People Analytics practice at RBC. In this role, he leads a team of data scientists tackling the bank's most important people related challenges through the use of advanced analytics, machine learning and AI. Arjun is a certified HR leader (CHRL) and brings 12 years of experience in the field. His previous roles include leading a People Analytics practice at BMO, Capacity and Workforce planning in technology consulting, and various other people operations functions. Arjun is a graduate of Queen's University in Engineering and Economics. He also holds a Masters in Management Analytics (MMA) from the Smith School of Business.
Education:
Master of Management Analytics (MMA), Smith School of Business, Queen's University Bachelor of Science in Electrical Engineering, Queen's University, Kingston, ON Bachelor of Arts in Economics, Queen's University, Kingston, ON
Designations / Certifications / Awards / Achievements:
Certified Human Resources Leader (CHRL)
Rob Catalano
Rob Catalano is passionate about helping companies succeed – by helping them focus on their employee experience. With his unique experience in HR Technology as a founding employee at Achievers, Rob co-founded WorkTango – a solution that helps give employees a voice and companies actionable insight. He has recently been named as a 2019 Top Global Employee Engagement Influencer, and is the Canadian Chairperson for The Enterprise Engagement Alliance, with a mandate to lead and help educate corporate, government and not-for-profit management on a formal process for implementing engagement across the enterprise community. He is an avid hockey and volleyball player, traveller, used to play guitar in a metal band, and in his own terms a 'pointaholic' – he collects loyalty points for everything and anything! You can reach him at rob@worktango.com or @RobCatalano on Twitter.
Education:
Bachelor Commerce, Marketing & IT, Ryerson University
Designations / Certifications / Awards / Achievements:
2017-2019 Top Global Employee Engagement Influence
Andrée Laforge
Andrée Laforge holds a Bachelor's Degree in Mechanical Engineering and an MBA from Laval University in Quebec City. She has more than 25 years experiences in management position in different organizations. She holds the position of VP Employee Experience and Product Manager at SYNTELL since 2011. She has been involved in several workforce analytics project in SME and large enterprises. She has built a reputation of experts in Workforce analytics in the province of Quebec and she is a frequent guest speaker and lecturer as well as author of several articles and publication on the subject. She is passionate about business intelligence, key performance indicators and human capital. She runs a blog called "Mesurer le capital humain". In 2018, she has been nominated in the "Top 100 HR analytics influencers.
Education:
MBA, Decision Support System from Laval University (Quebec City) 1988-1990 Mechanical Engineering Degree from Laval University (Quebec City) 1984-1988
Designations / Certifications / Awards / Achievements:
CHRP, SWP (Strategic Workforce Planner), Top 100 HR analytics influencers in 2018
Carla Spina
Carla Spina is a dedicated and experienced human resources professional with over 20 years of experience. She is currently the AVP HR Business Partner at CAA Club Group (CCG), where she oversees employee relations, labour relations, talent acquisition, talent management and organizational design. She has been with CCG for over 17 years, having held many progressive roles in pension and benefits, HRIS management and HR consulting. Prior to CCG she worked at OnX and Mother Parkers Tea & Coffee. Outside of work, she is very passionate about her family and is an advocate for working professionals to find harmony between their career and personal life.
Education:
McMaster University Bachelor of Sociology Humber College Post Graduate Program – Human Resources
Designations / Certifications / Awards / Achievements:
Masters Certificate in Leading Business Excellence Schulich School of Business – York University Certified Achieve Global Trainer – Leadership and Teamwork Queen's Mental Health@Work Leadership Certificate
Farzeen Foda
Farzeen Foda is a Talent Strategies professional with experience in corporate strategy, talent acquisition, and organizational design. Her experience spans the healthcare and financial services industries where she has leveraged technology, data, and continuous improvement to drive change in alignment with strategic objectives. In her current role, she manages CIBC's Student Internship Program, designing high-value, high-impact work placements for early talent. In her spare time, she enjoys channeling her creativity toward home decor, crafting and DIY experiments.
Farzeen holds an HBSc. Life Sciences, from McMaster University and an MBA from the Rotman School of Management, University of Toronto.
Geoff Ho
Geoff is a director and behavioral scientist leading a strategic research team using science, advanced analytics, and consulting to shape Rogers' management strategy for its 26,000+ employees. Prior to joining Rogers, Geoff worked at Google's People Analytics team and 4 Fortune/Forbes Global 1000 Companies, received a PhD specializing in Organizational Behavior at UCLA, and obtained both a Master of Industrial Relations and Bachelor of Commerce from the University of Toronto. His award-winning research has shaped government legislation and organizational policies, been published in prestigious academic journals and best-selling books, and received global media coverage.
Geoff holds a Ph.D in Management & Organizations from UCLA, and completed a Master of Industrial Relations and Human Resources and a B.Comm at the University of Toronto.
Miranda McKie
Miranda McKie is a Data Architecture and Engineering Manager and leads the People Analytics function for Accenture Applied Intelligence Canada. In her role, Miranda helps her clients across various industries including financial services, educational, transportation, and the broader public sector leverage their data as a corporate asset through the development of solution architecture and the implementation of Advanced Analytics. Miranda is passionate about Inclusion and Diversity Analytics and has worked on various initiatives focused on utilizing artificial intelligence capabilities to gain insights on systemic issues that impact women in the workplace. Miranda leads the GTA Women's ERG and is a Board Member on the Toronto Board of Trade's Young People's Committee. She is also very involved in Accenture's pro-bono practice.
Prior to Accenture, Miranda co-founded and was the President of a non-profit, Young Women in Business (YWiB) Toronto, which provides over a thousand Toronto women with a strong and sustainable network of support to enable their professional development. Miranda's work in advancing women in the workplace led her to be the 2020 recipient of Catalyst Canada's Emerging Leader Award.
Essentials of People Analytics
Advanced Applications for People Analytics
Analytics Project Design and Delivery
Register for this Program