Master the evolving landscape of risk management
Effective risk managers are more essential to modern organizations than ever before. The rapidly changing digital space is full of potential threats—not to mention the many new risks in enterprise and information technology that require assessment and management. Even operational risks like human resources have grown increasingly complex. Employers in the private and public sector require trained risk managers to both mitigate negative risks and identify positive opportunities.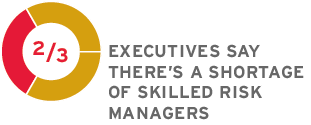 More and more businesses are investing in ways to identify and manage the risks that they face. While the forms and types of risk change and evolve, one thing is certain—the field of risk management is on the rise and qualified professionals can thrive in this industry. Over the next two years, 88% of Canadian organizations plan to invest in their risk management capabilities.
In other words, there has never been a better time to learn how to identify, assess, monitor and limit risks.
Take the next step in your career
Certified Risk Managers currently make an average salary of $84,000 per year, a figure that may rise as the demand for qualified individuals grows.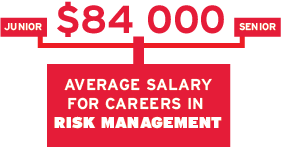 Program Overview
The new Certificate in Risk Management prepares working professionals for risk manager and risk management analyst positions. It also provides valuable training for managers who have recently taken on risk management responsibilities. The specialized knowledge and skills gained will be immediately applicable in the workplace while also opening doors for future opportunities in the field.
Program Format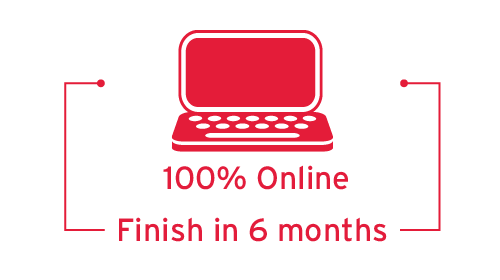 The program consists of three online courses, with one optional live session per course.
The accelerated eight-week course format means the program takes only 6 months to complete (though you can extend it to 12 months if you prefer.)
Get the latest industry knowledge with access
to our Real-Time Risk webinar series
Studying Risk Management at York gives you twelve full months of free access to our exclusive Real-Time Risk webinar series, where industry experts discuss emerging topics in risk management. Topics include cyber security; natural disasters (the recent Fort McMurray wildfire, for example); and the evolving role of risk management in specific industries. This is a highly valuable professional resource that you will have at your fingertips.
The Real-Time Risk Webinar sessions give you the opportunity to interact with your instructor or guest speakers to review current topics, to ask clarifying questions, to explore how concepts studied might apply in the workplace, or dig deeper into particular topics. As an added bonus, each Real-Time Webinar session is recorded so that you can review it later if you need to.
Prepare for your Canadian Risk Management (CRM) designation
Graduates of this certificate are eligible to write the exams for the Canadian Risk Management (CRM) designation, administered and conferred by the Global Risk Management Institute (GRMI), and recognized by the Risk and Insurance Management Society (RIMS). Attaining the CRM designation, in combination with the Certificate in Risk Management, will distinguish you as a qualified and skilled candidate in the field.

If you are interested in pursuing the CRM designation, the GRMI and RIMS have their own requirements regarding application, admission, program and membership. Students should contact the GRMI and RIMS directly for more information. See the RIMS website for accreditation requirements
.
Who should take this program?
Risk management professionals preparing for their CRM designation.
Managers, supervisors, and team leaders who have recently taken on risk management responsibilities.
Business students and current business professionals who are looking to enter the growing field of risk management.
For professionals working in:
Finance
Health
Insurance
Construction
Food Safety
other industries that deal with risk
"The Certificate in Risk Management is designed to provide risk professionals with relevant theoretical knowledge and application techniques to position them for success".

~ Dinesh Garbharran, Interim CRO, TD Insurance & VP, Risk Management, TD Bank (Advisory Council Member)
Risk Management Principles and Practices
Understand hazard, operational, financial, and strategic risk concepts. Learn to identify, analyze, and treat risks. Explore processes, frameworks, and techniques for monitoring and reporting on risks, utilizing risk management standards and guidelines.
Risk Assessment and Treatment
Explore methods for assessing risk and identifying appropriate treatments for risk minimization. Study theories of accident causation, root cause analysis, the application of various strategies for treating risks, and how to motivate risk treatment within an organization.
Risk Financing
Examine the selection, implementation and monitoring of risk financing techniques. Explore subjects such as transferring risk through insurance, types of insurance such as self-insurance plans, retrospective rating plans, captive insurance, finite and integrated risk, and capital market options.
Senior executives from many of Toronto's leading organizations help us ensure that our graduates have the skills and knowledge that employers value most, including the following:
Dinesh Garbharran, VP, Risk Management, TD Insurance Risk
Dinesh Garbharran is currently Vice President, Risk Management, TD Insurance (TDI). Dinesh assumed leadership of the Risk Management function supporting TDI in May 2014.  Dinesh joined TD Bank Group in December 2013.  Prior to joining TD, Dinesh was the Head of Enterprise Risk Management for Standard Bank Group in South Africa from 2012-2013. Previous to this, Dinesh was the Group Chief Risk Officer of Discovery Holdings (2004 – 2012).  Dinesh holds Masters of Science degree from the University of the Witwatersrand.
Mike Soegtrop, Manulife,  Director, Crisis Management, Global Information Risk Management
Biography will be posted soon.
Derek Tang, OPG,  Director, Insurance Risk Management
Biography will be posted soon.
Garvin Deokiesingh, AGF,  Vice President, Audit and Enterprise Risk
Biography will be posted soon.
Michael Galin, TELUS, Director, Risk Management
Biography will be posted soon.
Tina Gardiner, The Regional Municipality of York,  Manager-Insurance and Risk, Treasury Office, Finance
Biography will be posted soon.
Halim Haddad, Senior Vice President, Chief Risk Officer & Chief Compliance Officer at HomEquity Bank
Biography will be posted soon.
Riaz Juma, BA, MBA, CRM
Riaz Juma is the Director of Insurance and Risk Management at CAP REIT, one of Canada's largest residential property owners. CAP REIT also has significant residential real estate portfolios in Ireland and the Netherlands. His insurance and risk management career has spanned thirteen years and has included time in claims and insurance broking, as well as in risk management at Triovest Realty Advisors, Bentall Kennedy and Brookfield Asset Management. He has completed a Bachelor of Political Science at York University and a Master of Business Administration at the Schulich School of Business and also holds the CRM Designation.
Darius Delon, MBA, FCIP, CCIB, CRM, RIMS-CRMP
Darius is a risk management consultant (Risk Management 101) and past-chair of the RIMS Canada Council (RCC), past-president of the Southern Alberta Risk and Insurance Management Society (SARIMS) and a risk and insurance practitioner for the past 25 plus years. He has worked with very large organizations, such as the Calgary Board of Education, with 100,000 students and 10,000 staff. Darius has also worked with organizations that have operations all across Canada, with over $10bn of property under management, and post-secondary institutions with very diverse risk profiles (e.g. academic, research, student travel, fundraising and provincial budget risks).
Tony Rossi, BA, MBA, FCIP, CRM
Tony Rossi is a risk management industry professional who has practiced in both traditional and enterprise risk management roles within the public sector. Tony's 20-year career includes implementing an enterprise risk management framework, establishing large self-insured deductible programs, managing claims administration departments, and implementing effective risk control measures. Tony has been teaching risk management courses since 2004 and strives to provide students with a valuable learning experience.
The Certificate in Risk Management is a direct registration program. No application process is required; simply enrol in the session of your choice to get started.
Given the experiential and practical nature of the courses and the application of Ontario's Freedom of Information and Protection of Privacy Act (FIPPA) to York University, The School of Continuing Studies works to ensure that instructors and participants acknowledge and respect the privacy and confidentiality of personal information that may be presented in the context of instruction. Instructors will limit the amount of personal information that is collected, used or disclosed in their sessions, and will ensure that all identifying personal information (including proper name, address, etc.) is omitted from all written documents in order to protect personal privacy and confidentiality. Instructors should not bring or share personal or other confidential files or records with the class or allow students to do so.
We are committed to protecting your privacy and your financial security, and we do this in several ways:
Your credit card information is never received or stored by our system. Only your financial institution has access to your credit card information.
Your Student Portal is password-protected. To access any personal and academic information, you must enter your username and portal password.
Online – Visit our website at continue.yorku.ca to register in any course or program offered by the School of Continuing Studies.
All registrations are processed on a first-come, first-served basis, so early registration is recommended.
The School of Continuing Studies reserves the right to alter fees, other charges, instructors and course dates/locations described in this brochure.
You may be eligible to transfer a maximum of one equivalent course credit from other institutions and receive advanced standing. Transfer Credit requests can be forwarded to the Program Manager for approval via email at mdebona@yorku.ca, or in writing to: School of Continuing Studies Attention CHRM Program Manager 4700 Keele Street – Room 123 Atkinson Toronto, Ontario M3J 1P3, prospective students are permitted to transfer one course with approval of the Program Manager (discounted based on cost of course). Approved courses for advanced standing must meet the following criteria:
There must be a 90% overlap in content and curriculum, and the same number of hours as the courses offered in SCS's program.
The courses must be at the university level (from an accredited academic institution) with a grade of B or better. College equivalents will not be considered.
All submissions must be sent in writing to SCS's Program Manager along with:
An official transcript outlining the course completed
The contact hours
The final grade
The official transcript (sealed)
Full course outlines must also be submitted that contain:
The full course description
Learning objectives
Assessment and reading materials
Weekly content covered
Please note that incomplete packages cannot be reviewed.
All correspondence, including your registration confirmation, grade report and refund cheque,  will be sent to the email address provided at the time of registration.
To maintain accurate student records, notification of any changes to your name, address and contact information are required. To update your personal information:
go online to Contact Us and email all changes
OR
submit a written request to the Registration and Student Records Coordinator
All name-change requests must be accompanied by official documentation justifying such a change.
We will not accept telephone requests to change a name or address.
Income Tax receipts will be available online in February of the following year. Please refer to the income tax guide for allowable deductions.
Students must contact the Program Manager for permission to transfer to another session.  Please note that there is a $150 administrative fee for transferring from one session to the other.
When necessary, the School of Continuing Studies may alter, postpone or cancel classes. In these instances, students will be notified by email, based on the information provided at the time of registration.
Cancellations or changes will also be posted on the School of Continuing Studies Twitter account.
The School of Continuing Studies reserves the right to withdraw or cancel programs/courses. Should a course or program be withdrawn or cancelled, the School will issue a full refund of fees paid.
Students and instructors are expected to maintain a professional relationship characterized by courtesy, collegiality and mutual respect, and to refrain from actions that would be disruptive to such a relationship;
It is the responsibility of the instructor to maintain an appropriate academic atmosphere in the classroom, and the responsibility of the student to cooperate in that endeavour; and,
The instructor is the best person to decide, in first instance, whether such an atmosphere is present in the class, and may, at their discretion, take steps that they feel are appropriate to resolve an issue or dispute.
In any case where a student feels that this policy has been violated, they are urged to notify the instructor of the course/program as soon as possible. Students may be asked to provide a detailed written description of their complaint to the instructor. The instructor may take measures they feel are appropriate to resolve the issue and/or may forward the complaint to the Program Manager for review. Please refer to the full policy document on the York University website at: http://www.yorku.ca/scdr/
Students registered in certificate programs will be evaluated using the following categories of achievement:
Grade
%
Description
A+
90 – 100%
Thorough knowledge of concepts and/or techniques, and exceptional skill or great originality in the use of those concepts/techniques in satisfying the requirements of an assignment or course.
A
80 – 89%
B+
75 – 79%
Thorough knowledge of concepts and/or techniques with a fairly high degree of skill in the use of those concepts/techniques in satisfying the requirements of an assignment or course.
B
70 – 74%
C+
65 – 69%
Good level of knowledge of concepts and/or techniques together with considerable skill in using them to satisfy the requirements of an assignment or course.
C
60 – 64%
D+
55 – 59%
D
50 – 54%
F
Below 50%
Insufficient knowledge of concepts and/or techniques needed to satisfy the requirements of an assignment or course.
PASS
Pass is awarded as a grade only to courses that have an experiential component. A student that has received a Pass has met the requirements of the course.
FAIL
Fail is awarded as a grade only to courses that have an experiential component. A student that has received a Fail has not met the requirements of the course.
EXEMPT
Exempt is awarded to those that have completed a comparable course elsewhere and have met all of the requirements for completion of that course.
DNA
Did Not Attend – The student did not attend, did not withdraw, and did not submit course work.
DNC
Did Not Complete – The student did not complete the course.
Students may, with sufficient grounds, request a reappraisal of any "tangible" work required for a course/program. Tangible work may include written, graphic, digitized, modelled, video recording or audio recording formats. Students seeking a grade reappraisal must complete and submit the attached form, along with the original work and instructions for the assignment, to the Program Manager within 2 weeks of the date of issue of the letter of grade.
Students and instructors will be informed in writing of the reappraisal result and the reappraiser's comments. The School of Continuing Studies will ensure the anonymity of both the student and the reappraiser.
You may submit a financial petition if you experience a serious documented medical illness or a death of an immediate family member that causes you to drop courses. Financial petitions may be granted at the discretion of the University, and will be considered for a period of one year after the occurrence of the illness or death.
The Financial Petition form is located here: http://sfs.yorku.ca/refunds/petitions/
Please complete the form and return it via email continue@yorku.ca or via fax at 416-650-8042.
Register for this Program