Use machine learning solutions to change the world of business
As the world becomes more automated, more companies than ever are investing in machine learning to keep ahead of the curve. In fact, recruiting machine learning talent is a top priority across the board, with companies investing more in machine learning than in any other area of Artificial Intelligence (AI). The job market for machine learning specialists is expected to grow 56% in the next few years, with a recent growth of over 900% in the GTA (Greater Toronto Area) alone!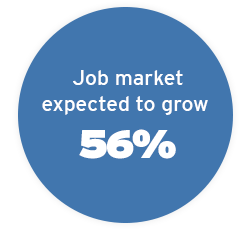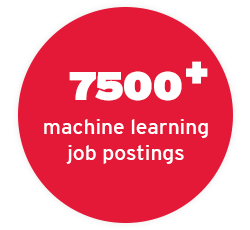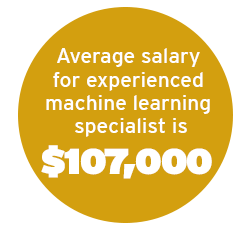 Growth in Machine Learning jobs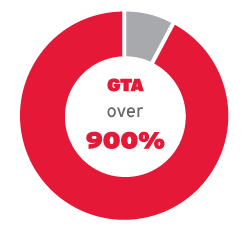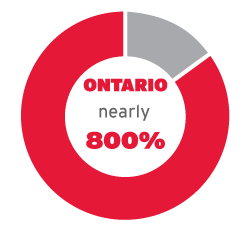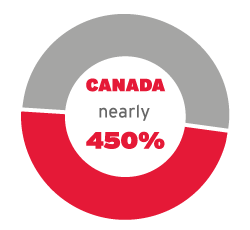 Take your skills beyond code
In the current job market, it's not enough to be a Python wizard or statistical genius. Top employers are looking for machine learning specialists who understand the business and ethical impact of their work. The Certificate in Machine Learning was created in collaboration with industry leaders, including major banks, ensuring that you graduate with the exact skills and real-world experience that will land you the job you want.
You'll work on one main machine learning project from start to finish, giving you the chance to build upon your technical skill while gaining a holistic understanding of machine learning as it relates to current business applications. You'll learn key skills that will allow you to:
Build a business case to support the implementation of machine learning solutions in various industries
Identify and assess the viability of different machine learning models using data, and explain your recommendations clearly to an employer
Use project management principles to plan and execute a machine learning solution
Use Python (and other languages) to create, implement and test machine learning algorithms in real-world scenarios
Who should take this program?
The Certificate in Machine Learning is for anyone with at least a second year undergraduate level understanding of linear algebra, calculus and inferential statistics. You'll also need to demonstrate knowledge of, and experience in, Python.

Machine learning specialists work in a variety of industries, including:
Data Science
Healthcare
Finance
Automotive
Program delivery
We know that fitting continuing education into your schedule isn't easy. So we make it easier by offering a flexible study format that works around your commitments.
The Certificate in Machine Learning is an 8 month part-time program, taken mostly online. You'll come to our Keele Campus in Toronto, ON for five 3-day weekends over the course of the entire program. This format allows you to easily balance your studies with your work and home life.
Finish in 8 months
Students in this program learn to:
Describe the major business use cases of machine learning in various industries and how it provides monetary and other value to respective entities.
Assess the appropriateness of various techniques in identifying machine learning solutions to business problems with highest efficiency and least resources.
Develop a comprehensive plan for a machine learning project that incorporates principles from different project management methodologies.
Prospect the feasibility of a machine learning solution being successful by comparing the data requirements with available and usable data.
Select machine learning models within supervised, unsupervised and reinforcement learning paradigms that map to specific business cases and challenges.
Design the various evaluation metrics and procedures required for model selection and explain the business rationale for use of the selected model.
Create, implement and test machine learning algorithms in various real-world scenarios using Python and other languages and frameworks.
Assess developments in artificial intelligence for ethical and public policy considerations as they relate to data privacy and protection, profiteering with meta-data, and various social and civic issues.
Present a business case for implementation of a selected machine learning solution that communicates the potential value-add, and using accessible language
Machine Learning in Business Context
Applied Machine Learning and Lifecycle
Machine Learning at Scale
Machine Learning Capstone
Course descriptions will be posted soon.
We are updating our program policies. Please check again later.
Register for this Program