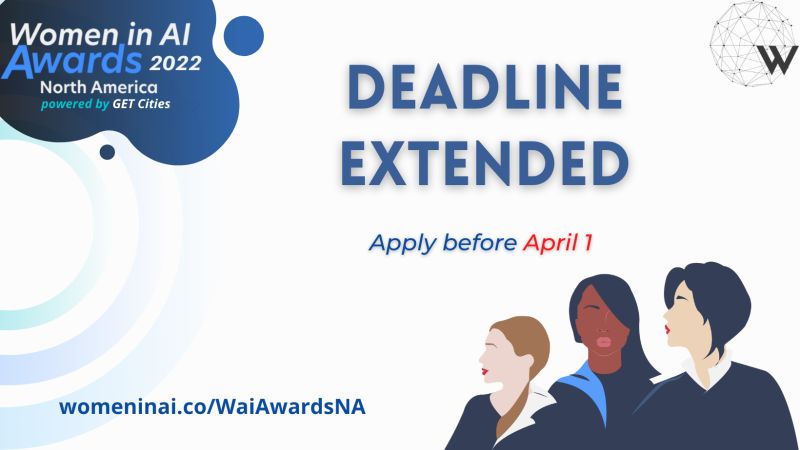 Have you taken one of our Big Data Analytics certificates or our Certificate in Machine Learning? Perhaps you'd like to spotlight one of your women classmates or even yourself!
The York University School of Continuing Studies invites all graduates and current students in our AI programs to learn more about the Women in Artificial Intelligence Awards North America 2022.
If you are a North American female innovator, researcher, policy-marker, leader or practitioner in AI, in Start-up, Government, Research or working on AI for good initiatives, you are encouraged to apply and be recognized through this prestigious award!
Deadline extended! Apply before April 1, 2022.
You can nominate others or self-nominate.
https://www.womeninai.co/na-awards-category
The first edition of Women in AI North America 2022 has 8 awards:
AI in Startups Award – AI Entrepreneur of the Year
AI in Research Award – AI Researcher of the Year
AI for Good Award – Responsible AI Leader of the Year
AI for Good Award – DE & I (Diversity Equity & Inclusion) AI Leader of the Year
AI for Good Award – ESG (Environment, Social, Governance) AI Leader of the Year
AI in Government Award – AI Disruptor of the Year
AI in Industry Award – AI Innovator of the Year
Outstanding in AI – Young AI Role Model of the Year
Each of the award categories have judging criteria based on innovation, research, leadership, inspiring potential, global impact, and the ability for the AI solution to do good for the community and citizens.
Nominate a peer or yourself today!
Organized by Women in AI USA, Women in AI Canada and Women in AI Mexico – supported by Women in AI