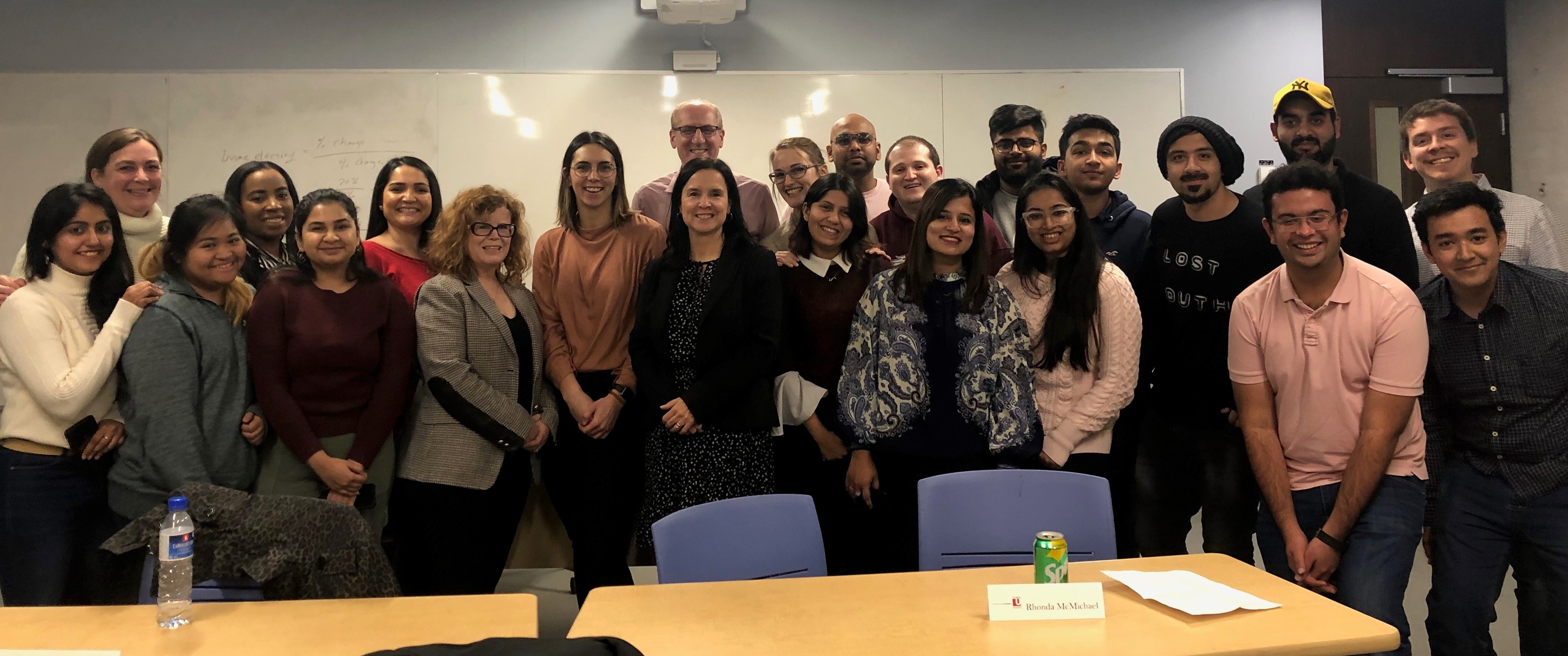 Thank you to Joanne Rider, Nikki Laoutaris and Rhonda McMichael, advisory council members for the Post-Graduate Certificate in Public Relations, for speaking to our Public Relations and Digital and Content Marketing students on November 21.
Hosted by The School of Continuing Studies, and organized by Program Manager Todd Rich, the Q&A format of the event was a great opportunity for students to ask these industry veterans their burning questions about how to start a career in this highly competitive field.
First and foremost, Joanne, Nikki and Rhonda all agreed working in Public Relations is fun and highly rewarding. But it's also fast-paced, demanding and ever-evolving due to regular shifts in trends and technology. Because of this, PR and Marketing professionals need to be open to learning new skills, whether that be technical skills in data analytics, accounting, or soft skills in communication, teamwork and project management.
Naturally, a recurring topic of the event was "how do I get my foot in the door in this field?" To this, the three had a variety of answers:
Network, network, network. Ask senior professionals from companies that interest you out to a coffee meeting. They've been in your shoes before and are happy to share. It may not lead to a job, but it's a great way to build your professional network.
Get involved in associations like IABC and CPRS – they offer many great resources to emerging professionals.
When applying for jobs, highlight your special skills that could interest a hiring manager. Experience in graphic design, finance, coding, etc., could set you apart from other applicants.
That said, don't list everything on your resume and cover letter. Tailor it to what is relevant to the job posting.
And, when you finally land that coveted interview – be on time, be prepared and always send a thank-you note after.
The session was highly valuable for all who attended with plenty of practical advice for students to take away.
"It was a pleasure listening to the experience of all the guest speakers," said one student in the Post-Graduate Certificate in Public Relations. "They shed light on the current public relations industry trends and the blurring lines between PR and marketing. They also gave us advice on how to decide our career path, and, more importantly, how to pursue that path."
Thank you again to Joanne Rider, Nikki Laoutaris and Rhonda McMichael for making the time in their schedules to speak with our students.
Interested in a career in Public Relations? Learn more about The School of Continuing Studies' Post-Graduate Certificate in Public Relations and Post-Graduate Certificate in Digital and Content Marketing.