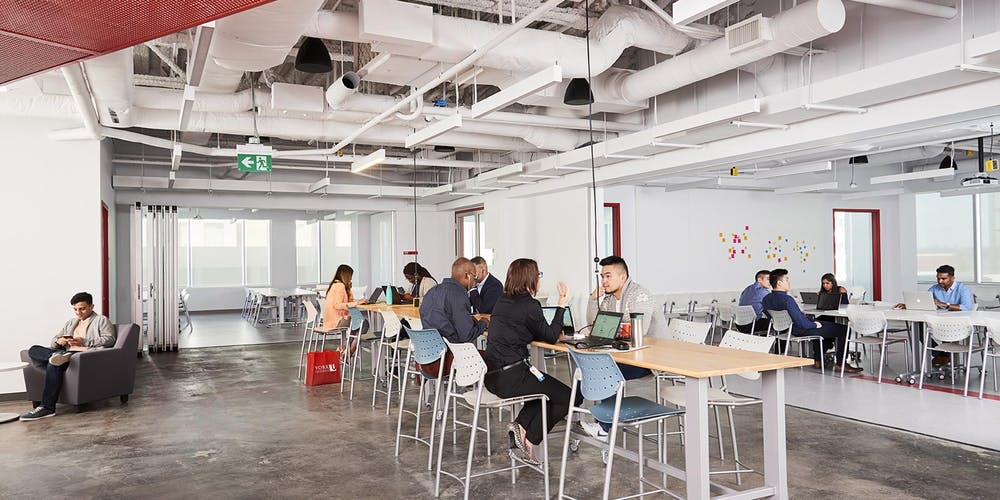 Where do you start if your goal is to make a career out of doing what you love? Sure, having passion is a good place to begin and a determination to succeed, but how about defining success itself? Or taking stock of all the skills you'll need to learn along the way? And surely, you'll need a support system to motivate you, guide you and advise you.
So, knowing what you want to do is just the first step. That's where you have your awesome idea. But you still need the tools to chisel away at it and reach the heart of a great business venture that can be successful.
The part-time and full-time programs at the School of Continuing Studies are designed to help our students realize their potential and pursue their passions. Our goal is to empower our students, give them pertinent industry knowledge and a hands-on learning experience. Our unique cohort model is crafted to help students build a network of like-minded peers who will be with them throughout their professional journey.
We also provide an opportunity to allow students to hone their ideas, validate their business concepts, learn key entrepreneurship theories, receive valuable one-on-one coaching support and overcome the barriers of starting a business.
That's where Innovation York's Entrepreneurship Initiative comes in.
Innovation York Entrepreneurship Initiative, a continuation of experiential learning
Managed by Innovation York, this six-month Entrepreneurship Initiative is perfect for those looking to learn about the ins and outs of launching their own business. It's open to School of Continuing Studies students and recent graduates as an extracurricular opportunity that can build on their classroom experience and complement their existing certificate program.
This initiative is a great way to develop an entrepreneurial mindset and to test and validate a business idea. It combines theoretical learning with workshops to help student entrepreneurs who wish to launch and scale their start-up ventures. As a bonus, students who join this initiative will get to collaborate with a community of like-minded self-starters striving for success.
As part of this program, students will spend a minimum of 5-8 hours a week for 6 months building the foundations of their business until it's ready to be launched. Students will receive a business coach to work with them on a one-on-one basis to push the idea further and build key business skills along the way.
The benefits of working with a mentor
Mentors see the potential in us and play the role of constantly pushing us out of our comfort zones and closer to success. During the initiative, students will be supported by their assigned mentors and meet with the Innovation York team on a bi-weekly basis to provide updates.
Mentors will help students focus their idea, narrow down their audiences, find their niche, and navigate any business challenges that they foresee. They'll bring their unique perspective into the mix and be a sounding board for ideas. Mentors can also provide resources and help students network in a competitive business environment.
They'll work with students to set milestones, ensure progress and define the parameters of success so budding entrepreneurs know exactly what their goals and objectives are.
Innovation York, collaborate to innovate
The Entrepreneurship Initiative is administered and managed by Innovation York, which facilitates and maximizes the commercial, economic, and social impacts of research & innovation, and works to create a culture of engaged scholarship and experiential learning.
Innovation York Entrepreneurship provides programming, workshops, and space to help entrepreneurs on and off-campus build, launch and scale their start-up ventures.
It is a hub of creativity, energy, and knowledge-sharing. It brings together faculty, graduate students, staff, alumni, and community partners in an endeavour to push the limits of innovation and provide opportunities to budding entrepreneurs. We're proud to be a part of this inspiring community!
Funmi Momodu, a success story from the Innovation York Entrepreneurship Initiative
Though launching a business can seem daunting, our graduate, Funmi Momodu, took her experience in the Entrepreneurship Initiative and translated it into her own business.
As part of the initiative, she was able to develop her initial business idea more deeply by identifying a gap and creating a business that fills that niche. She says, "The first two days were great with the orientation and I was really pumped. And then I got matched with a mentor and that really took it away for me. My mentor, Mick, was really amazing. He was able to key into my vision and I loved the process that we went through. It was awesome. We finally came up with a problem statement and a niche and my idea is now launched."
Whether it's Funmi creating her personal connection and match-making portal or another student looking to give wings to their idea, Innovation York Entrepreneurship Initiative is a great way to supplement your learning at the School of Continuing Studies and build the future that you've always wanted for yourself.