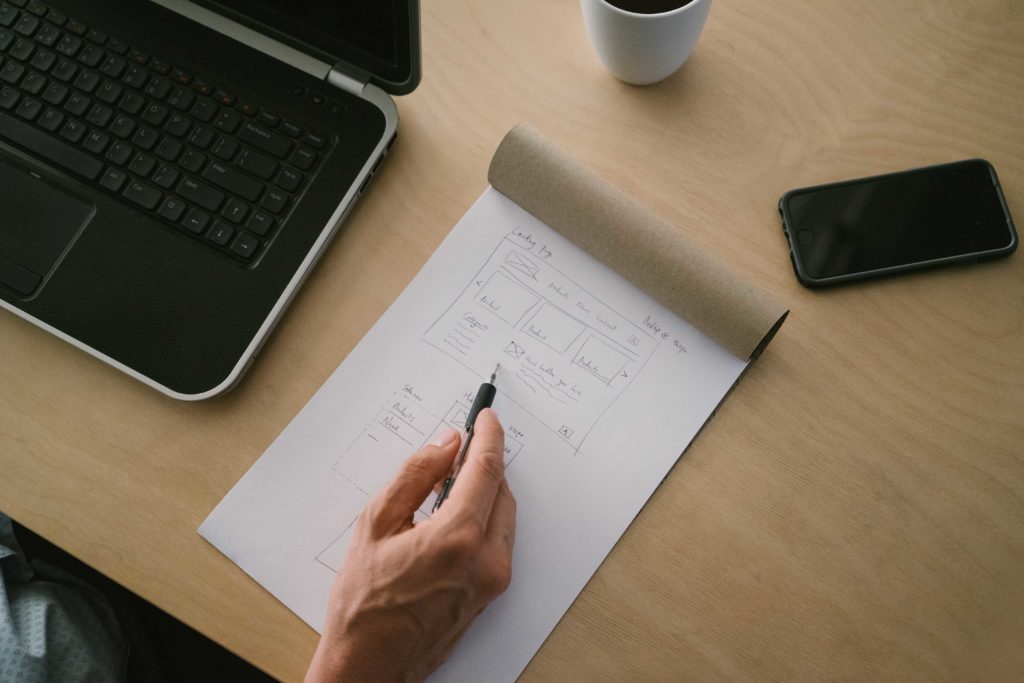 In the digital world, first impressions are everything. Attention spans are shorter, and there's a lot of content competing for first place in a digital race. It's the little things that make an experience memorable—an easy-to-scan home page, an interactive shopping experience, intuitive use of text, graphics, and videos. And it takes a skilled user experience (UX) professional to bring it all together.
What is the role of UX Designers?
UX Designers create the first point-of-contact between a customer and a digital product, be it a website, mobile app, or software. They study and design these interactions to make sure that people have meaningful, smooth, and relevant experiences with these products.
After rigorous research, wireframing, testing, prototyping, and more testing, UX designers layout the exact pathways customers will go through to get the answers they're looking for. At every step, it's crucial to put people first – to walk in their virtual shoes and give them the answers that they're sure to be looking for.
Creative people are usually drawn to UX design because of the space it allows to make something from scratch. To bring an idea to life and then see others interact with it. It's a rewarding career choice that's been increasing in demand. According to an article by Indeed, UX design is one of the most in-demand skills for recruiters today. With so many growth opportunities, you might be wondering…
…what are the crucial UX design skills that employers are looking for?
It takes a blend of core job skills, soft skills, and creativity to build a successful career in UX design. If you're looking to start or grow your career in this field, here are some skills that you'll need.
Ability to research effectively
Knowing your audience and how they think is a big part of the job. How you get there is by planning and conducting qualitative and quantitative research. That involves numerous research methods like interviews and surveys, all detailed in a research plan. The data you collect then needs to be converted into insight, so that you can ascertain the strategic direction the project needs to take. This is one of the many times creativity needs to meet business needs.
Visual Design
Once you know what you need to build, that information needs to be organized in a manner that's easy-to-understand and navigate for your audience. Not only is this applicable to a mobile app or a website but also to physical spaces like signs in office buildings. How things are laid out has a huge impact on how people interact with a product. This is your opportunity to lay down a pathway towards a successful interaction.
Wireframing and prototyping
This stage is where the bulk of the work happens. A UX designer needs to translate all the data they've gathered and the ideas they've come up with into basic but operable prototypes. These need to meet industry standards to truly be a testing ground for your design choices. That means starting with a wireframe which is the most basic form of a functioning product and then moving on to subsequent prototypes that address the bugs in the design. Being patient and detailed-oriented are needed here because a UX designer must meet business goals while keeping the end-user and their preferences in mind.
Communication, teamwork, and empathy
These soft skills are as important as core job skills because UX designers coordinate with multiple departments while working on a single product. Collaboration is important to working efficiently and quickly, rather than working in silos. Other people can bring different perspectives and are a great way to do some preliminary research when getting started on the project. Finally, since you're usually working to create something for a (sometimes large) group of end-users, you'll need to be able to empathize with them and their inclinations. This will result in a product that truly reflects their needs.
Gain the skills to make an impact
The UX design field may be booming but there's still room for more talented and hard-working individuals to join in. If the report from Indeed we mentioned at the start is anything to go by, employers will be doubling down on their search for UX designers. A professional program is a great way to upskill and take advantage of this opportunity.
Created in collaboration with industry leaders, the School of Continuing Studies offers a comprehensive and engaging Certificate in User Experience (UX) Design. Students will learn from design professionals to gain hands-on experience that will give them an edge over the competition. In the end, students will have compiled a portfolio of projects demonstrating their research, design, and prototyping abilities. And because of our unique cohort learning model, students will progress with the same group of peers, also building their communication and collaboration skills. After this program, you'll have all the tools you need to design the digital future.
You can click here to find out more about the Certificate in User Experience (UX) Design.
Enrolment opens on January 24, 2022.