The following article was originally published by the Human Resources Professionals Association York Region Chapter. View the original article here.
Presenting…The Winner of The Yorkie Blog Tagline Contest!
HRPA York Region – Member Profile – Soudabeh (Sue) Mahinfar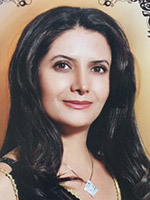 Soudabeh (Sue) Mahinfar, the winner of our recent Yorkie Blog tagline contest, has been a member of HRPA York Region since 2015.  Sue's winning entry was "The Best of HR at Your Fingertips".  Sue's post-secondary education was in the field of Public Administration.  Although this would have enabled her to pursue a career in several different fields, she decided on Human Resources since this would enable her to interact with everyone in an organization, from the very top to the bottom, which is something she very much enjoys.  According to Sue, HR has a critical role to play in organizations, in such areas as recruiting, promotion, training, performance management, and problem solving.  It also serves as a bridge connecting different levels and areas within organizations.  Sue firmly believes in the importance of Human Resources, since in her view it serves as the foundation for every activity and achievement in an organization.
In addition to her post-secondary education, Sue obtained a post-graduate certificate in Human Resources Management from York University this past April.  Her Bachelor's Degree in Public Administration Management was obtained from Tehran University.  She also has received training in Employment Law for Human Resources and Alternative Dispute Resolution procedures and practices.  In addition to English, Sue is fluent in several languages, including Turkish, Farsi, Azerbaijani and Kurdish.  She also can speak, read and write French at an intermediate level.
Sue's employment background includes working in the petrochemical industry.  Some of her accomplishments include modifying and creating appraisal systems for individual positions in an organization based on job descriptions and other position characteristics.  She also created a dynamic system to reinforce the positive behaviour of employees while providing feedback on areas of performance which required improvement.  She has been the recipient of several awards, including being chosen as a company's outstanding employee on three successive occasions and being rewarded with a week long vacation in Italy.
In terms of outside interests, Sue's major hobby is travel.  She has visited many countries around the world, including the USA, Mexico, Turkey, Italy, the Netherlands,  England, Dubai, Germany, Austria and Russia.  Sue believes that her travels have given her a better understanding of diversity in the world and have expanded her appreciation of issues as well as the beauty of other lands.  It also has provided her the opportunity to experience and enjoy different lifestyles.  Sue's other interests include reading books on psychology and enjoying Pilates.  In terms of personal characteristics, Sue says that people say she is very generous, energetic and has a big heart.  People also say she has a calming effect on others when she speaks with them.
Sue's career goals include being in positions in several fields within HR where she believes her abilities, skills and experience would be of significant benefit to others in an organization, and where her expertise in these areas would be recognized.  From a broader perspective, Sue is hopeful that leaders throughout world, particularly those in powerful countries, will have the ability to continue to appreciate the importance of the individual rights and freedom of all people whose hope is to live in peace.​
Colin Guenther interviewed Sue on behalf of the HRPA York Region Chapter's Communications Committee. His career in HR has spanned more than 30 years mainly in compensation and benefits management. He has an M.B.A. in Human Resources from York University.