Risk management is a rapidly expanding field with Risk Managers earning an average salary of $82,422 per year in Canada, and the demand for qualified risk management professionals is expected to continue to increase into the future.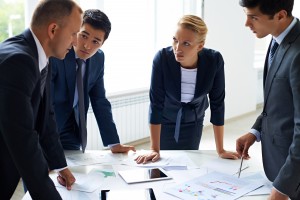 The program will produce graduates that are ready to take on the evolving landscape of risk management, as new cyber, IT, HR, reputational, and competition risks become increasingly complex.
Each of the 3 online courses in this Certificate has optional bi-weekly coaching sessions where students can choose to meet with the instructor in person or online to ask clarifying questions, explore how concepts studied might apply in the workplace or dig deeper into particular topics, with recordings being made available after each session.
The Real Time Risk webinar series brings industry experts to explore emerging topics in risk management such as cyber security, natural disasters like the recent Fort McMurray wild fire, and the application of risk management in finance, telecommunications, government, insurance, health care,
and other industries.
Students can begin with any of the courses throughout the year and work at their own pace as long as they complete the program within twelve months. Each of the courses is offered in an accelerated 9 week format so students can complete all three courses in as little as 6 months.
Certificate in Risk Management students are eligible to write the Global Risk Management Institute's (GRMI) exams for the Canadian Risk Management (CRM) designation. York's courses are also aligned with the GRMI's exam schedule ensuring a smooth process to achieving your goal.
Learn more at on the Certificate of Risk Management page.
This article was originally published by On the Go Toronto. View the original article here.