The York University English Language Institute is running a unique English language immersion program with the Education University of Hong Kong (formerly the Hong Kong Institute of Education) for students in the Bachelor of Education (English Language Stream). The Education University of Hong Kong (EdUHK) is a prestigious organisation which was recently ranked 3rd in Asia and 12th in the world in Education (QS World University Rankings by Subject 2016). For the inaugural session of the program, 24 students in their 3rd year with EdUHK arrived on 22 May and will stay at York until 30 July.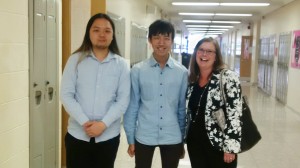 "This partnership represents a great leap forward in the depth of practical learning the English Language Institute can offer to international students" says Isaac Garcia-Sitton, Director English Language Institute and International Education. "By working with the Toronto School District Board, we are able to leverage our strength as a leader in academic English training and the TDSB's strength as a leader in Education."
Through a unique partnership with the Toronto District School Board (TDSB) the students have the opportunity to observe and teach in local primary and secondary classrooms, in addition to their own classroom learning and socio-cultural activities. This gives the students a unique chance to put what they're learning in the classroom into immediate practice during the program.
"It has been an insightful and truly valuable experience to work with the official school board of Toronto" said student Celine Vitto of her time in class so far. Her fellow student, Dhafney Dela Cruz Pineda, echoed the value in providing "rewarding opportunities for aspiring teachers to explore education as we know it today", noting that the English Language Institute's program is helping to "generate tomorrow's educators."
"It was a pleasure to discuss TDSB's commitment to student centred education and the need for differentiation with our guests from Hong Kong", said Mr. Rodrigo Fuentes, Central Coordinating Principal of Continuing and International Education at the Toronto District School Board during the student orientation at the York's English Language Institute.
This is the only partnership the Education University of Hong Kong has in North America for the immersion program this year. Other universities around the world that are working with the EdUHK through this program include University of Durham (England), Victoria University of Wellington (New Zealand), University of Wollongong (Australia), and University of Auckland (New Zealand).
The students are studying a range of topics in their pursuit of stronger English language skills, including Ethnography in Community; Advanced English Proficiency through the Media; Education in Canada; lesson planning; and in-class teaching practice. The students are also staying with local Canadian families through the English Language Institute's homestay network, giving them an immersive 24/7 Canadian experience.
This program represents a strong step forward in teacher training for YUELI, which currently serves more than 2,500 students from 50 countries in a wide range of English language programs, many of whom transition into degree studies at York. Since 2000, YUELI has pursued teacher training programs with educational organisations around the world including in Mexico, China, Mongolia, Sri Lanka, Oman, Japan, and India.
For more information, see the YUELI website.