Isaac Garcia-Sitton, director of international education and the English Language Institute for York University's School of Continuing Studies has been awarded the prestigious Organization of American States (OAS) – IE Business School Scholarship.
"Each year, the Organization of American States and IE Business School collaborate in order to grant certain worthy individuals scholarships in support of their academic pursuits. This year, Isaac García-Sitton has been chosen as one of those individuals and, with his decorated experience in both diplomacy and education, not only will Isaac expand his business knowledge and leadership skills in ways that will benefit York University immensely, but the other GSMP participants will undoubtedly benefit from Isaac's unique insights as well, "says Meghan O'Farrell, associate director of Top Management Programs for IE Business School.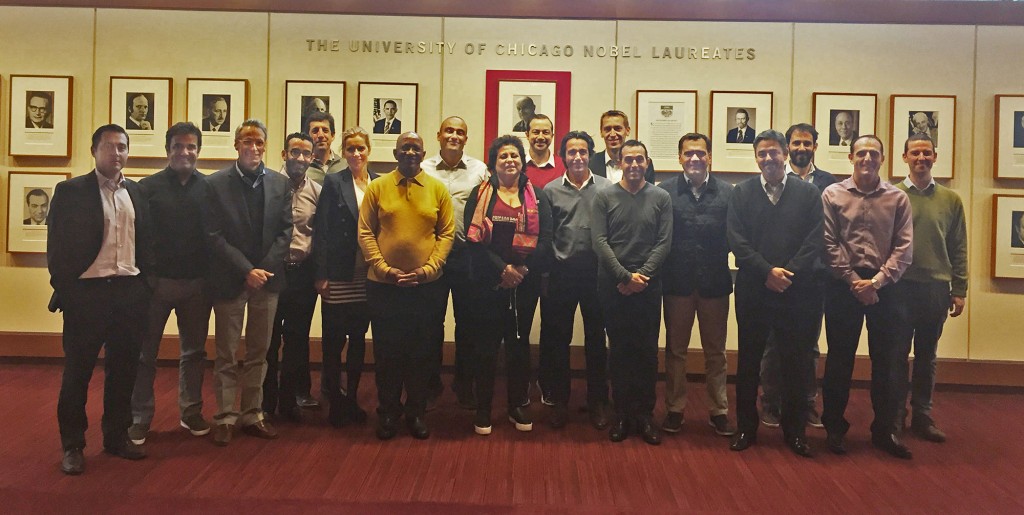 "Isaac's participation contributes greatly to the already impressive and diverse group of individuals we've assembled so far this year, with participants coming from South Africa, Israel, Greece, Spain and Saudi Arabia, to name only a few. The OAS scholarship facilitates that diversity and allows us to create the most enriching academic environment possible." Scholarship recipients are chosen for their academic achievements and potential to impact the development of their countries.
Growing up in Panama has shaped Garcia-Sitton's world view. "The socio-economic disparity in my country sparked in me – at an early age – a sense of responsibility to try and change such inequalities," says Garcia-Sitton. "I know now that changes can only be reached through education and the promotion of social integration via inclusive policies that reduce economic inequality and poverty, and promote sustainable and equitable development."
Garcia-Sitton moved to Canada in 2007 during his tenure as the Consul General of Panama in Montreal and began working in international education in 2012 after becoming a Canadian permanent resident.
Scholarship recipients are charged with applying the knowledge and experience gained through their studies to contribute to the development of their country. Garcia-Sitton plans to use his role at York University to continue to tailor academic programs to the unique needs of different students, markets and partners, promote Canadian education to Organization of American States members and create financial aid opportunities including merit and need-based scholarships.
"Higher education drives, and is driven by, globalization," says Garcia-Sitton. "As one of the oldest, largest and most respected in Canada, the York University English Language Institute is well positioned to attract a large portion of the forecasted growth in international students to the University. Our Institute contributes to York University's diversity with 50 different countries represented in our student body last year."
Garcia-Sitton is currently in Madrid, Spain completing the final week of the Global Senior Management Program.
"The University of Chicago Booth School of Business and IE Business School have jointly developed the Global Senior Management Program (GSMP) as a platform for senior managers to build on the collective knowledge of participants and world-class professors. The program combines academic rigor and state-of-the-art expertise with practical relevance to create an exclusive environment for enhancing leadership skills and analytic capabilities in global markets," says O'Farrell.
The Organization of American States is the world's oldest regional organization, dating back to the First International Conference of American States, held in Washington, D.C., from October 1889 to April 1890. The Organization was established in order to achieve among its member states—as stipulated in Article 1 of the Charter—"an order of peace and justice, to promote their solidarity, to strengthen their collaboration, and to defend their sovereignty, their territorial integrity, and their independence." Today, the prestigious Organization of American States brings together all 35 independent states of the Americas and constitutes the main political, juridical, and social governmental forum in the Hemisphere. In addition, it has granted permanent observer status to 69 states, as well as to the European Union (EU). The Organization uses a four-pronged approach to effectively implement its essential purposes, based on its main pillars: democracy, human rights, security, and development.
Part of the School of Continuing Studies, the York University English Language Institute is one of the few in Canada to offer a diverse pre-university pathway for students who are absolutely new to the English language to a level of fluency required for doctoral studies. Serving students from 50 countries, Institute prepares its graduates to earn a higher GPA and graduation rate than other visa students. In 2015-16, 651 English Language Institute graduates accepted an offer of admission to York.  The School of Continuing Studies serves nearly 2,000 students through continuing professional education certificates, pathways to degree programs and English language programs. The School had earned international attention for its innovative approach to continuing education and English academic preparation program design.