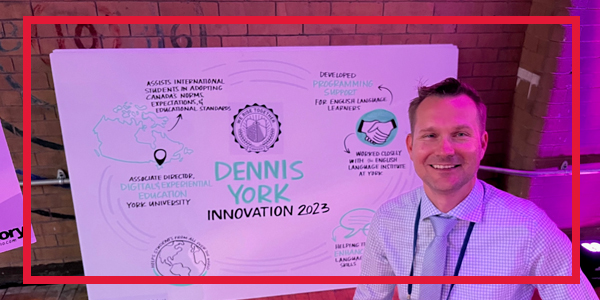 TORONTO, May 30 , 2023 /CNW/ – Dennis N. York, associate director of digital and experiential education at the York University School of Continuing Studies, was the recent recipient of the We Rise Together Award in Innovation from the Duolingo English Test for the School's animated instructional video series, "Not So Far From Home: Canadian Culture Series".
"The Canadian Culture Series is an excellent example of how innovation and the purposeful use of technology can create the accessible, inclusive learning environment students need to thrive, leading to more effective learning outcomes," says Christine Brooks-Cappadocia, interim assistant vice-president of continuing studies at York University.
Duolingo's We Rise Together Awards recognize the work of individuals and organizations that help reduce barriers to learning and improve student access to education. The award-winning Canadian Culture Series showcases a macro and micro view of Canadian culture and lifestyle to guide international students on the complexities of arriving in a new country, such as adapting to a different culture as well as simple, pragmatic concerns such as getting a bank card or preparing for the cold weather.
Created for English language learners enrolled in the School's English Language Institute, the videos are used for in-person and online classes to facilitate discussion and encourage active learning.
"Receiving this award is a huge honour and a testament to the collaborative and creative spirit of the School of Continuing Studies," says York. "I would like to acknowledge and thank everyone who contributed to the success of this series from our instructors, who developed the scripts based on their experiences with students, to the digital experience design team who created the final series."
York accepted the award on May 24th at the We Rise Together ceremony held at Duolingo's headquarters in Pittsburgh, PA. The awards ceremony was the closing celebration of Duoligo's annual event, DETcon23, which features speakers, panels, networking and social activities attended by academic professionals and thought leaders from across the world.
"The School of Continuing Studies' English Language Institute offers a unique breadth of programming to support English Language learners and enhance the language skills needed to thrive in a Canadian academic context, as well as to assist students in adapting to a new culture," says Dr. Stephen Allen, director, International Education & English Language Institute at the York University School of Continuing Studies.
"We developed The Not So Far From Home: Canadian Culture Series as part of this commitment. Through experiential learning and storytelling experiences embedded in these videos, learners reported that they gained a better understanding of the Canadian natural environment, various cultural characteristics and everyday life leading to a deeper connection between their use of the English language and social relations."
Watch the award-winning video series here.
About the York University School of Continuing Studies
The York University School of Continuing Studies is a diverse community of learning united by a shared sense of purpose — achieving personal and professional growth in a world of constant change. Our ability to help students lead in the face of this change has made us the fastest-growing school in Canada.
We set our students up for success by teaching them specialized knowledge and technical skills, as well as enhancing their soft skills, cultural understanding and cross-disciplinary know-how.
The School embraces a global perspective through collaborative relationships with leaders in industry and academia across Canada and around the world.
Read the original press release on NewsWire.
For further information: Tamara Dinelle, director of marketing and communications, York University School of Continuing Studies, 437-214-0845, tdinelle@yorku.ca