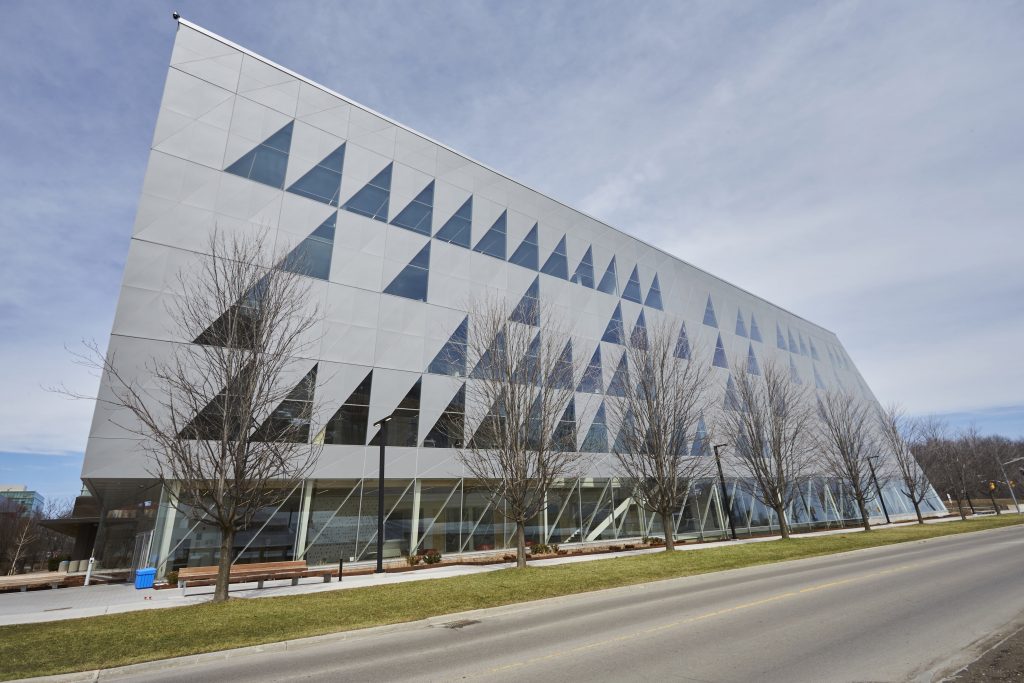 The building is designed to meet the post-pandemic needs of students with an inclusive, accessible and sustainable space that will foster learning and help fill Canada's pressing labour market gaps
TORONTO, May 1, 2023 /CNW/ – Today, the York University School of Continuing Studies celebrates the official launch of its new, signature home – a state-of-the-art building with a unique, twisted design.
This new, dedicated space at 68 The Pond Road on York's Keele Campus is a testament to the growth of the School, as well as the need for continuing education options to respond to the growing skills gaps and talent shortages in Canada. The six-story, 120,000-square-foot, 50-classroom, building serves as an example of how a post-pandemic learning space can blend in-person and virtual learning formats using the latest technology to support the needs of students.
"The School of Continuing Studies embodies York's commitment to 21st century learning which identifies access to a high-quality education and global engagement as core components of York's University Academic Plan," says York University President and Vice-Chancellor Rhonda Lenton. "We have been a leader in the lifelong learning space since our inception and we had the goal to create dedicated space to accommodate the unique needs of continuing education students locally and from abroad, many of whom are seeking to complement degree programs and/or upgrade and reskill in a labour market that is being profoundly impacted by automation and AI."
A limited engagement plenary session at 11 a.m., will feature speeches from President Lenton and Christine Brooks Cappadocia, interim vice-president of continuing studies at York University. A keynote address from world-champion Canadian hurdler, author, TV host and speaker, Perdita Felicien will follow.
"The York University School of Continuing Studies is transforming the Canadian workforce by reinventing traditional models of education and transforming barriers to education into opportunities. Our leading edge, cohort programs are co-developed with industry to develop graduates prepared to thrive in a skills-based economy. Last year alone we delivered more than a million hours of learning," says Brooks-Cappadocia.
In 2018, the architecture firm Perkins & Will was selected to design the building, led by architects Safdar Abidi and Andrew Frontini. The twisted architecture symbolizes the School's twist on the traditional mission of continuing studies to solve Canada's most pressing labour market gaps by connecting employers and a highly-skilled, ambitious talent pool through its innovative language and professional programs.
The structure is built to ensure complete adherence to sustainability in design. The building is designed to LEED Gold, and will be certified accordingly, and meets the City of Toronto Green Standards. Strategies used include a high-performing façade system, direct outside air system with heat recovery ventilation, and daylight harvesting. The building is well positioned to achieve Net Zero in the future due to its low energy consumption. Additionally, the building is designed with the principles of diversity, equity, inclusion and sustainability.
Students, instructors and staff were included in both the scoping and design phases of the project. To ensure the building is meeting the needs of students of different ages, religions and cultural backgrounds we designed the structure with the highest accessibility standards," says Brooks-Cappadocia.
"From having guide rails for students with sight impairment to touch-free surfaces to the lactation room for nursing mothers and a prayer and meditation room. Everyone is welcome and supported in pursuing their educational goals."
Other key accessibility features to ensure physical requirements for all students include automated doors, standing desks in all classrooms, screens for the visually impaired, elevators, and large hallways spaces for those requiring wheelchair access.
After nine years of planning, the School of Continuing Studies building is finally uniting its programs, students, instructors and staff under one roof.
About the York University School of Continuing Studies
The York University School of Continuing Studies is a diverse community of learning united by a shared sense of purpose — achieving personal and professional growth in a world of constant change. Our ability to help students lead in the face of this change has made us the fastest-growing school in Canada.
We set our students up for success by teaching them specialized knowledge and technical skills, as well as enhancing their soft skills, cultural understanding, and cross-disciplinary know-how.
The School embraces a global perspective through collaborative relationships with leaders in industry and academia across Canada and around the world.
For further information: Tamara Dinelle, Director of Marketing and Communications, York University School of Continuing Studies, 437-214-0845, tdinelle@yorku.ca