Guest blogger: Belinda Schuler-Chin
Teaching is a challenging role, especially when the demographics of the class include seasoned professionals who "know it all," new students just "figuring it out" and international students learning a new language and culture.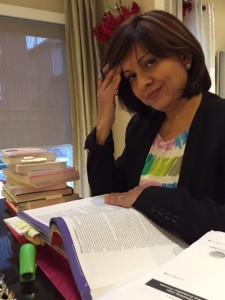 Instructor Dennis Hodgkinson makes it look easy, applying brilliant and engaging techniques that transcend those barriers.
His delivery is unflappable and laced with passion, while subtle hints of flamboyance that make it truly unique. He leads explorations and discussion topics that enable us to positively and respectfully engage with each other outside the proverbial "box," and shifts the classroom into a real-life work environment.
Dennis's uncanny ability to personalize the curriculum is exceptional. He draws from the course outline, then takes it further with nuances not considered in the traditional textbooks or practices, but that work perfectly for the specific class he's instructing. This approach allows him to help advance how we each learn as individuals, yet collectively arrive at the same understanding.
His care and commitment to his students is evidenced by how he listens, encourages and engages everyone, how he fosters a safe and open forum for all our ideas and comments, and how he strives (and succeeds) in finding the meaning behind everything.
When I finish this course, I know I'll have amassed a diverse skill set that will empower us to transcend industries, embrace differences and propel our companies to the next level.
Learn more about the Post-Degree Certificate in Human Resources Management