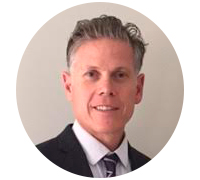 Since its launch last fall, our Certificate in Risk Management has proven more popular than we could have hoped! Aspiring risk managers looking to attain their CRM designation continue to flock to this innovative, 100% online program.
Businesses across Canada can now breathe a collective sigh of relief, as this means that there will be a strong supply of risk management professionals, ready to hire, after just 6 months of study!
One reason people are so excited about this program is our expert, professional instructors. Tony Rossi, who has been teaching in the program since its launch, recently answered some of our questions about his experience in risk management, as well as what makes this program so special.
Tell us about your professional work experience and the pathway you took to reach your goals.
I started as a claims adjuster and was promoted to the position of claims examiner in the international unit at Zurich insurance company. I then accepted  a position as Claims Director at MEARIE, an insurance reciprocal. In addition to managing the claims department, I also began to respond to risk management enquirers.  I really took an interest in risk management and soon accepted a role as Manager, Risk Management at the City of Mississauga. After a 10 year period I accepted various public sector positions including Algonquin College and my current position at the Toronto District School Board.
The field of risk management is growing and changing quickly. What types of jobs can our students expect to get after completing our program?
Graduates of this program could expect to get jobs in both leadership and operational capacities, in areas like insurance, security, health and safety, information technology and audit.  These roles are increasingly adding a risk management component to their responsibilities. The program responds to this risk management component in addition to complementing a student's previous education and experience in an industry sector.
How does our program prepare students to enter the job market?  What makes our program unique?
The program provides current practical concepts and examples which could be applied in both an interview and in the workplace. York University offers an internationally accessible, online, engaging student experience over a 6-12 month period.
What trends are you seeing in the job market today? How does this program align with those trends?
Employers are seeking unique qualifications, both for education and experience. Risk management is becoming a key component of interest for many employers. LinkedIn alone has almost 500,000 global positions with a risk component.
What advice might you give to a student who is considering our program?
Students should be prepared for intense and in-depth study. My students spend 6 to 8 hours per week in reading, participation in online discussions and assignments. That's how they graduate with such a solid base of practical knowledge. The career outcomes more than pay for the investment.
Ready to Master the evolving landscape of risk management? Find out more