Become a part of the growing data analytics field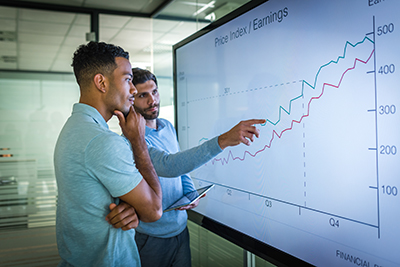 When the Greater Toronto Area (GTA) is blanketed with snow, near-real time analytics of weather data, road condition data, vehicle positioning data and on-board sensor data ensures roads are optimally treated in terms of timing and material used. It is just one of the many ways in which companies and organizations have access to and rely on more big data than ever to make informed decisions. That data, however, is useless without people who know how to properly analyze it.
With researchers estimating that 150,000 data analytics professionals are needed to fill roles in Canada, York University will help to address the talent shortage when it launches its big data analytics program this September.
"There is no time like the present for a program like this," says Duncan Rowe, manager of analytics and visualization services with the Regional Municipality of York and an advisory council member for the big data analytics program. "Almost every discipline, every profession, every service offering will be increasingly influenced by data and data analytics. And the GTA is at the centre of this talent gap with more than 75 per cent of the demand for data analysts centred here."
Facilitated as a part-time offering through York's School of Continuing Studies, the big data analytics program is comprised of two certificates — the certificate in big data analytics and the certificate in advanced data science and predictive analytics. Students have the flexibility to complete one or both credentials.
The certificate in big data analytics focuses on data analytics foundations, and the basic methods and toolsets needed to succeed in the field. Meanwhile, the certificate in advanced data science and predictive analytics, which launches in winter 2018, delves into data organization for analysis and advanced methods and analytics for those looking to pursue the INFORMS Certified Analytics Professional (CAP®) designation, the premier global professional certification for analytics practitioners. Each course is only eight weeks long and students can earn their first certificate in just six months.
Hashmat Rohian is a sessional engineering technology and applied science professor who also works as a senior director and managing enterprise architect at a large Canadian financial institution. He also sits on the program's advisory council, whose members provided real-world expertise and input that helped to shape the development of the program. He says offering students the flexibility to choose their own program path is on trend with today's focus on customized education.
"If the student is a specialist in, say, human resources or marketing and wants to add data analytics to their skill set, the first certificate in sufficient," he says. "If someone wants to pursue a career in this field, they'll need both certificates to deepen their understanding.
"Employers in the GTA are having trouble finding skilled people to take these roles. The two certificate approach gives students an opportunity to signal their interest and commitment to pursuing this field earlier on their resumes."
Keeping in mind its target demographic of working professionals, the program is delivered online with additional on-campus evening computer lab time. Online courses allow students to choose when and where they study while the computer lab time, which students attend once every other week, is an opportunity for in-person interaction with peers and instructors.
"There's a good balance of theory and practice," says Rowe. "The online components are highly interactive and involve case studies, problem sets and project work. In addition, the curriculum has been developed to introduce and deliberately practice soft skills, including communication and business acumen, throughout the program."
During their time in the program, students will learn current, in-demand data analytics software applications to ensure they are experienced in the software programs today's employers require. They will also have the opportunity to work on actual data sets from leading companies to prepare them to confidently apply their knowledge and skills in the workplace and develop a portfolio and situational responses for job interviews.
As a big data analytics expert, Rohian the theoretical-practical balance stood out to him the most about the program curriculum.
"It has the right combination of theory coupled with hands-on application to business problems," he says. "The graduate from this program would be able to start with a business problem and in an agile manner, extract value insights through the entire data life cycle from data harvesting, processing, statistical modeling, visualization, validation and embed the insights in existing processes and offerings."
Adds Rowe, "Underpinning this program is the pervasive quest to use data for good. The importance of human connection to communicate through things like stories is what matters to move to us to action."
A full-time, fast-track version of this program will be introduced in summer 2018 for those who wish to complete both certificates in just four months.