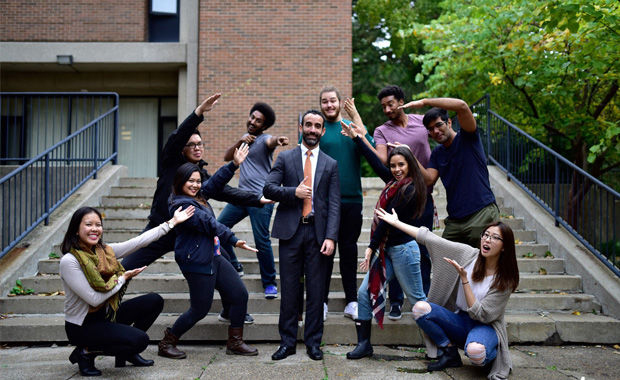 International students in Canada know that academic and career success depends greatly on having a good grasp of the English language.  It's not just about reading, writing, and listening, but also intercultural skills— the ability to communicate and collaborate with people from different backgrounds.
This is where the York University English Language Institute can help. The Toronto-based institution welcomes people from all over the world, and currently has students from more than 50 countries. "It's a challenge for international students with limited English language skills to thrive, given the crucial role that it plays," says Isaac Garcia-Sitton, the Director of International Education and the English Language Institute. "That's why we offer diverse and flexible programs."
The institute specializes in English for academic purposes and programs designed to equip students with the skills needed to succeed in their academic studies and ultimately, their careers. With instructors all holding master's degrees or PhDs, the institute offers a broad range of programs, from summer immersion programs to YUBridge, which can be as long as eight months.
YUBridge combines English instruction with for-credit courses in liberal arts, science, engineering, and health. It allows students to work toward a degree and apply their language training in academic practice almost in real-time. This facilitates a quicker and deeper integration into the university and community.
Xuan Du, an 18-year-old student originally from China, is studying in the YUBridge program. With a goal of studying aviation management, Du first came to Canada three years ago to complete high school in Vancouver. "Learning English was a big challenge, as was getting used to a new culture," he says. "But the language institute at York has been very helpful in improving my English skills, so I can continue my university education and pursue my career goals."
A social life is just as important as the classroom
Garcia-Sitton adds that the sociocultural element is just as vital as academic study. "When international students decide to study at York, they don't just choose our university— they choose Toronto, and by extension, Canada," he says. "For students to thrive, they have to be actively engaged in cultural events and activities in their community." These are led by a team of community leaders, who are both York undergraduate students and native English speakers. It's with a healthy social life that international students can become involved in the community.
The York University English Language Institute is not only respected within Canada, but Garcia-Sitton says its reputation is well-known internationally, with many graduates having been admitted to top universities globally. The institute's program is unique in that it's the only English language school in Canada to offer a path for complete beginners to the English language to become ready for graduate studies in as little as 10 months.
Lasting skills pay off
"We believe that the skills students acquire and develop at the Institute will stay with them for the rest of their lives and the ability to communicate interculturally, particularly in such a globalized world, is invaluable," says Garcia-Sitton. "No matter which part of the world our graduates end up working in, the tools they obtain during their time at our institute will prove to be immensely practical."
The institute's Graduate Studies Preparation Program is one of a kind in the industry, with graduates from the program gaining admission to top universities in Canada and elsewhere. Students gain critical research, communication, and test-preparation skills that are essential for graduate study.
If your goal is to learn and develop your English skills for your academic studies, then there's a program at York University's English Language Institute that will meet your needs.