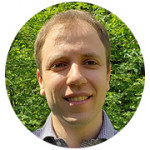 Starting this January, our new Certificate in Cloud Computing Strategy will give our students the skills and expertise to get a cloud adoption strategy off the ground.
Taking a platform agnostic approach, this dynamic new 100% online program teaches you to compare service models, manage change and create a compelling business case for the cloud. Leo Sorokin, Cloud Solutions Architect at Microsoft, has been doing this for over 10 years. Now, he's bringing all of the learnings and experience from his impressive career to the classroom as an instructor in our Certificate in Cloud Computing Strategy.
Here's what Leo had to say about the cloud computing field, what makes our program special and what it takes to make it in a rapidly evolving field.
Why is now the right time to get into the cloud computing strategy field?
Cloud computing is at the heart of digital transformation. In an increasingly competitive world, organizations are seeking to create competitive differentiation, and cloud computing is a perfect enabler to achieve that objective. "Cloud" is no longer just a buzzword and has entered mainstream adoption, from the smallest organizations to the largest multinational corporations. Organizations adopting cloud computing need help in navigating a constantly changing market of cloud service providers and to be able to separate fact from hype. Organizations are required to formulate a plan that will not only enable them to successfully adopt cloud services, but also to manage and govern these services at scale. I believe that now is the best time to join the cloud computing strategy field because it is the linchpin of a successful cloud adoption journey, and will benefit every organization that is undergoing a digital transformation. Every organization that is undergoing such a transformational journey will need cloud computing practitioners and thought leaders to serve as its trusted advisors.
How did you get started in cloud computing? What do you wish you knew then that you know now?
Back in 2013, I started my cloud computing journey when I was hired at a very large multinational electronics manufacturing company to work on their e-commerce platform. After undergoing vendor analysis, they had selected to build this application on Azure; Microsoft's cloud computing platform. I didn't know much about Azure prior to starting the role but, over the course of my work, I became the company's cloud computing Azure expert. After a successful launch of the platform I decided to take a much needed vacation. As I was on a flight back home, I remember discussing and explaining cloud computing and my work with Azure to a curious fellow passenger sitting next to me. After our conversation I realized that, while people may have heard the term "cloud computing", they didn't fully understand what it meant or how it can apply to their own work. Looking back, I certainly didn't realize that I was part of an early wave of cloud adopters and I definitely didn't expect, or could even predict, the dramatic impact that cloud technology would have on businesses around the world many years later.
How is the Cloud changing the way organizations function?
The cloud is dramatically changing the way organizations procure and operate hardware and software services. In fact, cloud computing is not only a technological innovation, it is fundamentally an evolution in the business model of how both technology service providers sell their services and how businesses consume them. Because this change affects both the business and IT, cloud adoption is affecting everyone in the organization, from IT staff to the lines of business to the CFO. There aren't many technologies in the history of computing that have had such a dramatic impact on organizations—cloud computing is certainly one of them. Cloud computing is also enabling organizations to expand to different markets and offer their services to regions in the world that would usually be out of reach. The cloud is also enabling smaller organizations, or even individuals, to compete and innovate in an increasingly global market. The cloud has democratized innovation and has leveled the playing field for everyone around the world.
Where do you see the industry going in the next few years?
The field of cloud computing strategy is constantly evolving, and it is very challenging to predict where the industry will be in a few years time. However, from my analysis of current industry trends, it is obvious that many large organizations will be adopting a multi-cloud strategy. While this sounds like a plausible strategy, it does present many challenges, one of which is increased complexity. In an increasingly distributed world, data will be everywhere; in the cloud and on the edge. With the rise of IoT endpoints, AI, data, hyperscale cloud providers, and fast networks, the traditional public cloud will extend to the edge with computation on data being performed where it makes most sense for the problem at hand. The Certificate in Cloud Computing Strategy from York University was designed not only to prepare students for today's world, but also to enable students to create the world of the future.
Why is it so important to have both technical and cross-functional skills to succeed in cloud computing careers?
Cloud computing is not only about technology. Cloud computing practitioners must understand the business of the organization, the industry vertical in which it operates, regulatory requirements, competitor landscape, and many other factors. To successfully adopt a cloud computing strategy, organizations will leverage new technology services, but they may also need to change their business processes as well as the organization's culture. Education and training of employees will be a core component of any large transformation and cloud computing is no different. In an increasingly digital world, cloud computing professionals must not lose sight that people are at the heart of any successful transformation. To lead an organization's cloud strategy efforts, an individual must be an evangelist and get buy-in from critical stakeholders. This takes soft cross-functional skills alongside good technical abilities. Individuals who show empathy and truly understand and address the concerns of various stakeholders will be the thought leaders of tomorrow.
York University has created a program that enables students to understand cloud in a comprehensive, top-down manner. Students will learn about cloud computing both from a business and IT perspective. Students will learn the fundamentals of cloud computing: the history, current trends, as well as the future direction and state-of-the-art innovations that are bound to shape the field for years to come. The program will enable students to understand how to formulate a cloud strategy, and successfully govern its adoption. The program was designed to provide students everything they need to know to be thought leaders and change agents in the organizations in which they operate. The purpose was not to make students experts in any specific cloud service provider, but rather to enable students to understand market trends and be successful cloud computing practitioners. In my opinion and experience in the field, such practitioners will be invaluable to any organization and will be the trusted advisors that companies so desperately need in today's market.
What advice would you give to someone just starting to learn about cloud computing?
The best advice I could give is to keep an open mind, be curious, ask questions, and never stop learning. After you leave the program, your journey is not finished. In fact, it has just begun. Cloud computing is a paradigm shift and will have ripple effects throughout organizations around the world, both large and small. Always remember that cloud computing is a journey, not a destination. Every organization is different, and the journey each takes will be different and unique. As you embark on your cloud computing journey, don't lose sight of the fact that you are entering a field that is rapidly evolving and changing. Nobody has all the answers, and no one knows everything. To be successful, you don't need to have all the answers, but you should certainly have all the questions. Let the journey begin!
Ready to take your career to new heights? Start learning