The York University logo must appear on all official communications created on behalf of this institution. It must be intact and cannot be separated or used in parts.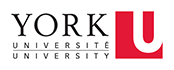 The York U logo consists of:
The York U name
The red "U" box
The words UNIVERSITÉ and UNIVERSITY separated by a key line
The logo must always appear on a white field with the "U" transparent.
The development and use of other logos to represent units within York University is prohibited.
Download the York U logos:
School of Continuing Studies logo
Download the School of Continuing Studies logo: