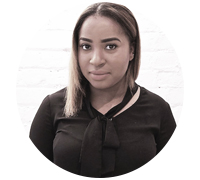 Christine Bernard, York U alumnus and instructor in our new Post-Graduate Certificate in Public Relations (starting this September), is ramping up preparations to welcome her first class of eager communications enthusiasts.
Having accumulated considerable career experience and specializations in corporate messaging, branding, event planning and leadership communications, Christine is anxious to pass along the knowledge that comes with having been "there and done that" in the competitive world of PR. Of course, this is made all the more exciting by the fact that she is returning to familiar ground—Christine graduated from York U with a BA Communications Studies.
Christine shared some thoughts about her time at York, her career and what made her choose to embark on a career in public relations over 7 years ago.
How did your time at York U influence your career?
My goal was to discover how I could take my passion for storytelling to help shape and influence the lives of friends, family and colleagues in a positive way. The Communications Studies program helped me develop my writing, public speaking and collaboration skills. Learning about the various ways there were to communicate using technology really piqued my interest. My first job in communications focused on internal communication and employee engagement. Here I was able to use my voice, passion for writing and love for technology to help empower, influence, encourage and engage employees in innovative ways that made learning and staying connected fun. Years later, as I've advanced in my career, I continue to look back, reflect and even reference old textbooks, to ensure that I'm still utilizing the best practices I've learned over the years.
What path did your career take after graduating?
After graduation, I got my first full time job in communications as a Business Analyst, specializing in internal communications and employee engagement. Over the last few years, I've advanced in my career from becoming a Communications Specialist to a Communications Manager. With each career advancement, the responsibilities increased, but my underlying passion for storytelling and communicating in innovative ways remains—a passion I was able to discover and enhance from my time at York. The skills that I learned at York have prepared me for the jobs I've had and will continue to influence the way I make decisions in the future, based on the fundamental knowledge I acquired during my undergrad.
I had many mentors in my life that have guided me and influenced where I am today. Without having those individuals share their amazing success and failure stories with me, I wouldn't have been able to learn and discover my passion for internal communication. Teaching in the Post-Graduate Certificate in Public Relations is my opportunity to give back to the community and help inspire future communicators.
Why study Public Relations? What makes it a great career option?
Public Relations is becoming an integral part of any organization and the value that communicators bring to the table is astronomical. Connecting employees, customers and the public to the values and goals of an organization make it an essential service for contributing to the success of any company. The basic skills that are learned within a Public Relations program are fundamental and pave the way for affiliated career opportunities in Public Relations, Professional Writing, Communications, Journalism and more. Students walk away with developing their public speaking, writing, research and collaboration skills – all necessary in the field of Public Relations.
How does our program set students up for success?
The Post-Graduate Certificate in Public Relations from York University is designed to provide students with theoretical and practical experience, preparing them for a role in the field. Students will walk away having developed core job skills that employers are looking for when hiring for public relations opportunities. This program is perfect for recent graduates who want to enhance their current skills and desire the opportunity to learn directly from instructors who are currently professionals working in the field.
Want to join the next wave of public relations professionals starting class this September? Get more information