On June 20, Christine Brooks-Cappadocia, Director of Continuing Professional Education at The York University School of Continuing Studies, will be giving a forward-thinking talk at the new Staples Studio in downtown Toronto.
Entitled 'Staying Relevant in a Digital World', the talk centers around what it takes to sustain career success in job market that's becoming increasingly automated.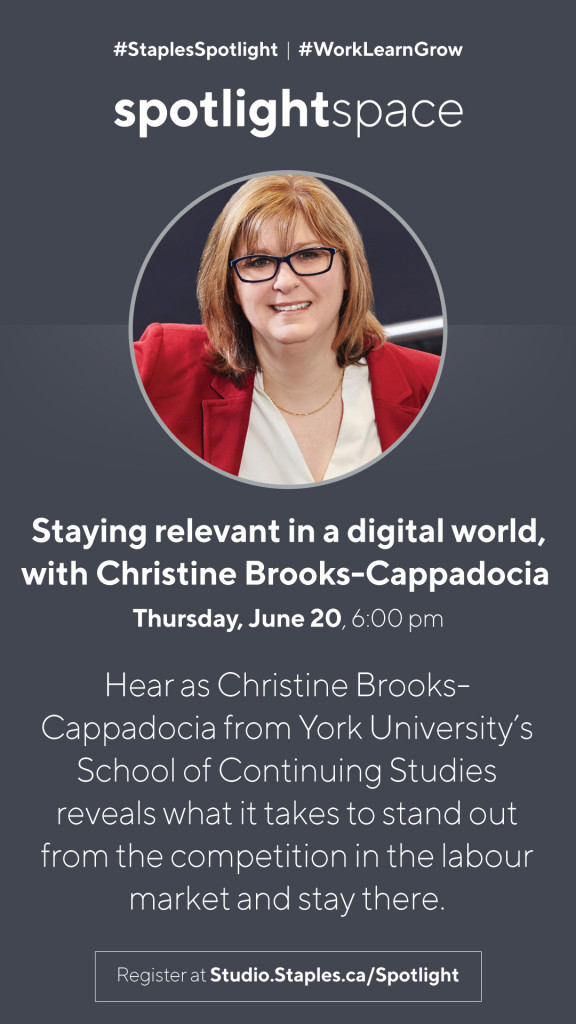 This subject matter is close to Christine's heart, and at the center of the School of Continuing Studies' mission to train Canadians for success in the Future of Work. With employers increasingly giving priority to soft (aka cross-functional or human) skills, the need to upskill has never been more timely. Whether undertaking formal or informal learning, we all need to be thinking about how we can keep learning, growing and staying competitive in our respective fields. 
Featuring functional event and co-working spaces, and with a constantly shifting programme of thought-provoking talks, the new Staples Studio at 375 University Ave in Toronto is quickly establishing itself as a new destination for innovation and discussion. Christine's presentation fits in perfectly with the Studio's mandate of engaging content that resonates with working professionals in the city. 
Interested in attending Christine's presentation? 
This is a FREE EVENT