Become a cutting-edge digital marketing professional, from the ground up
Digital marketing is a universal career. No matter where in the world you work, there are companies trying to reach the right audience with their marketing message. Innovations in digital marketing and content marketing have made it possible to serve your content to just about any target audience you can dream of, with international reach, with real results. However, this rapid growth in technology has caused a skills gap in the digital marketing job field. Many marketing professionals from different backgrounds struggle to keep current with their knowledge and technical expertise. The result is that, even though almost half of all marketing jobs require digital skills, employers are having trouble finding qualified digital marketing professionals to join their teams.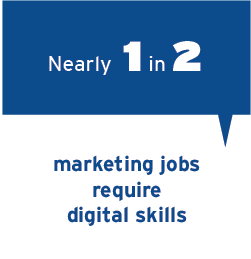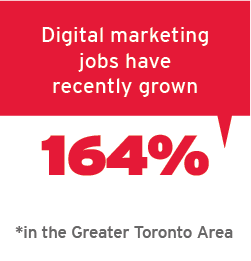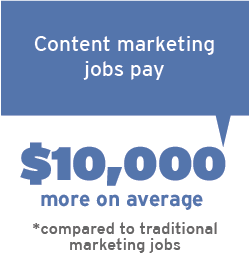 Put your digital and content marketing skills to the test
The Post-Graduate Certificate in Digital & Content Marketing starts from the basics, giving you a solid foundation in core marketing concepts and skills required for career success. You then move on to master advanced topics in digital and content marketing, giving you the expertise and confidence to make data-driven marketing decisions, and prove yourself integral to any employer.
This program will take you from digital and content marketing novice to master in just 8 months.
Created in collaboration with industry leaders, the 8 course Post-Graduate Certificate in Digital & Content Marketing teaches you not only fundamentals of strategy and technical expertise, but also gives you the opportunity to work on real-world projects with actual companies. You'll have the chance to practice the core job skills top employers demand when hiring digital marketing professionals and graduate with a portfolio of strong digital and content marketing work, which you can use to land your next job.
This program gives you a comprehensive education in core areas, including:
Digital marketing strategy
Web analytics
Email marketing
Content marketing strategy
Editorial planning
Copywriting for web
Consumer research
User data and segmentation
SEM (Search Engine Marketing)
SEO (Search Engine Optimization)
CRM (Customer Relationship Management) communications
PPC (Pay per click) advertising
… and more
Program Delivery
The Post-Graduate Certificate in Digital Marketing is an 8 month full-time program. You'll come to our Keele Campus in Toronto, ON to attend class 4 days a week for 3 hours each day.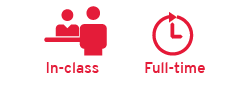 Finish in 8 months
The Post-Graduate Certificate in Digital & Content Marketing is ideal for international students and recent degree graduates who want a comprehensive education in digital and content marketing.
This program can also enhance the careers of people with experience or educational background in:
Marketing
Business
Web or Graphic Design
Communications
Journalism
Course information coming soon.
Program policies will be posted soon.
You may also be interested in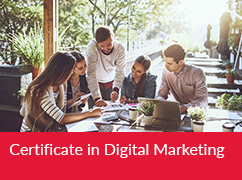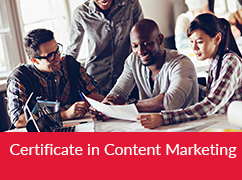 Program schedule will be posted soon. Please check back later or
Register for this Program