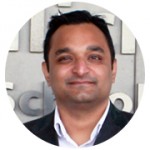 Full-Stack web developers never stop learning. With innovations in coding language and frameworks constantly changing, and emerging technologies shaping the way we interact with the web and the world, the developers of the future need know how to ride the wave of change (without getting swept away in a sea of broken code and missed opportunity).
That's why we're launching our cutting edge new Certificate in Full-Stack Web Development. As Canada's only program of it's type created by a university, this part-time certificate gives working professionals a chance to join the fastest growing specialization in the web development field, while earning a true university credential with a Certificate in Full-Stack Web Development.
Starting in November 2018, it's set to change the way people in the GTA learn code. We couldn't be more excited.
Sharing in this excitement is course instructor Tarun Sharma. He sat down with us to talk about web development, what makes our program special, and why you should get on board now before the ship sales (last ocean metaphor, we promise).
Tell us about your professional work experience and the pathway you took to reach your goals.
I have been a developer, database architect, entrepreneur, and a project manager during my 12-year career. I chose to be an entrepreneur after my undergraduate degree and co-founded an application and web development company at the age of 22. I grew that company to 30 people before selling it to one of my own clients. I have lived and worked in 4 different countries before coming to Canada for my MBA. I hold a Master in Business Administration and Master in Science (Machine Learning). I am currently employed as a Solutions Architect – Blockchain at IBM Canada.
The web development field is growing and changing quickly. What can our graduates expect from their first job as a full-stack web developer?
Web development is not just about developing websites anymore. The lines between the front-end and back-end have become so blurred that one has to really be a full-stack web developer in order to work in any technical setting. Knowing just the UI or the database is not adequate enough in today's world. With this full-stack certification under their belt, the students should be able to kick-start their career in any web development company. In addition to that, they would also be able to position themselves as a development and operations (DevOps) professional, which is high in demand. Their first job could range from developing a LAMP Stack website to designing an end-to-end data-driven application to troubleshooting an existing web application.
How does our program prepare students to enter the job market?  What makes our program unique?
Our program doesn't just introduce the complete stack of development tools and skills, but also provides the opportunity to consider unique business problems that are highly relevant in the real world. These problems or business cases allow students to develop critical and logical thought processes which are an essential element to any problem-solving exercise. The modular approach allows the students to practice and polish their skills as they progress through the program. The diversified experience of different instructors gives different perspectives every time for any business problem. The program contains all the learnings and skills that are necessary for any full-stack developer to be self-sufficient and move with little supervision.
What trends are you seeing in the job market today? How does this program align with those trends?
A "Full Stack Developer" search on LinkedIn shows 2000+ jobs in Canada whereas a "Web Developer" search results in 1800+ jobs. That is just on one job board.  HTML, CSS, Javascript, MySQL, Linux, PHP/Python etc. are top skills associated with web developer job descriptions. Apart from the technical skills, this program also prepares the students to convey the business value associated with the solution.
What advice might you give to a student who is considering our program?
My advice to students is to understand that technology is the primary business driver in today's world, so always have your business hat on while solving a technical problem. Use the framework taught during this program to instantiate, develop and troubleshoot any technical problem. Lastly, have a lot of fun! Happy Coding!
Ready to learn? Get full program information