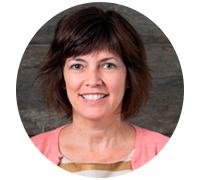 As President of agency Fifth Story, Shelley Middlebrook knows great content. Now, as an instructor in our new Certificate in Content Marketing, she's helping students learn to create content that influences opinion and inspires action.
Read on as Shelley shares her thoughts on where content fits into the current marketing landscape, and why every marketer needs to add content and digital to their marketing repertoire to ensure they stay competitive.
Why did you choose to specialize in content marketing? How did you begin honing in on content as your area of marketing expertise?
About ten years ago, it became apparent that consumers' media and buying habits were changing quickly. Consumers could seek out information when and where they wanted it online, they could skip over commercials that were not of interest to them and stream content that was commercial free. At that point I was working for a large media company and, although digital was growing, revenues were declining as traditional revenue streams shrank and digital advertising became commoditized.
While working in media, I had always worked on custom content programs with clients, and this was one area that was growing and often more effective than straight ad campaigns. When I joined Fifth Story seven years ago, we originally specialized in PR (earned media) but, as the traditional media landscape changed, it was an ideal time for us to pivot from only creating earned media programs to developing customized content across paid, earned, owned and shared media channels.
We were early in Canada to focus on content marketing solutions; advising brands to think of themselves as publishers and build useful content for their key audiences.
How is content marketing different than digital marketing as a whole? What unique role does it play in a brand's overarching marketing objectives?
With content marketing, we advise clients to think of themselves as publishers or media companies. To build useful content for their key buyers/audience that they can use to connect along the buyer's journey and drive to their owned channels (usually website). Digital marketing is a very critical part of content marketing and can connect buyers with the brand at certain digital/social touch points, but it talks more to the publishing, distribution and amplification of the content while content marketing includes this plus the overall strategy, brand narrative, multiplatform content creation for buyer personas, buyer journey (which includes digital and non-digital touch points), and measurement and analysis of all content marketing efforts to drive business outcomes.
I believe content marketing should be the backbone to all of a brand/organization's marketing efforts because, if done well, it will build their owned audiences and allow them to continue the conversation, build brand loyalty, create efficiencies, and provide more real-time data to optimize and improve performance.
What's the best part of working in content marketing?
Content marketing is complex and, when working as a partner, we sometimes are not involved in all aspects of the organization's efforts. However, when we work closely with clients (and their partners) and have insight into all aspects and the results, it is really satisfying to see positive outcomes, and to have happy clients.
The interesting part of content marketing is we can always be improving and optimizing because of continuous advancements in technology, new solutions and channels and changes in consumer behaviors. It never gets boring. There is always something new to learn and try.
How is content marketing changing the way consumers interact with brands?
Content marketing is giving consumers a more direct way to interact with brands. User generated content in the form of testimonials, reviews and referrals are making it essential for brands to be more reactive to the consumer's needs and allows them to have a much better understanding of their likes and dislikes. This can impact all aspects of a business – product/service development or changes, direct purchase/online shopping that change distribution and finance models, etc.
Content marketing also allows brands to develop their own audiences and to continue to reach out along the buyer's journey, including loyalty and return purchase.
Why is it so important for content marketers to be cross-functional?
Content marketing touches on many areas from strategy and planning, building a brand story and narrative, creative ideation and multiplatform content development (video, social posts, blogs, etc.), content publishing (website, enewsletter, etc.), content distribution and amplification, collection of data and analysis, measurement, optimization and improvements. Along with all of this, brands also need to ensure governance by creating guidelines and processes to implement with consistency and accuracy in order to avoid risks.
With smaller content teams, this often requires marketers to wear many hats or to work with partners in some or all of these areas. In larger organizations there may be more specialization, but it is still essential to understand the big picture to deliver on a holistic plan that will drive agreed-to outcomes.
What would you tell someone looking to add content to their marketing expertise?
It is essential for anyone working in marketing and communications to understand content. It allows brands the opportunity to differentiate and create a direct connection with their consumers/buyers. Consumers don't want to be sold to, but they do want useful information, when they want it. By creating great customer experiences with your brand, you can build a loyal following that you can continue to speak with, develop brand advocates and referrals, and increase up and cross-sell.
Want to learn to craft killer content? Get program information