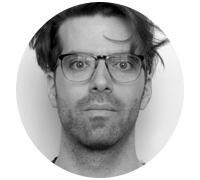 Starting this September, students in our Certificate in User Experience (UX) Design will build the critical skill blend they need to change the way we live, one experience at a time.
When Philippe Jean isn't working as a Sr. Product Designer at Shopify Plus, he's bringing his substantial experience and expertise to the classroom as a member of our incredible UX Design instructor team. Philippe answered a few of our questions about what makes UX an exciting career, and what you can expect from our new certificate.
How did you get started in UX, and what has been the key to your success?
Perhaps similarly to other people my age, I discovered my passion for interaction design by coding my first HTML/CSS website with the first family computer during the 1990s. Once I had that mastered, I was curious to understand and apply good esthetic and visual practice to my digital projects.
I decided to enrol in a multi-disciplinary digital arts program at College Merici (Quebec City) and then finished a graphic design undergraduate program (BFA) at Laval University.
I acquired various professional experience with digital agencies in Quebec City and Montreal.
One of the biggest pivots for me was 2013, when I decided to return to school at York University, in the Master of Design program.
This 2-year program allowed me to go deeper into design research from an exploratory and application perspective. Specifically, during seminars and my thesis projects, I became familiar with the concept of human-centered design methodology, a key component of a good user experience practice.
I intend to combine strong visual form research within a human-centered design framework in order to generate refreshing, innovative and original digital design solutions.
What's the best part of being a UX designer?
For me, it's all about shaping; shaping a new experience or leveraging an existing experience into a better one.
On a day to day basis, I want to contribute to shaping something real by:
collecting data
identifying problems
brainstorming potential solutions,
translating ideas into design artifacts
getting feedbacks
… further iterations
I believe a good UX designer is someone who is able to apply good design decisions in each phase.
I also believe a great UX designer is someone who is not only able to apply good design decisions but Is also able to translate ideas into meaningful and innovative design artifacts throughout the application of visual form.
Having an idea is good, but shaping them into a meaningful vision is key.
How is UX changing? What are some trends to watch out for?
I'm not a big fan of the word trend. That being said, the augmented reality discipline and the service design profession has been getting a lot of attention recently.
It's a big thing due to the fact these two fields want to apply human-centered design outside of the standard digital product experience; they want to apply it into the real world and physical space, which is interesting.
How does our Certificate in UX prepare students for a successful career?
The Certificate in UX Design prepares students for their future UX role by learning and putting in practice a well-established and high industry-standard user experience toolbox. Students will gain an understanding of various aspects of user experience such as framework, methodology and tools to leverage and use according to each design phase. In mastering these techniques, students will be able to better execute design solutions.
At the same time, I want my student to understand that once they graduate from this program, their toolbox will evolve and grow, as will their career path.
Why is it so important for UX designers to have cross-functional skills?
We live in a world where speaking a universal language across teams and fields has become the norm for successful design outcomes. This means that every UX designer should have a holistic approach to their work. Specifically, each designer should be aware of the others' reality, expertise, constraints and context.
If you could offer one piece of advice to people hoping to get into UX design, what would it be?
Asking questions and putting in a lot of time and effort to understand context, designing potential solutions, validate solutions and run iterations.
It's not a surprise: the more you do, the better you are.
Ready to start designing a better world, one experience a time? Get program information