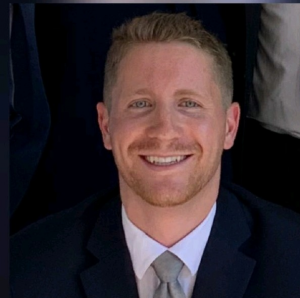 Dylan O'Dell is currently studying in the Certificate in IT Audit Execution program – the second School of Continuing Studies program he's taken in two years! Recently, Dylan started a new position with Manulife as a Senior Technology Auditor. He credits the education and experience he received at the School of Continuing Studies as a major contributor to his recent career success.
We spoke with Dylan to learn more about his exciting new position, why he has chosen this career path and how our certificates helped him secure his latest role.
Congrats on your new job! What does this role entail?
Thank you. My new role is a Senior Technology Auditor for the North American segment of Manulife/John Hancock Technology Audit division. Our division incorporates global technology and innovative solutions the organization is deploying to meet its promise to be the most digital, forward-thinking, and innovative financial services organizations in the industry.
My role includes participating in complex projects such as key risk audits, systems development audits, SOX/MAR audits, policy and standard review, data analytics, investigations and consulting related to web application security and infrastructure security. My responsibilities include testing, risk assessments, and consistent reviews of emerging risk areas such as information security, mobile and web development, big data, SDLC, digital transformations, cloud, IoT, RPA, DevSecOps, migration strategies and data center security management.
What influenced you to pursue this career path?
My passion for technology and new innovations mixed with my security background. It fit the mold to pursue a career in information security and system management. A career in IT Audit provided the opportunity to see a bird's eye view of how a global organization operates its governance, risk and compliance cycle to manage and mitigate the risk exposures associated with technology and digital innovation.
Why is it important to continue to upskill in this field?
In the world of technology and security, to not continue your studies and practice what you preach is not an option. In a time of ever-evolving threats, vulnerabilities, and risks mixed with new technologies coming online daily, the only way to maintain relevancy is to continue to upskill. The fortunate timing of pursuing IT Audit skills provided me the opportunity to practice proper risk management of IT systems, both application-based and infrastructure.
This is the second time I've enrolled in a School of Continuing Studies program in two years, and I can say I would not have the role or opportunities I have today if I did not attend those courses. They provided me the chance to network and develop my skills and opened new opportunities for me.
What skills did you acquire from the Certificate in IT Audit Execution that has helped you in your current job?
The course materials for the IT Audit Execution program really informs the theoretical requirements and practical requirements in my current job. From a theory and technical perspective, [the program] focuses on the core principles and material presented by ISACA, the governing body of the CISA exam. This knowledge is a requirement for those seeking the CISA certification.
The practical skills I've learned came from the course instructor's energy and passion for role-playing, whereby my peers and I were faced with key challenges in planning and executing an audit with a client. This provided us with an incredible opportunity to problem-solve and build our business acumen, all while focusing on information technology.
What is your biggest takeaway from the program?
The emphasis on learning soft skills and emotional intelligence as much as technical and theoretical skills. The program truly illustrated the real-world experience of IT Audit professionals. There were great lessons on both sides, separated during the in-class sessions to help guide students in both capacities. It was a great experience curtailing discussion around risk management while thinking of solutions and corrective action plans with clients in real-time.
What did you enjoy the most about the program?
The program did an excellent job of ensuring students were engaged and were bringing value and thought leadership to assignments, discussions and in-class sessions. Our class had some excellent representation from around the world of experts from various realms of audit, security, IT, IS. Collaborating with peers during all areas of the program was definitely something I enjoyed.
What advice would you offer prospective students thinking about taking the IT Audit program?
Just be yourself. From beginners to experts, this program will provide you with opportunities to engage others, teach others, and learn from others. If you are interested in the program for the pursuit of the CISA exam and certification, it provides an excellent opportunity to focus on this topic leading up to the date when you are comfortable writing the exam.
Ready to continue your education and upgrade your career? Learn more about the part-time Certificate in IT Audit Execution.