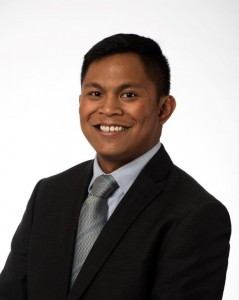 Aspiring Accounting professional, Giannecarlo Bualat, always knew his future would be bright. He was one of the many excited graduates at the School of Continuing Studies' June 2018 graduation. Achieving his Post-Graduate Certificate in Advanced Professional Accounting was a fundamental step in his accounting journey. We had the opportunity to speak with him and learn more about his York experience and career goals.
Congratulations on your big day! What does this achievement mean to you?
It's finally over! Well not exactly. For me this is an end of a chapter and a start of a new one. Completing this program will help open doors and are the building blocks in further becoming an accountant and earning my CPA (Chartered Professional Accountant) designation. Without my mentors and my classmates, [this victory] would not have happened without their help. It's an achievement I will look back on, having completed one step of the larger puzzle.
Why did you select York's Advanced Professional Accounting program?
There are many factors that influenced my decision when choosing this program among others. I've had prior experience in completing my bachelor's at York University and I trusted their process and experience when conducting courses. Location was also another factor. York is accessible by many forms of public transportation and was not too far from where I lived. This made it an easy trek to get there compared to other universities. Another factor was the duration of the program which was inline with my timeline. York was able to have me eligible for the CPA PEP (Professional Education Program) in eight months. It was intense, but worth it. Finally, the program was conducted within a classroom environment. Having previously [attempted] the CPA PEP, I lacked the learning connection often made within a classroom and so I did not have the chance to collaborate with other classmates [in the] course. Being able to see your instructors face-to-face made a whole world of difference.
How would you describe your overall experience at York?
To be able to complete nine courses over the span of eight months is no small feat and students should be aware of the course load and dedication needed to complete the program. [One benefit of] this program is the approachability of your instructors. They are on your side to help you succeed and will answer any questions you may have. Without their guidance and knowledge, I don't know how I would have succeeded. Overall, it was a rewarding and enriching experience.
What are your career goals and how has our program help set you up for success?
My career goal is to earn my CPA designation. Prior to the program, I had just quit the CPA PEP due to the difficulty of the course and lack of support. In completing this program, it has fulfilled the prerequisites of the CPA PEP which I am now currently enrolled in. It has also helped me land a job as a Junior Accountant which I would not have earned without this program.
What advice would you offer prospective students thinking about continuing education?
If you have realistic expectations and know that you can face the challenges ahead, then success will come your way. There will be ups and downs, but you must have faith in the process. As the university's motto states- Tentanda via: The way must be tried.
Are you destined for a career in Accounting? Get the details on our Post-Graduate Certificate in Advanced Professional Accounting. Winter 2019 session starts January 7th!