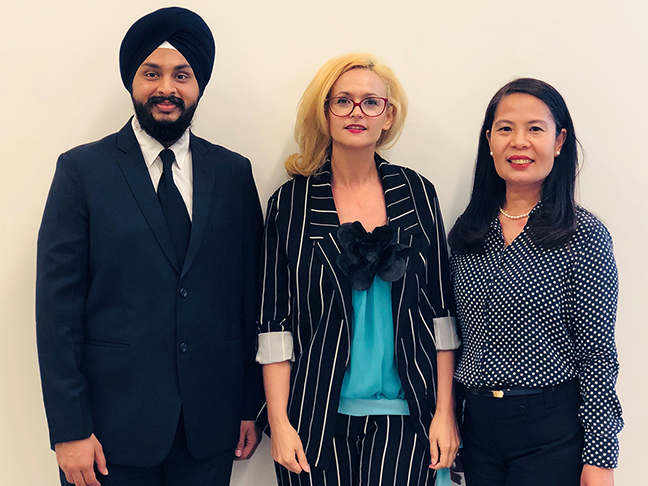 When Accounting students Bavneet Singh Nagpal and Carina Matutina set out to develop their accounting career, the journey may have been uncertain, but the destination was clear. Bavneet and Carina both enrolled in the Post-Graduate Accounting certificate program in January 2019 with similar goals of making their mark in the growing accounting field. Now 6 months later after enrolling in the program, the pair, along with their instructor, Dr. Dorjana Nano, are headed to this year's Global Conference on Business Management and Economics (GCBME). The conference, which attracts business leaders, academics, researchers, and policy makers across the globe, is a tremendous accomplishment for the team.
From classroom to conference stage
Dr. Nano, who teaches the Statistics course in our Post-Graduate Accounting program, believes in inspiring her students to routinely challenge themselves and exceed their own expectations. She encouraged her students to pursue further research studies while supplying them with critical soft skills top employers cite as deficient in today's workforce. Two groups of nine students enthusiastically accepted this challenge and conducted exceptional research on the gross domestic product (GDP) in Canada, and factors impacting savings and investment of Canadian households. Impressed with their work, Dr. Nano strongly recommended the students present their findings at any international business conference and have it published in a leading international journal. Each group selected a student to prepare an abstract and submit their request to speak at the GCBME taking place on July 27th, 2019 in Toronto. The class was thrilled to learn their abstract was accepted and subsequently, Bavneet, Carina, and Dr. Nano will be proudly representing their school with the aim of shedding light on some compelling research.
Influencing change with solid research
As the end of the 8-month Accounting program is quickly approaching, students are already reflecting on how this presentation opportunity seamlessly integrates with their current training, and how they can affect real change. "This presentation will demonstrate students' analytical, critical, and research skills learned from statistical methods in Business and Accounting "claims Dr. Nano. "Results of this study will provide recommendations and policy implementations in order to help Canadian households and policymakers to make smart decisions on savings and investments." Obtaining these multifaceted skills not only ensures students can excel in various accounting roles but instills an awareness of their ability to create impact. Carina and Bavneet stated that "we started this [Accounting] program aiming to contribute more to our respective companies. The knowledge and experience gained through our studies has fuelled us to pursue a more senior position [within our organizations]."
Kudos to Dr. Nano, Bavneet, Carina, and the entire Accounting class who contributed to this outstanding opportunity! We wish them the very best on presentation day and their future endeavours.