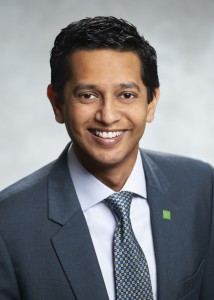 Certified risk management professionals are more essential today than ever before. Case in point: more Canadian organizations than ever before or investing in risk management to protect their assets and the people they serve.1
Responding to the demand for comprehensive risk management training, York University's School of Continuing Studies recently launched a new Certificate in Risk Management. A three-course, online program that can be completed swiftly in just six months, the Certificate prepares professionals to earn the Canadian Risk Management (CRM) designation and move into Risk Manager or Risk Management Analyst positions. The first cohort will begin online classes in September, 2017.
"The Certificate in Risk Management is designed to provide risk professionals with relevant theoretical knowledge and application techniques to position them for success," explains Dinesh Garbharran, Interim CRO, TD Insurance & VP, Risk Management, TD Bank, who is also a member of the program's Advisory Council. "York University is committed to ensuring that risk management thought leadership remains a hallmark of the program."
The Certificate offers a number of unique features for an online program. While the course material is delivered online, students are able to access their instructor through live coaching sessions, which affords them the chance to ask questions, receive clarification, and ultimately further their learning. All risk management students also receive twelve full months of free access to York's exclusive Real-Time Risk webinar series, an online learning resource where industry experts discuss contemporary topics in risk management and provide a series of real world examples to help bring the course content to life.
After completing the program, students are prepared to write the exams for the Canadian Risk Management (CRM) designation, administered and conferred by the Global Risk Management Institute (GRMI), and recognized by the Risk and Insurance Management Society (RIMS). This is the leading industry credential for risk professionals. It opens the door to a wide range of future roles and sustainable career paths for those who hold it.
With the new Certificate in Risk Management, the School of Continuing Studies has added another program to their already robust offering that will help professionals advance their careers and discover new opportunities.
"Our goal isn't just to position our graduates to get hired, but to be able to demonstrate that they have what it takes to do more and to get promoted," says Tracey Taylor-O'Reilly, Assistant Vice-President, Continuing Studies.
York University's School of Continuing Studies will be an exhibitor at the RIMS Canada Conference in Toronto from September 25-26.
---
1 2015 Global Risk Management Survey