Certificate in Information Privacy – Instructor and Graduate Panel (On-Demand S23)
Watch this webinar to hear from two prominent information privacy experts, Instructor and Curriculum Designer Peter Kosmala and Information Privacy Graduate Allan Grace. Listen to Peter go in-depth on the courses, projects and learning goals. Then hear Allan speak about how his experience in the certificate benefited him in his current role within the financial services field.
The Certificate in Information Privacy is for professionals in any discipline who wish to enhance their understanding of privacy and apply that knowledge to their current roles. Created in collaboration with Canadian privacy experts, students will gain knowledge of information principles, legal concepts, operational methods and emerging technologies that define privacy practice today.
Guest speakers: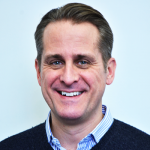 CIPP/US, Founder and Principal – PRIVĀT, LLC
Instructor and Curriculum Developer, Certificate in Information Privacy

Allan Grace, Allan Grace, CFP®, CLU® – Compliance Officer, Distribution Compliance. Risk Management, Desjardins Group