Earn a globally recognized credential in a rapidly growing field.
Today's digital environments are highly complex. They are also an integral part of our daily lives. It's no surprise then that the demand for cyber security expertise is on the rise across all types of industries. Professionals trained in cyber security possess the unique ability to protect digital assets and guard intellectual property. As one of the world's fastest-growing technology fields, many experts see the cyber security job market doubling in the next five years—which means there will be a critical need for qualified individuals.
Program Description
The Cyber Security Program will deepen your understanding of cyber security topics, strengthen your skills as an IT manager or project lead, and kick start your future career. The Cyber Security program also allows you to earn two certificates in just 12 weeks to get an edge over the competition. 
Cyber Security Program – Short Intensive (12 weeks)
Certificate in Cyber Security Fundamentals
Certificate in Advanced Cyber Security
Gain the fundamental knowledge required to help you become a more effective IT manager and project leader. In just 12 weeks of accelerated study, you will cover all the topics of both the Fundamentals and Advanced Cyber Security Certificates, and have a top-level overview of all eight domains of the CISSP body of knowledge and be prepared to tackle the CISSP exam.
The Cyber Security program's intensive format entails asynchronous online coursework in combination with five live-online evening sessions per course.
Students can expect the following in the live online evening sessions:
Guest speaker panel events/career discussions
(ISC)2 and the CISSP designation domain overview
Case-study exercises
Group discussions/activities
Presentations
Scenario-based problem-solving exercises
Hands-on exercises using information security tools
Students can expect the following in the online asynchronous part of the program:
Become intimately familiar with the Official (ISC)2 Guide to the CISSP CBK, Fifth Edition
Review a trove of rich resource material (articles, websites and videos) focused on contemporary cyber security standards and practices
Analyze and debrief a number of contemporary famous cyber breaches with instructors and peers and siphon the lessons learned
Participate in a number of problem-solving exercises on realistic cyber security scenarios
Participate in penetration testing scenarios
Study the OWASP Top Ten Web Application Security Risks
Examine cyber security vulnerabilities and brain storm solutions
Debate ethical issues and best practices in cyber security
Participate in cryptographic code breaking exercises
Practise answering quiz questions that closely resemble those on the CISSP Exam
Program Format
The Cyber Security program is delivered via blended learning, which entails online coursework as well as live online class sessions guided by one of our expert instructors.
Format: Short Intensive
Delivery: Online coursework + evening live online sessions
Session Schedule:  Live online sessions held on weekday evenings
Program Starts: March 1, 2021
Program Ends: May 23, 2021
Program Length: 12 weeks
Our interactive live online sessions allow you to engage with instructors and fellow students in a learning environment that is practice-oriented and dynamic, while our asynchronous coursework allows you to study and progress on your own time. 
Program Courses & CISSP Domains
Our Cyber Security program courses are aligned with the eight (8) domains of the CISSP body of knowledge. Completing the Cyber Security intensive will prepare you to present the CISSP examination and help you earn your designation.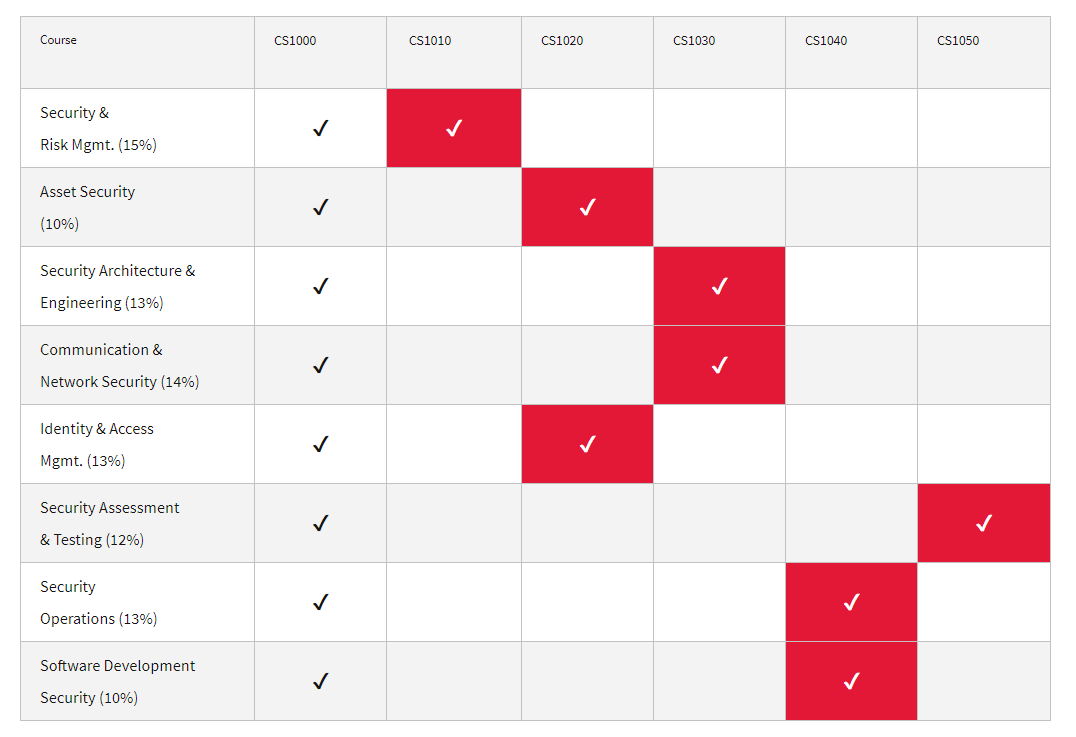 Who should take this program?
Professionals seeking their  CISSP designation;
Individuals who want to specialize in cyber security regardless of undergraduate major or industry background;
Recent graduates in Information Technology, Software Engineering, Computer Science or Database Administration seeking to focus their IT careers;
Project, team, and department leaders who require cyber security knowledge to lead their team more effectively;
Managers, administrators, and executives who are seeking to  master new information security responsibilities.
You may also be interested in
If you would like more information or have a question about the Certificate in Cyber Security Intensive, please Contact us
Register for this Program