Transform business with innovative blockchain technology
Blockchain is decentralized, transparent, and mostly unalterable. It improves data integrity through using an entire network of computers to record and validate transactions. This technology became popular within commerce, but its potential is being realized across numerous industries, including supply chain management, healthcare, finance, and public administration, specifically with electronic voting systems. In the last two years, the demand for blockchain skills has increased by 374% in the GTA (Greater Toronto Area) alone.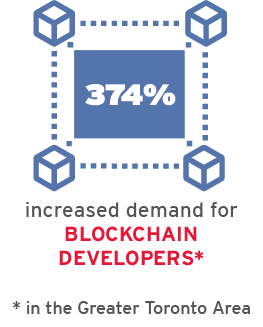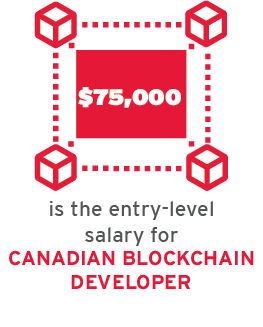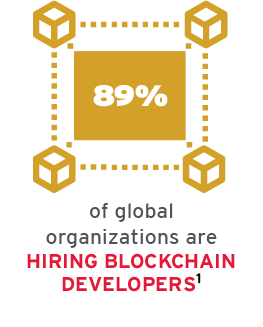 [1] According to Deloitte's 2018
global blockchain survey
Break out from the crowd in blockchain development
A successful blockchain developer goes beyond understanding cryptography and data structures. You must be confident in advising organizations on how blockchain can offer significant business value and knowing when and when not to implement the technology. Standing out from the crowd means you recognize the connection between blockchain architecture and business outcomes. Leading companies are seeking blockchain developers who are strategic in their implementation of new technologies from concept to deployment.
Created in collaboration with industry executives, the full-time 9-course Post-Graduate Certificate in Back-End and Blockchain Development is the first and only technical blockchain certificate delivered by a Canadian university. This certificate will equip you with the tools to confidently launch your career. Create real-world blockchain solutions as you collaborate with peers and build upon your existing knowledge. Aside from critical technical skills, you will build and practice foundational cross-functional skills employers demand like complex problem solving, business acumen, and social perceptiveness. The program concludes with a unique capstone course, allowing you to further apply and demonstrate your knowledge.
As you graduate with a diverse portfolio of work, these learning outcomes will prepare you for real blockchain job functions, helping you secure your next career opportunity and greater success.
Who should take this program?
The Post-Graduate Certificate in Back-End and Blockchain Development is designed for recent post-secondary graduates and international students with working knowledge of JavaScript who are pursuing careers in blockchain development.
This program can enhance the careers of people with educational background in:
Computer Science
Network Technology
Computer Engineering Technology
Web Development
Program Delivery
In Ontario, gatherings are restricted, and no university is offering classes in person for the foreseeable future. We have been successfully delivering many of our courses online for years. So please know that you will not be compromising on your learning experience.
When the situation changes and it is once again safe to offer face-to-face instruction, full-time programs will make the transition back into the classroom.
Until then, this program will be offered in our "live online" format which offers students the structure and group interaction of a face-to-face experience without travelling to York's campus. Our live online classrooms enable students to hear and interact with the instructor and other students like in a normal classroom. Course materials and assessments vary by course but students can expect online articles, videos, practice opportunities, discussion boards, etc to help learn the content.
Please note that each lesson is recorded so students can review them multiple times to ensure they meet the learning objectives. 
By the end of the certificate, successful graduates will be able to:
Analyze appropriateness of blockchain for business use through development of a simplified qualification matrix.
Assess use cases of blockchain technology for compliance with various frameworks and industry standards.
Select the most suitable consensus mechanism and platform in developing a blockchain solution.
Design and develop a decentralized application on public and private blockchain in various sectorial contexts (e.g. currency, real estate, health).
Define specifications for, and administer, performance testing for blockchain solutions.
Collect and review metrics in diagnosing performance bottlenecks for blockchain technologies.
Comply with specific standards and processes established for sharing of data and its security.
Describe product development, product lifecycle management and client communication as it relates to back-end development
Discern and effectively communicate the overall architecture of different software applications
Identify and use the appropriate products, tools and frameworks required to build and maintain a software application.
Effectively troubleshoot issues related to rapid application and plugin development, artifacts, testing, building and deploying, security, performance turning, and dynamic and static typing.
This is a BYOD (Bring Your Own Device) program. We recommend your device meets or exceeds the following specifications:
16GB RAM
500GB free disk space
Intel Core i7 Quad-Core, or equivalent
Linux or macOS (MacBook)
At a minimum, your device must meet or exceed the following specifications:
8GB RAM
250GB free disk space
Intel Core i5 Quad-Core, or equivalent
Linux, macOS (MacBook), Windows 10 Enterprise 10 Enterprise 64-bit, or Windows 10 Pro 64-bit
Alisa Acosta, BSc, BEd, MA, PhD
Director of Education, Blockchain Research Institute
Alisa is an experienced educator with a Doctor of Philosophy (PhD) in Computer-Supported Collaborative Learning from the University of Toronto. Since 2011, she has been investigating powerful new ways of teaching and learning with technology, including the design of learning analytics, intelligent agents, immersive simulations, tangible media, and "smart classroom" architectures to support collaborative learning in face-to-face contexts.
Alisa is currently the Director of Education for the Blockchain Research Institute—an independent, global think-tank, bringing together the world's top researchers to undertake ground-breaking research on blockchain technology. A major part of her role is to mobilize this research via educational programming, Massive Open Online Courses (MOOCs), and enterprise-level learning opportunities.
Alexandru Gogan, B.Eng., MSc, MBET
Director of Engineering, Sherpa
Alexandru is currently a Software Engineer at Sherpa, a startup providing electronic travel visas as an ancillary service for airlines and travel agencies. He completed his undergraduate degree in Information Management Systems in Germany as well as a postgraduate degree in Advanced Computing in Scotland. After working as a consultant and software engineer for four years, Alexandru joined the Master of Business, Entrepreneurship and Technology program at the University of Waterloo. Since then, he has been immersed in the Toronto startup ecosystem. In 2018 he co-founded Source, a decentralized backend as a service allowing developers to create applications with interoperable data while enforcing true data ownership. His main fields of interest today are building scalable and robust cloud solutions and micro frontends.
Aly Kassam, MBA, BSc
Director of Product, OneLedger Technologies Inc.
Aly has over 12 years experience in Enterprise Software Solutions and has worked at various start-ups leading product strategy, with several years experience in Product Management at Oracle.  He is currently working at OneLedger Technologies Inc., a blockchain protocol and solutions company, heading up all product initiatives both in their B2C applications and for their B2B Enterprise solutions.  Aly has an MBA in Finance from McMaster University and an Honours Bachelor of Science in Computer Science from York University.
Henry Kim, PhD, M.Eng, BASc
Associate Professor of Decision Technologies, Schulich School of Business, York University
Henry is an Associate Professor at the Schulich School of Business, York University, and is the Director for blockchain.lab at Schulich. As one of the leading blockchain scholars in Canada, he has authored more than 20 publications on blockchain topics and over 60 overall. Prof. Kim is engaged in blockchain research projects with Toronto and Region Conservation Authority (on electricity micro-grid), the Canadian blockchain startup Aion (on AI-based consensus mechanism), Ontario Ministry of Agriculture and Rural Affairs (on food traceability), Don Tapscott's Blockchain Research Institute (on commercial insurance) and many others.
He is also a leading expert in the development of ontologies for enterprise modelling. He gained expertise conducting research on the Toronto Virtual Enterprise (TOVE) project, a world-renowned investigation into developing Artificial Intelligence based enterprise systems involving global partners like BHP Steel, Bombardier, and Oracle. Prof. Kim is a committed educator to management students and managers, as well as blockchain enthusiasts and ontologists.
Marek Laskowski, PhD
Chief Technology Officer, Novera Capital
Marek is CTO of Novera (formerly, Novera Capital), co-founder of Toronto Blockchain Week, and co-founder of the Blockchain Lab at the Schulich School of Business. He advises several international organizations on blockchain standards including NIST (USA) and the UN/CEFACT bureau and several startups. Marek is a faculty member for the Blockchain Research Institute (BRI).
Marc Lijour
Vice President, Capacity & Innovation Readiness, Information and Communications Technology Council
Marc is the Vice-President leading Capacity and Innovation Readiness initiatives at the Information and Communications Technology Council (ICTC). He started his career as an educator, teaching Mathematics and Computer topics in several countries. He played a leading role at the Ontario Ministry of Education during the revision of the Technological Education curriculum and the launch of the Ontario e-learning Strategy.
In recent years, he has worked in the private sector for IT companies leading the 4th Industrial Revolution, such as Cisco Systems, Savoir-faire Linux, and ConsenSys. He worked closely with startups and large organizations alike to create exponential business value driving economic and social growth. Marc is passionate about new technologies and helping people and organizations innovate. He chairs the industry program advisory committee for the Blockchain Developer Certificate at George Brown College, the first of its kind in Canada.
Marc holds degrees in Mathematics, Computer Science, and in Management (MBA in Technology and Innovation). He serves on the board of multiple not-for-profit organizations in the tech industry, such as TechConnex and the Toronto French Business Network.
Lana McGilvray
Founding Partner, Purpose Worldwide
Lana is a founding partner of Purpose Worldwide and serves on the board of Global Women in Blockchain. She began her career as a public television writer and then spent the next 23 years in marketing leadership roles at innovative data, technology and marketing companies.
The teams Lana has led have played roles in many emerging company successes as well as some of the most notable M&A and IPO strategies in the market.
Her current strategic marketing agency focuses on empowering clients to connect their purpose to growth and serves several blockchain enabled companies that are pioneering the future of their sectors.
Ross McKee, BA, LL.B
Partner, Blake, Cassels & Graydon LLP
Ross's practice involves Canadian and cross-border securities regulation, regularly advising issuers, dealers, advisers, and marketplaces on capital markets financing regulation, registration, and marketplace compliance issues. In the field of cryptocurrency, digital tokens and other blockchain businesses, Ross has provided securities law advice to Canada's largest ICO and largest crypto-related RTO, SAFT placements, cryptocurrency investment funds, exchanges, token foundations and protocol developers. He was the Canadian legal reporter for the Token Alliance of the Chamber of Digital Commerce and the Lex Mundi Global Token Sales Guide. Ross is recognized as a leading lawyer in Who's Who Legal: Banking 2019 (Fintech), IFLR1000: The Guide to the World's Leading Financial Law Firms – 2019 (Capital Markets) and Best Lawyers in Canada 2019 (Securities Law).
Sotirius Liaskos, York University
Bio coming soon
William Mougayar, Kin Ecosystem
Bio coming soon
Omid Sadeghi, York University
Bio coming soon
Shagufta Sayani, Ernst & Young
Bio coming soon
Jamiel Sheikh, Chainhaus
Bio coming soon
Tomisin Jenrola, BSc
Tomisin has worked and consulted on various blockchain projects and initiatives. These range from governments and some of their agencies to startups abroad and larger firms here in Canada.
Victor Li, MA, CFA
Victor became interested in blockchain and cryptocurrency in 2014. After taking blockchain courses offered by University Nicosia and ConsenSys, he was convinced that this decentralization technology can change the world for the better. In 2015, he co-founded the blockchain community group at CPP Investment Board and hosted frequent blockchain workshops for his colleagues. He was part of a blockchain pilot team that conducted a feasibility study on an enterprise blockchain use case. In 2019, Victor co-founded the DeFi Toronto meetup to promote decentralized finance as a use case of public blockchains. In 2020, he and his team won the first prize (US$2500) from Aave in EthGlobal's HackMoney hackathon.
Victor is a veteran financial economist and investment analyst with 20+ years of experience investing across multiple asset classes, including real estate, infrastructure, and fixed income. He graduated with a Master's degree in applied economics from the University of Victoria and is a CFA charterholder. He was on the advisory committee of George Brown College's blockchain development program.
Affaf Ahtisham, MSC (Candidate)
Affaf Ahtisham is a seasoned software developer with over 12 years of experience across various technology stacks, spanning multiple industries. He currently leads and manages teams of developers across different products, and is directly involved with managing production and release of software and web application solutions through a managed agile process. He is passionate about sharing his experiences, and learnings for those entering the world of software development, and has keen interest in fields related to data engineering, distributed systems, modern software development practices such as DevOps and enabling cloud-native solutions. He completed his B.Sc in Life Sciences from McMaster University and is currently pursuing M.Sc in Computer Sciences from University of Liverpool.
Govind Mohan
Govind is a blockchain developer and researcher who has been in the space since 2014. He was involved with several start-ups during university which provided him with very strong development skills.
Govind has participated in several hackathons, notably winning EthUofT 2018 and creating a top 10 hack at HackFS 2020. He also is an advisor to Legal Hackers at UofT Law. The group organized a participating node in Global Legal Hackathon 2020 where the winning group went on to start a company.
After winning EthUofT, Govind was reached out to by the Creative Destruction Lab at Rotman Commerce, offering to incubate his group's project at their inaugural Blockchain-AI stream. This led to him starting DataX Research, which was developing a browser-based blockchain plugin which could facilitate data monetization, along with several other experimental data science projects. He decided to pause DataX and went on to found Virgil Systems, where he currently works as lead developer. The company focuses on advanced peer-to-peer networks powered by DLT.
Govind is a passionate believer in data privacy and a free and fair internet. He has contributed to several open source projects and donates regularly to EFF and Wikipedia.
He holds an honours bachelor's degree in Computer Science, Philosophy, Economics from the University of Toronto.
Dhruvin Parikh, B.E.
Over the course of half a decade, Dhruvin Parikh has been been helping organizations build next generation systems through cutting edge technologies. He is a Software Developer at a leading Toronto based Blockchain startup. He quickly perceived the potential of decentralized systems and that motivated him to start exploring blockchain technology since early 2017.
Dhruvin's role includes but not limited to write clean, bug-free and well-tested code mainly in React, React-native and Node. He has been actively contributing to open source blockchain projects of Ethereum, AION and Polkadot ecosystem.
Dhruvin is dedicated in solving complex problems. He is an Adjunct Professor as well as Curriculum developer at George Brown college for Blockchain Development Program. He is responsible for creating and delivering content for full stack development(Node & React), Smart Contracts and decentralized applications.
Dhruvin provides smart solutions to hardware and firmware designing needs of Pharmaceutical and Electricity utility companies in India. He also runs a solo software consulting firm in Canada which provides development services for decentralized applications and solidity smart contracts.
ANDY LEUNG, MSC, BSC
Andy is a senior technology leader who is passionate in developing innovative solutions using blockchain technology. With over 15 years of experience in finance and FinTech, he is currently CTO and Co-Founder of Aquanow, a fast-growing FinTech startup which provides digital assets trading platform and infrastructure. Andy has strong leadership skills with experience building and growing teams. He loves learning new technologies and enjoys giving back to the community.
Tarun Sharma, MSc, MBA
With over 12 years of experience in information technology, Tarun has held various positions ranging from developer to founder & CTO. Tarun has worked on a plethora of Web and Standalone Technologies with cloud & e-Commerce applications development as the primary focus. Tarun can code in over 10 different programming languages and databases, with specializations including Software Engineering, Product Development, Project Management, and Payment integration. Tarun is a great proponent of Open Source, likes to contribute and develop on open source programs, and is currently interested in data architecture, predictive analytics, distributed databases and blockchain systems. Tarun holds Master of Computer Science and Master of Business Administration.
Apply for this Program