As of March 16, 2020, all York University English Language Institute programs will be delivered 100% online.
This is not new to us, as our English Language Institute has launched and delivered many quality online programs over the years, and we will continue to maintain the highest quality of instruction for those considering starting their studies with us. For any enquiries or questions about our programs, please contact
yueli@yorku.ca
, and for details on changes applicable to your program of interest, please read the information in the
Online Delivery
tab at the bottom of this page.
Language preparation for study in English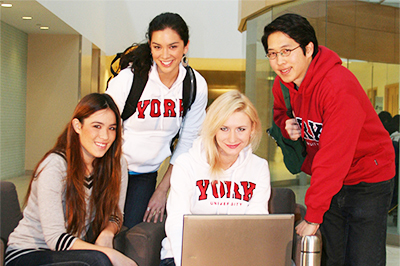 The Academic Program(AP) has 9 levels for students – from absolute beginners to advanced learners. Students also participate in activities, trips, and social events organized by York University Community Leaders, giving you the opportunity to build your skills and confidence in preparation for your future university life.
An alternative to IELTS and TOEFL
The Academic Program was designed as a  comprehensive English for Academic Purposes (EAP) preparation for students at any level of English. This helps students learn English to the level they need – from basic communication skills to completing a PhD. Our unique program allows students from AP6 to AP9 to sit in on many courses at York University and experience what its like first-hand. From these levels, students can apply for conditional admission to York University.
Students from over 70 nationalities have enrolled
in this program over the last 5 years!
York University students hold regular Conversation Partner
sessions and host regular social and interactive clubs
and activities.
Students who complete Level 9 of the Academic Program
(with Honours or Distinction if necessary) will meet the
language requirements for entry to York University.
Learn while you make friends and have fun
AP gives you the chance to participate in social activities and trips, practice your
English outside the classroom and build your confidence! In addition, AP3-AP9
students choose a seminar each session to complement their core class objectives.
Some of the special English learning opportunities include seminars for:
grammar
pronunciation
reading
photography
music
Canadian culture
… and more!
Levels
Levels AP1-AP5 focus on helping build a solid foundation of English proficiency in all four language skills—reading, writing, listening and speaking.
Students who successfully complete Level AP5 may apply to the York University English Language Institute's Bridging Program, where they can take a class for academic credit while completing the remainder of their language proficiency requirements to be admitted to York.
Levels AP6-AP9 focus on the kinds of language, critical thinking and study skills required to be a successful student in a university or college setting where English is the language of instruction.
Students who successfully complete Level AP6 are eligible to apply for Conditional Admission* to York University. Conditionally-admitted students are also eligible to apply to Pre-Destination York program.
Conditionally-admitted students who successfully complete Level AP7 or Pre-Destination York program are eligible to apply to the Destination York Program, where they can complete the equivalent of Levels AP8 and AP9 in one very intensive eight-week program.
More Information
In the Academic Program, you will study online in a live classroom environment with our expert instructors guiding you through the course material. Our online courses allow you to drop-in daily to study in a group for 15 hours per week. You will also have a weekly five-hour module of self-study where you can hone your skills on your own time to advance your English proficiency.
Each level's self-study module builds to a unique learning project that will showcase the new language skills you have learned. During this project, you will investigate real-world issues and themes using an inquiry-based approach. The project will sharpen your critical thinking skills while enriching your English vocabulary and overall language ability. Examples of projects are sustainability brochures, debates on world issues, and a job skills WebQuest.
All courses are delivered through custom-designed Moodle classes, allowing you to prepare for university from the comfort of your own home. In addition, we offer up to 10 additional hours of English learning per week through our wide complement of optional activities, which include: clubs, conversation partners and student-led discussions.
Online Delivery Summary
Program length: 8 weeks per session
Online Class size: 17 students maximum
Synchronous Classroom hours/week (live instruction): 15
Asynchronous hours per week: 5
Access to support services
Technology requirements: a computer with reliable, high speed internet, camera and microphone
Online start dates:

June 29 – August 21, 2020
May 4 – June 26, 2020
Program length: 8 weeks (per level)
Class size: Approximately 16 students
Classroom hours/week: 20 hours
6 start times per year
This program consists of 20 hours of instruction per week, offered Monday-Friday including a choice of seminars to accommodate students' specific learning. Students will be placed in a morning, afternoon, or evening session depending on their placement level. The level is determined by a test written on the first day of the session.*
University Life, a range of co-curricular activities designed to provide a balanced program of in- and out-of-classroom learning, includes:
Orientation to the York University campus
Access to self-study facilities available for use before and after class
Daily student-led discussion sessions
Campus activities that will bring students into contact with other members of the York community
York Admissions advising sessions
Workshops on university life skills, including topics such as time management skills, applying for admission, and testing strategies
York English Language Test (Levels AP7-AP9 only)
Attendance at university lectures (Levels AP6-AP9 only)
An e-mail account, internet and library access, textbooks and limited printing and photocopying services are included in the tuition fee.
These
activities
 allow students to socialize with other participants in the course, attend cultural events, and visit places of interest in and around Toronto.
A visit to the CN Tower, Niagara Falls, an NBA game, a Soccer Club, and a Games Club are examples of s the many trips, clubs, and activities available to English Language students.
You are at least 18 years old*
*If you are under 18, you still may be eligible. Contact the English Language Institute to confirm.
Please refer to the following document for Academic Program questions & answers:
Academic Program Student Handbook
Please refer to the following document for Academic Cancellation & Refund Policy questions & answers:
| Term | Session | Price (CAD) | Register |
| --- | --- | --- | --- |
| Fall 2020 | Academic Program (October 26th- December 17th, 2020) | $3,560.00 | Apply |
| Winter 2021 | Academic Program (January 7th-February 26th, 2021) | $3,560.00 | Apply |
| Winter 2021 | Academic Program (March 1st-April 23rd, 2021) | $3,560.00 | Apply |
| Summer 2021 | Academic Program (May 3rd-June 25th, 2021) | $3,560.00 | Apply |
| Summer 2021 | Academic Program (June 28th-August 20th, 2021) | $3,560.00 | Apply |
| Fall 2021 | Academic Program (August 30th-October 22nd, 2021) | $3,560.00 | Apply |
| Fall 2021 | Academic Program (October 25th-December 16th, 2021) | $3,560.00 | Apply |
Given the experiential and practical nature of the courses and the application of Ontario's Freedom of Information and Protection of Privacy Act (FIPPA) to York University, The School of Continuing Studies works to ensure that instructors and participants acknowledge and respect the privacy and confidentiality of personal information that may be presented in the context of instruction. Instructors will limit the amount of personal information that is collected, used or disclosed in their sessions, and will ensure that all identifying personal information (including proper name, address, etc.) is omitted from all written documents in order to protect personal privacy and confidentiality. Instructors should not bring or share personal or other confidential files or records with the class or allow students to do so.We are committed to protecting your privacy and your financial security, and we do this in several ways:
Your credit card information is never received or stored by our system. Only your financial institution has access to your credit card information.
Your Student Portal is password-protected. To access any personal and academic information, you must enter your username and portal password.
Online: Available Sessions
Bank Transfers: Please contact the English Language Institute if you intend to pay by bank transfer. Please be aware that most international bank transfers requests will be charged a bank transfer fee. Please ask your bank for details. Students are responsible to ensure the money they have sent to English Language Institute covers any bank transfer fees.
Money Order: The Money Order should be made payable to York University. Please mail the original Money Order to our office at the following mailing address:
York University English Language Institute
Suite 035 Founders College
4700 Keele Street
Toronto, Ontario
M3J 1P3 CANADA
Please send required documents to our fax number: 416-736-5908 or email at yueli@yorku.ca
English Language Institute Application Fee: $200.00 (one-time only, non-refundable) for new students.
Deposit of $500.00 (non-refundable) per course is required to complete your registration and receive a Letter of Acceptance.
Health Insurance (Emergency Medical coverage) is available for additional cost of $100.00 per two month session.
If you are unable to join the first day of the course, please immediately contact us in order to find out the last possible day to attend the program. Attendance deadlines do apply.
*Fees subject to change
Placement Fee: $200.00 (one-time only, non-refundable).
Homestay includes three meals a day.
You may apply for residence if you are between the ages of 18 and 29.
For most Fall & Winter courses: Residence includes a meal plan.
For most Summer courses: Residence does not include a meal plan.
Please refer to the following document for Academic Cancellation & Refund Policy questions & answers:
Please refer to the following document for Academic Program questions & answers:
Students and instructors are expected to maintain a professional relationship characterized by courtesy, collegiality and mutual respect and to refrain from actions that would be disruptive to such a relationship;

It is the responsibility of the instructor to maintain an appropriate academic atmosphere in the classroom and the responsibility of the student to cooperate in that endeavour; and,

The instructor is the best person to decide, in first instance, whether such an atmosphere is present in the class and may, at their discretion, take steps that they feel are appropriate to resolve an issue or dispute.

In any case, where a student feels that this policy has been violated, they are urged to: notify the instructor of the course/program as soon as possible. Students may be asked to provide a detailed written description of their complaint to the instructor. The instructor may take measures they feel are appropriate to resolve the issue and/or may forward the complaint to the English Language Institute for review. Please refer to the full policy document on the York University website at:

http://www.yorku.ca/scdr/
Apply for this Program