The demand for big data experts is exploding.

Representing one of the largest talent shortages in Canada, big data opportunities are exploding in every sector from marketing to financial services to professional sports. The Greater Toronto Area is at the epi-centre of this talent gap. Employers frequently report that they cannot find qualified candidates and are heavily investing in re-training their workforce.
---
Did you know?
The demand will continue to grow with open access to data sets, the introduction of new big data software applications, and the increased applicability of big data to new market segments.
---
Harness big data to achieve your organizational goals.
We have access to more data than ever before. But that information is meaningless without people who know how to properly analyze it.  This is why both public and private sector organizations now rely on big data experts and predictive analysts to help them make informed decisions.
If you are currently working in analytics or a related field, the Big Data Analytics Program can train you to identify and leverage key opportunities to support your organization's strategic objectives. And once you know how to turn your findings into actionable insights, you will be indispensable to any employer.
Even if you aren't working in the analytics field, becoming an expert in data analysis is invaluable in many industries. Specialists in areas such as marketing, insurance, finance, human resources, and policy deal with big data every day. These certificates will help set you apart from the rest of the pack and enable you to grow your career options.
The program provides a comprehensive education in contemporary data analytics. You will learn data analytics foundations, basic and advanced methods, and relevant big data analytics toolsets. In addition to online coursework, you will also attend bi-weekly computer labs to access the leading software applications with which many employers require familiarity. For a list of the software used in each course, please see the "Software" drop-down section below.
"Today more than ever, analytics play a crucial role in creating a positive customer experience. As a member of the program's advisory council, I look forward to working with York University to help establish an analytics program that will set students up for success and close the skills gap for employers."

Roland Merbis, Director of Customer Insights & Analytics at Scotiabank.
---
Program delivery.
The part-time Big Data Analytics Program is delivered online with on-campus evening computer lab time. Comprised of two unique certificates—the Certificate in Big Data Analytics and the Certificate in Advanced Data Science and Predictive Analytics— the program covers the domains identified by the INFORMS Certified Analytics Professional (CAP®) Program. You can choose to take one certificate or both. However, if you want to pursue INFORM's CAP® designation, you should plan to complete both.
Each course is only eight weeks long and you can earn your first certificate in just six months. That means in under a year you will be able to add two highly valuable credentials to your resume. A full-time, fast-track option will be introduced in the summer of 2018 for those who wish to complete both certificates in just four months.
---
Prepare for your
Certified Analytics Professional (CAP®) designation.

The Certified Analytics Profession (CAP®) designation is the premier global professional certification for analytics practitioners. The CAP® designation is offered through the Institute for Operations Research and the Management Sciences (INFORMS), the largest society in the world for professionals in the field of operations research (O.R.), management science, and analytics. If you are interested in pursuing the CAP® designation, see the INFORMS (visit
https://www.certifiedanalytics.org/
for full details.)
---
Who should take this program?
Current analytics professionals who are pursuing the Certified Analytics Professional designation or seeking a university credential for career advancement.
Specialists in other fields (such as marketing, insurance, finance, human resources, and policy) who want to confidently leverage big data to excel in their sector.
Any professional who wants to enter the quickly growing field of big data analytics.
---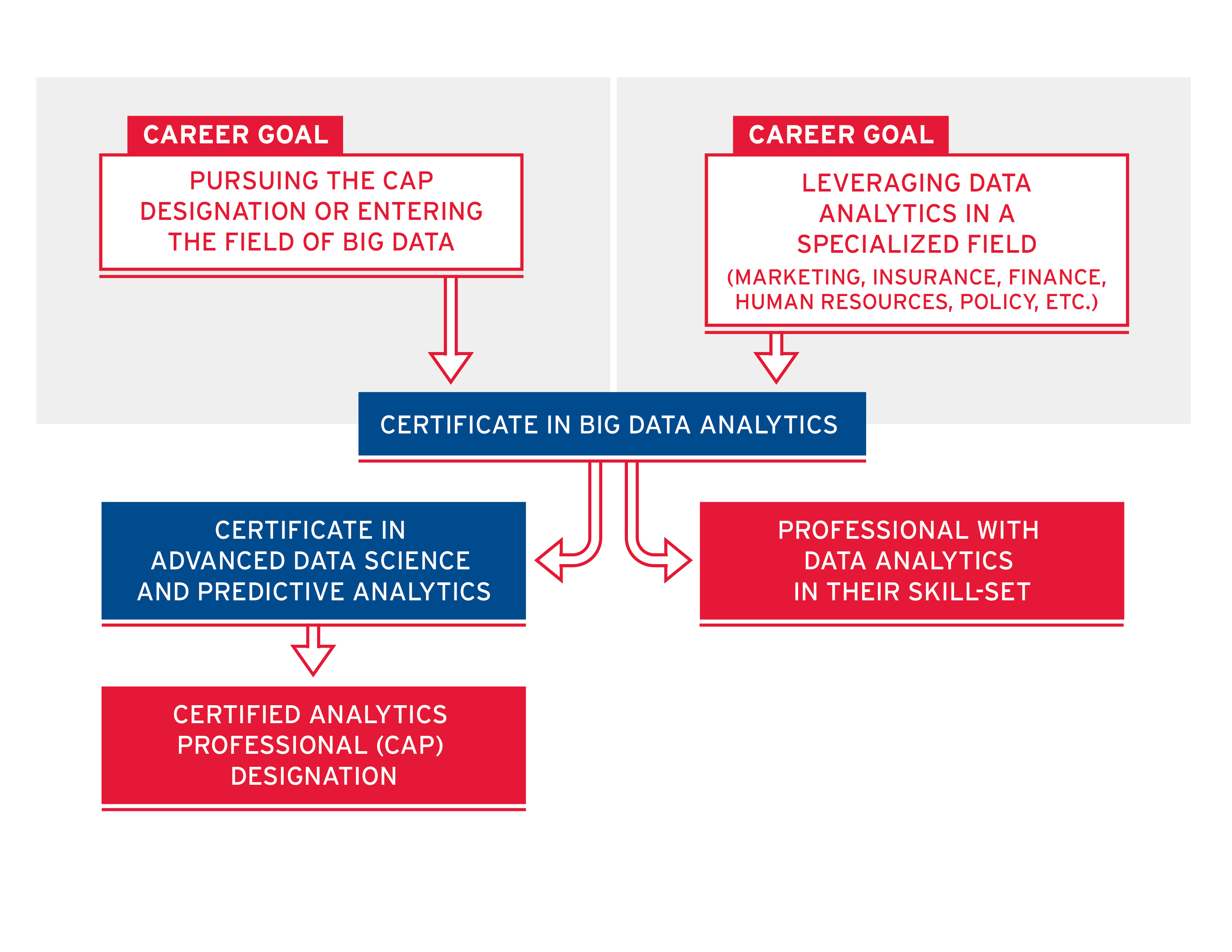 Admission Requirements.
The Certificate in Big Data Analytics is a direct registration program. No application process is required; simply enrol in the session of your choice to get started.
To enrol in the Certificate in Advanced Data Science and Predictive Analytics, you must either complete the Certificate in Big Data Analytics or be able to demonstrate equivalent education/work experience.
Not sure if you have the necessary skills and knowledge to take this program?
Take our prep course to find out. When you register for the Certificate in Big Data Analytics, the cost of the prep course will be deducted from your program fee. Please contact us for more details.
Advisory Council
Senior executives from many of Toronto's leading organizations help us ensure that our graduates have the skills and knowledge that employers value most, including the following:
Hashmat Rohian, Senior Director, Architecture, IT Strategy & Applied Innovation, The Co-operators
Tarun Dhot, Principal Consultant, Capco
Duncan Rowe, Manager, Analytics and Visualization, Corporate Services Department, Regional Municipality of York
Roland Merbis, Director, Customer Insights & Analytics, Scotiabank
Brent Fagan, Consultant, Data & Analytics, KPMG
Rachel Soloman, Executive Director, Performance Improvement, CAMH
Ian Scott, Partner and Chief Data Scientist , Strategic Analytics and Modelling, Deloitte Analytics
Jason Garay, Vice President, Analytics and Informatics, Cancer Care Ontario
Boris Kralj, Chief Information and Analytics Officer, Ontario Medical Association
Deepak Sharma, Director, Health Information Management, Business Intelligence, North York General Hospital
Hashmat Rohian,MSc, FnEng, CISSP, PMP, CFE, ACP, TOGAF, Lean Six Sigma
Hashmat is the Senior Director and Managing Enterprise Architect at The Co-operators Group. For over 10 years he has effectively led initiatives that have involved rapid advancement in data, analytics, digital, and business leadership. As a technology enthusiast and lean startup evangelist, he is renowned for building a "never rest, kill complexity and care more" culture that manages existing technical debt and prepares the organization for future disruptions by leveraging emerging business models and digital ecosystems. Hashmat is a published data science, IT, and agile delivery practitioner and academician with over 5 years teaching and curriculum development experience at colleges and universities in Canada. He has also organized conferences and workshops, and been interviewed on print, radio, social media and TV as an analytics expert.
Leotis Buchanan, MPhil
Leotis is currently a Data Engineer at RBC. In this role, he builds big data applications that transform, store and analyze large quantities of data in a performant manner.  Previously Leotis was the owner and co-founder of a startup that focused on developing applications for farmers. He also has worked as an electrical power engineer before coming to Canada, and has been teaching for the last 10 years. Currently his focus is on designing and building big data processing systems. In his spare time he studies deep learning and its application to self-driving cars.
Imad Jawadi, BASc
As an executive of a financial institution, Imad leads the analytics, business intelligence, data governance and enterprise content management functions for his organization. He has over 20 years of experience in information technology, analytics and data management across all aspects of information management. Imad's strategic and analytical thought leadership has enabled organizations to streamline operations, optimize cost, become data-driven, and respond to business needs at a fast pace. With sound strategy, clear and actionable execution planning, and focused program delivery, he delivers on the 'art of the possible'.
Mark Peco, CBIP, MASc, BASc
Mark is a leader, consultant and educator in the fields of business intelligence and data analytics. In the corporate education area, Mark has developed and delivered many courses on topics related to big data, data provisioning, data quality, data governance, analytics and business intelligence.  He has delivered courses in both classroom and online formats to corporate and government clients on a global basis. In the consulting and operations fields, Mark has worked in information strategy, performance management, control center operations, transaction control, compliance, business intelligence, analytics, simulation, application development, 5 program leadership and project management.  He has built and developed high performing teams that delivered quality results.  Mark has significant industry experience in the energy sector gained from operational, leadership and consulting roles at production, transmission and distribution companies. His domain experience is primarily in system operations, commercial transaction control and asset management. As a Certified Business Intelligence Professional (CBIP) at the Mastery Level, his expertise has been demonstrated in the areas of analytics, information management and team leadership.
Mustafa Ahmed, B.Eng, MMA
Mustafa has been in the analytics field for over 5 years, and loves what he does every day. He is currently working as a consulting and analytics manager at Precima –a customer centric advanced analytic solutions company, where his directive is to grow the company' s analytic footprint while yielding targeted results. In his current role, Mustafa is responsible for delivering targeted marketing, price optimization and promotional optimization solutions. Mustafa holds a Bachelor of Applied Science in Industrial Engineering from Ryerson University and a Master of Management Analytics from Queen's University.
Certificate in Big Data Analytics
Introduction to Big Data
Growing opportunities to collect and leverage digital information has given birth to various new areas of data analytics. Gain an introduction to the exciting world of data analytics with emphasis on preparing you for the INFORMS CAP® designation.
Basic Methods of Data Analytics
Exploratory analysis and prediction are among the most common tasks performed people new to the field of big data. Learn the basic components of exploration, visualization, feature engineering and building and applying basic prediction models with an emphasis on practical applications.
Big Data Analytics Tools
The potential insights that big data can provide can be very valuable for organizations. However storing, transforming and analyzing big data can be challenging. Explore the analytics tools that will allow you to apply traditional data analytics and business intelligence skills to big data.
Certificate in Advanced Data Science and Predictive Analytics
Data Organization for Analysis
Study the evolution of approaches to data provision and extensions that support big data. Learn data provisioning techniques to support new types of big data and the related analytic demands and workloads applied to it. You will capture, store and understand how to provide metadata to processes and analysts who require it.
Advanced Methods of Data Analytics
Discover the complete process of building prediction functions, including data collection, feature creation, algorithms, and evaluation in this advanced course.  A range of machine learning model based and algorithmic machine learning methods will be introduced.  You'll also learn how to apply learning algorithms to mining social media and network (sentiment, influence), text understanding (web search, anti-spam), database mining, and other areas.
Advanced Analytics Capstone Course
Exercise the skills acquired in the previous five courses as you analyse a case study with data sets.  This hands-on course requires analyzing a real-life scenario, including data collection, preparation, integrating, modelling and analyzing and will result in a practical example that you can use to demonstrate your skills and knowledge to potential employers.
Please note: As our program keeps up to date with current industry software demands, the below software listing is subject to change.
Certificate in Big Data Analytics
Introduction to Big Data
Excel (power query)
SQL
Tableau
Basic Methods of Data Analytics
Python
R
RapidMiner
Rodeo
Rstudio
Tableau
Weka
Big Data Analytics Tools
Apache Cassandra
Apache Hadoop
Apache Hive
Apache Spark
Elastic Search
Certificate in Advanced Data Science and Predictive Analytics
Data Organization for Analysis
Apache Hadoop
Apache Spark
Denodo Express
Excel (power query)
MongoDB
MySQL (standard edition)
Neo4j
Redis
Qlik Connectors
Qlik Sense
Qlik View
Tableau
Talend Data Prep
Talend Open Studio for Data Integration
Advanced Methods of Data Analytics
Python
R
RapidMiner
Rodeo
Rstudio
Tableau
Weka
Advanced Analytics Capstone Course
Your choice of any software
All students will require access to a personal computer while in the Data Analytics program.  If the program has its in-class sessions held in a computer lab, a desktop computer is sufficient.  However, if you are registered in a program that has its in-class sessions held in a classroom, a laptop computer is required.
Students will have access to a pre-installed server environment where they can utilize the software and datasets required for the program. In order to connect to the server, students will need to install free Virtual Private Network (VPN) and Virtual Network Computing (VNC) software. We recommend the following minimum specifications:
Microsoft Windows 7, 8.1 or 10 / Mac OSX 10.9 or above / Linux operating system
Intel / AMD 1.8GHz or higher CPU
2GB RAM
500 MB disk space
If students wish to install the course software on their own computers, we recommend the following minimum specifications:
Latest or recent version of Microsoft Windows (7 or 10) or Linux operating system
Dual or Quad-core CPU (Intel Core i3 or better or AMD equivalent)
8 GB RAM
20 GB disk space