Get qualified for one of the fastest-growing new career fields
Data is changing our world. It's time to change with it.
Representing one of the largest talent shortages in Canada, data analytics opportunities are exploding in every sector—from marketing to financial services to professional sports. The Greater Toronto Area is at the epicentre of this talent gap. Employers frequently report that they cannot find qualified candidates and are heavily investing in re-training their workforce.
Did you know?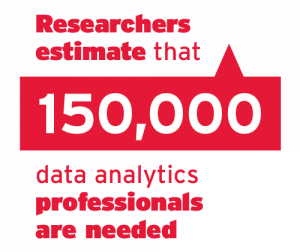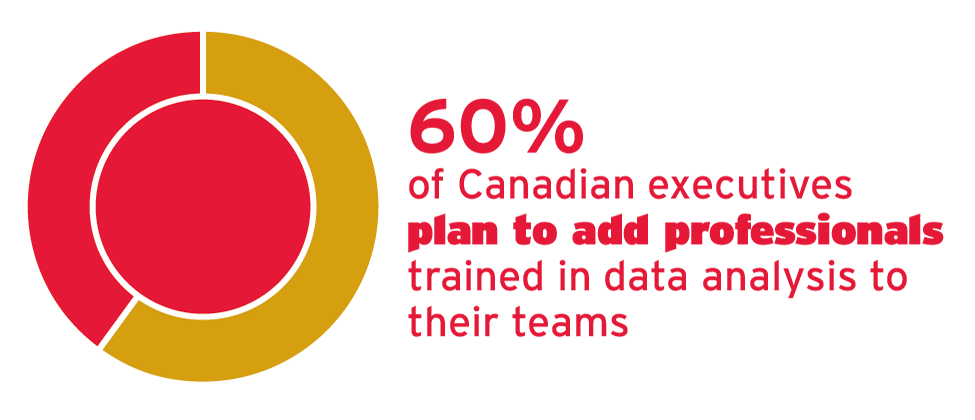 The demand for qualified candidates will continue to grow with open access to data sets, the introduction of new software applications, and the increased applicability of data analytics to new market segments.
Harness data to achieve your organizational goals
We have access to more data than ever before. But that information is meaningless without people who know how to properly turn it into actionable business insights. This is why public and private sector organizations now rely on data analysts to help them make informed decisions.
With the Big Data Analytics Program, you will learn:
Data analytics foundations
Basic and advanced methods for analysis
Relevant data analytics tool sets and
How to provision data for analysis
This program provides a comprehensive education in contemporary data analytics. You will also be exposed to some of the main software applications used in the industry.
Program Description
The Big Data Analytics Program also allows you to earn one or two distinct certificates to get an edge over your competition. You can choose to enrol only in the initial certificate or in both certificates at the same time to complete the full program.
Certificate in Big Data Analytics (6 months)
Suitable for individuals who want to acquire foundational knowledge of data analytics and apply it to their core industry such as Business, Finance, IT or Marketing.
Certificate in Advanced Data Science and Predictive Analytics (6 months)
Builds on the initial certificate to further develop the skills required for individuals to pursue a career in the field of Data Analytics.
Enrolment Requirements
The Certificate in Big Data Analytics as a stand-alone offer, as well as the bundle of the Certificate in Big Data Analytics and the Certificate in Advanced Data & Predictive Analytics Certificates taken together, are direct registration programs. No application process is required; simply enrol in the session of your choice to get started.
To register directly in the Certificate in Advanced Data Science and Predictive Analytics, you must either complete the Certificate in Big Data Analytics first or be able to demonstrate equivalent education/work experience.  Direct enrolment into the Advanced Certificate is subject to review and approval by the Program Manager and is granted only by exception.
Program Format
As of March 16, 2020, all our Continuing Education programs will be delivered 100% online for the foreseeable future. Please see details in the
online delivery
section.
The Big Data Analytics program is delivered via blended learning on a part-time basis. Each certificate entails online coursework as well as live, online classes every two weeks (bi-weekly).
Our live, interactive online sessions allow you to engage with instructors and fellow students in a learning environment that is practice-oriented and fun, while our asynchronous coursework allow you to study part-time and balance family, work, and other commitments. Live online classes may take place on weekday evenings or weekends depending on the section you choose.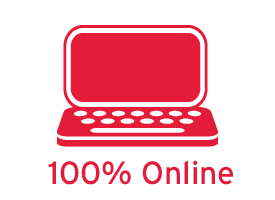 Format: Part-Time, blended
Delivery:  online coursework  + required live, online sessions (bi-weekly)
Live Session Schedule: weekday evenings or weekends
Program Length: 12 months total

Certificate in Big Data Analytics (6 months)
Certificate in Advanced Data Science & Predictive Analytics (6 months)
Who should take this program?
Current analytics professionals who are seeking a university credential for career advancement.
Specialists in other fields (such as marketing, insurance, finance, human resources, and policy) who want to increase their data literacy
Any professional who wants to leverage data analytics in their field or work
For professionals who:

"Today more than ever, analytics play a crucial role in creating a positive customer experience. As a member of the program's advisory council, I look forward to working with York University to help establish an analytics program that will set students up for success and close the skills gap for employers."

Roland Merbis, Director of Customer Insights & Analytics at Scotiabank.
Not sure if you have the necessary skills and knowledge to take this program?Please for more details.
More Information
Online Delivery
In Ontario, gatherings are restricted, and no university is offering classes in person for the foreseeable future. We have been successfully delivering many of our courses online for years. So please know that you will not be compromising on your learning experience. When the situation changes and it is once again safe to offer face-to-face instruction, full-time programs will make the transition back into the classroom.
Until then, this program will be offered in our "live online" format which offers students the structure and group interaction of a face-to-face experience without travelling to York's campus. Our live online classrooms enable students to hear and interact with the instructor and other students like in a regular classroom. Course materials and assessments vary by course but students can expect online articles, videos, practice opportunities, discussion boards, etc. to help learn the content.
Senior executives from many of Toronto's leading organizations help us ensure that our graduates have the skills and knowledge that employers value most, including the following:
Hashmat Rohian, Assistant Vice President & Managing Enterprise Architect, Co-operators Group of Companies
Hashmat is currently the Assistant Vice President & Managing Enterprise Architect at Cooperators Group of companies.  He is responsible for leading The Cooperator's digital strategy and execution, with a focus on Enterprise Architecture & Applied Innovation.
Hashmat's career has centred on 'data science' and 'digital transformation' with a focus on delivering significant and sustainable value right through from strategy to execution.
Besides being a practitioner, Hashmat also teaches software engineering, data science and agile delivery. He co-founded DisrupIT Labs that helps clients harness data analytics and digital in support of business strategy, deliver cross-functional, rapid prototyping capability to push and test new value propositions in the market fast.
His professional training as a software engineer, quantitative analyst, experience as a data scientist, fraud examiner, information security professional, digital integration specialist and entrepreneur gives him a unique advantage in driving organisational transformation and value.
Tarundeep Dhot, Principal Consultant, Capco
Tarun Dhot is a principal consultant at Capco and advises financial institutions in how they can derive business value through their data assets. Tarun is a recognized leader in the fields of advanced analytics and machine learning, serving on advisory councils of industry bodies. Tarun previously held management and consulting roles at CIBC including leading the advanced analytics group and supporting multiple business verticals that included client experience, fraud strategy, decision science, channels, products and payments. Tarun has also collaborated with multiple organizations including the Los Alamos National Laboratory and Google. Tarun holds a Master's degree in Computer Science specializing in Artificial Intelligence and a Bachelors in Electrical Engineering.
Duncan Rowe, Manager, Analytics and Visualization, Corporate Services Department, Regional Municipality of York
Duncan Rowe is a public sector executive who cares about helping York Region experience the power and value of using data for good. A leader in the data, analytics and visualization services branch, the team Duncan leads loves to work with people and their data. Duncan gets great satisfaction when clients enhance their programs informed by analytics, are inspired by visuals to share, and connect deeply through data storytelling.
He has over 25 years' experience working in the field, and has been working at the Regional Municipality of York for more than 15 years. In addition to building data and analytics capacity across the organization, Duncan and his team provide corporate analytics and visualization services to all of the service areas delivered in York Region.
Duncan has an undergraduate degree from York University, and a Masters Certificate in Municipal Leadership from the Schulich School of Business.
Roland Merbis, Director, Customer Insights & Analytics, Scotiabank
Roland Merbis is responsible for leveraging customer data and feedback into meaningful insights that drive business results for Scotiabank. He has close to 20 years' experience in the customer insights profession, starting as a market research professional supporting clients in various industries, from consumer packaged goods to government agencies. In his current role, Roland champions the voice of the customer and manages a team of data analysts and data scientists with a mandate to integrate market research insights with the bank's customer and transactional data. His team is responsible for developing strategic insights using consumer research data and customer analytics to effectively manage business issues and identify business growth opportunities.
Roland currently serves as treasurer on the Board of the Canadian Mental Health Association (Durham) and recently completed his term as member of the National Board of Directors of the Marketing Research & Intelligence Association (MRIA).
Rachel Soloman, Executive Director, Performance Improvement, CAMH
Rachel Solomon is the executive director of performance improvement at the Centre for Addiction and Mental Health, with accountability for enabling standardized, evidence-informed and data-driven decision-making and quality improvement throughout the hospital. Previously, Rachel held a variety of senior management roles at Toronto Central Local Health Integration Network (LHIN). Most recently, she was the senior director of performance measurement and information management, leading the LHIN's analysis and performance measurement work, capital planning, and initiatives to improve quality and equity in health care.
Prior to joining the Toronto Central LHIN, Rachel worked at University Health Network as the director of health system integration, leading the provincial development and implementation of the multiple provincial information systems. In this capacity, she also oversaw the first regional implementation of a referral program in Toronto that matches patients' needs to system resources. Previously, Rachel worked in the Ministry of Health and Long-Term Care in several capacities, including managing the provincial Wait Time Strategy and playing an instrumental role in the implementation of the Ontario Stroke Strategy.
Ian Scott, Partner and Chief Data Scientist , Strategic Analytics and Modelling, Deloitte Analytics
Ian Scott is Deloitte's Chief Data Scientist and leads advanced analytics and big data practice. He received a Ph.D. in Physics in 1993 from Harvard University.Previous positions in private industry he has held include vice-president at Lattice-Engines (a Silicon Valley big data company), CTO of Angoss (Toronto-based analytics software company on the Gartner Magic Quadrant serving banking and the broader financial services industry) and data scientist at Capital Fund Management (a Paris-based hedge fund).
Ian's academic career includes professor and postdoctoral positions at the University of Wisconsin-Madison, Stanford University, and CERN (European Centre for Particle Physics Research in Geneva).
Boris Kralj, Chief Information and Analytics Officer, Ontario Medical Association
Boris Krajl holds a PhD in Economics from York University. Dr. Kralj has lengthy experience in various management, research, and consulting positions with both public and private sector organizations. Currently he holds the positions of Chief Information Officer/Chief Analytics Officer at the Ontario Medical Association (OMA). He provides leadership and oversees the technology as well as the economics, research, and analytics functions. He is responsible for the effective planning, development, deployment, security, operation and support of OMA and its subsidiaries, information and communication technologies to support the OMA's strategic business objectives and operations. Additionally, Dr Kralj provides guidance and oversight to the economic research, policy, and evaluation work associated primarily with the negotiation and implementation of physician fee-for-service (FFS) and non-FFS agreements and the physician fees/tariff setting processes. He he is also responsible for enterprise analytics initiatives.
Dr. Kralj has authored and published a broad variety of research reports. His publications relate to physician payment reform, primary care, medical services utilization, physician human resources, workers' compensation, physician billing, oncology practices, prescribing patterns, and walk-in clinics. He has lectured on microeconomics, macroeconomics, industrial organization, and labour economics for over 15 years.
Deepak Sharma, Director, Health Information Management, Business Intelligence, North York General Hospital
Deepak Sharma is an executive in the healthcare industry who uses big data analytics in leading corporate initiatives such as funding optimization analysis, clinical quality improvement projects, IT system implementation, privacy policy development, and performance measurement in large hospitals and government agencies. Currently, Deepak is the director of patient flow, health information management, and business intelligence at North York General Hospital. Previously, he was the director of decision support at London Health Sciences Centre, and the director of transformation and performance evaluation services at Rouge Valley Heath System.
Brent Fagan, Consultant, Data & Analytics, KPMG
Jason Garay, Vice President, Analytics and Informatics, Cancer Care Ontario
Certificate in Big Data Analytics
Introduction to Big Data
Growing opportunities to collect and leverage digital information has given birth to various new areas of data analytics. Gain an introduction to the exciting world of data analytics.
Basic Methods of Data Analytics
Exploratory analysis and prediction are among the most common tasks performed people new to the field of big data. Learn the basic components of exploration, visualization, feature engineering and building and applying basic prediction models with an emphasis on practical applications.
Provisioning Data for Analysis – (Fall 2018 and thereafter)
(Formerly Data Organization for Analysis prior to Fall 2018)
Study the evolution of approaches to data provision and extensions that support big data. Learn data provisioning techniques to support new types of big data and the related analytic demands and workloads applied to it. You will capture, store and understand how to provide metadata to processes and analysts who require it.
Certificate in Advanced Data Science and Predictive Analytics
Big Data Analytics Tools
The potential insights that big data can provide can be very valuable for organizations. However storing, transforming and analyzing big data can be challenging. Explore the analytics tools that will allow you to apply traditional data analytics and business intelligence skills to big data.
Advanced Methods of Data Analysis
Discover the complete process of building prediction functions, including data collection, feature creation, algorithms, and evaluation in this advanced course.  A range of machine learning model based and algorithmic machine learning methods will be introduced.  You'll also learn how to apply learning algorithms to mining social media and network (sentiment, influence), text understanding (web search, anti-spam), database mining, and other areas.
Advanced Analytics Capstone Course
Exercise the skills acquired in the previous five courses as you analyse a case study with data sets.  This hands-on course requires analyzing a real-life scenario, including data collection, preparation, integrating, modelling and analyzing and will result in a practical example that you can use to demonstrate your skills and knowledge to potential employers.
Saber Amini, Ph.D.
Saber Amini is an engineering professional with a PhD in electronics from the University of Toronto.  Dr. Amini's expertise is in the area of embedded sensor systems with focus on software visualization and storage of sensor data. He has consulted with several companies in implementing big data storage architectures and helping organizations use their data to make better business decisions and gain a competitive edge.
Dr. Amini is an advocate of entrepreneurship in the area of Big Data and believes that there is great potential in the next decade in implementing disruptive business opportunities. He currently runs a start-up focusing on using artificial intelligence for real time marketing and analytics.
Zeyad Azem, M.Sc. B.Sc.
Zeyad Azem is the Leadership Partner in Data & Analytics at Gartner focused on helping organizations across Canada build and advance their data and analytics strategies. Zeyad has been planning and implementing transformational data-driven solutions for over 20 years across a variety of sectors.
Zeyad previously spent over a decade in data and analytics consulting, architecting CoE analytics practices and delivering large-scale analytics solutions for several Fortune 500 companies including RBC, TD Bank, Scotiabank, and Genworth. He brings hands-on knowledge, experience, and leadership in advanced analytics across functional areas including Risk Management, Marketing, and Product Strategy. Zeyad has built and led several lean data science teams that leveraged data and analytics to drive customer value.
His experience is supported by a Bachelor of Science degrees in Physics & Computer Science from Wilfrid Laurier University and a Master of Science degree in Artificial Intelligence from the University of Guelph. Zeyad also holds executive certificates in strategy, Innovation, and leadership from MIT Sloan School of Management.
Mayy Habayeb, MASc, BASc, PMP
Mayy is a software engineering professor and she has practical hands-on experience in developing machine learning algorithms and big data recommended systems. Her research work has been published in the IEEE Transactions on Software Engineering journal and she has participated and published conference papers at the "IEEE Big Data" and the "Data mining software repositories" conferences. Mayy has developed and delivered courses in the areas of big data, data analytics, and data mining at universities and colleges across Canada.
Her practical 20+ years of experience covers the banking, telecommunication and academic industries. She has led many projects in fields of CRM, geo-marketing research, business intelligence, network expansions and channel migration across several countries worldwide. She continues to support data analytic initiatives in organizations, with a focus on maximizing the value obtained from data by building analytical models that relate to data & business processes with the objective of providing information for key decisions.
Masoum Mosmer
Masoum is the Director of Data Science at Royal Bank of Canada where he leads a team of highly-skilled data scientists and engineers. Prior to joining RBC, Masoum was the Senior Manager of Advanced Analytics at Aimia, a data-driven marketing and loyalty analytics company.  As a hands-on practitioner, he has experience building and deploying predictive models that optimize marketing decisions for clients in the Retail, CPG, Financial Services, Travel, and Loyalty sectors. He holds a B.Sc. in Mechanical Engineering from the University of Toronto and a Master of Management Analytics from Queen's University.
James Mwangi Ph.D., M.Sc., B.Sc., MCP.
James Mwangi is a data science and analytics consultant, practitioner, researcher, and educator whose work experience spans over 15 years in financial services, automotive, healthcare, manufacturing, public service and education.  He has undertaken complex end-to-end data science and analytics projects for banks, USAID, Land Rover Corporation and City of Toronto. Some of his flagship projects include institutional space optimization, enhancing traffic safety through analytics, workflow analytics and market basket analysis of business product lines.
James has a PhD in Information Systems focusing on Decision Tree Algorithms and a Master of Science in Distributed Information Systems and Artificial Intelligence. His bachelor's degree is in computer science and statistics. He has broad experience teaching data science and analytics in colleges and universities in North America.
Mark Peco, CBIP, MASc, BASc
CSDA1030 Data Organization for Analysis &
CSDA1050 Advanced Analytics Capstone Course
Mark is a leader, consultant and educator in the fields of business intelligence and data analytics. In the corporate education area, Mark has developed and delivered many courses on topics related to big data, data provisioning, data quality, data governance, analytics and business intelligence.  He has delivered courses in both classroom and online formats to corporate and government clients on a global basis. In the consulting and operations fields, Mark has worked in information strategy, performance management, control center operations, transaction control, compliance, business intelligence, analytics, simulation, application development, 5 program leadership and project management.  He has built and developed high performing teams that delivered quality results.
Mark has significant industry experience in the energy sector gained from operational, leadership and consulting roles at production, transmission and distribution companies. His domain experience is primarily in system operations, commercial transaction control and asset management. As a Certified Business Intelligence Professional (CBIP) at the Mastery Level, his expertise has been demonstrated in the areas of analytics, information management and team leadership.
Preeti Raman, Managing Director, Addity
CSDA1030 Data Organization for Analysis
An accomplished professional with over 20 years of global technology consulting and teaching experience, gained from working in North America, Germany, Hong Kong and India, Preeti is a passionate advocate for the importance of Critical Thinking, Math and Technology education in driving innovation. In her role as Managing Director, Preeti provides leadership to promote Addity's vision for learning enrichment by planning, implementing, monitoring and evaluating various aspects of the curriculum and the program as a whole. A proactive relationship and alliance builder, with strong people development focus, she is consistently recognized by clients for exceptional leadership and dedicated customer service. She is the past chair of the IEEE Women in Engineering group and an invited speaker at events and part of many Conference Organizing Committees.
Hashmat Rohian,MSc, FnEng, CISSP, PMP, CFE, ACP, TOGAF, Lean Six Sigma
Hashmat is the Assistant Vice President & Managing Enterprise Architect at The Co-operators Group. For over 10 years he has effectively led initiatives that have involved rapid advancement in data, analytics, digital, and business leadership. As a technology enthusiast and lean startup evangelist, he is renowned for building a "never rest, kill complexity and care more" culture that manages existing technical debt and prepares the organization for future disruptions by leveraging emerging business models and digital ecosystems. Hashmat is a published data science, IT, and agile delivery practitioner and academician with over 5 years teaching and curriculum development experience at colleges and universities in Canada. He has also organized conferences and workshops, and been interviewed on print, radio, social media and TV as an analytics expert.
Matthew Tenney, Phd, MA
Matthew has spent the past several years working with big data and smart cities in order to better understand where, when, and by whom location-data might be used in real-world applications. His interests has been focused on how code, space, and place coalesce through physical and virtual worlds, as people use mobile and digital technologies to navigate through their everyday lived experiences. Matthew's work is the implications of big data technologies as they integrate more and more into our daily lives with potential of altering forms of participatory democracy. Matthew is a Senior Geospatial Data Scientist at the City of Toronto, PhD Fellow at McGill University, and was previously a Research Developer at Esri Canada Inc.
With over 10 years of experience, much of Matthew's work has focused on developing and implementing new ways to explore and use big data in decision support systems that provide real-time feedback in domains such as urban planning, policy formation, and community representation.
Jennifer Vlasiu, MMAI, B.Comm.
Jennifer is an data science & AI strategy consultant, and an inaugural class member of the Masters, Management in AI program at Queen's. In addition, she is a recent graduate of the MIT Executive Program on AI: Implications for Business Strategy, and holds an Honors Bachelors of Commerce with a minor in Computer Science from the University of British Columbia.
Jennifer has over 7 years of experience in a strategy, finance, operations and data analytics capacity. Her passion for business, and emerging technologies has been refined over the years via strategic roles at leading global organizations including ABInBev, Uber, PepsiCo, JP Morgan and the U.S. Department of Commerce.
Jennifer is passionate about digital literacy, serving as the Toronto Lead for Canada Learning Code, and as a course developer and instructor for the Intro to Artificial Intelligence course delivered by Durham College and assessable to the entire Ontario College System.
When not immersed immersed in an IDE, or exploring the latest python package, Jennifer can be found sailing or going for a run along the waterfront.
The list below provides an overview of the different software that may be used in our courses. As our program keeps up-to-date with current industry demands, please note that the actual software used and taught within each program is subject to change.
Certificate in Big Data Analytics
Certificate in Advanced Data Science and Predictive Analytics

Hadoop
Jupyter Hub
NOSQL Databases
Mongo DB
MySQL
Neo4J
Pandas Libraries
Python
R
SQL

Apache Hive
Apache Spark
Elasticsearch
Hadoop
Jupyter Hub
Kibana
Pandas Libraries
Python
R
SQL
Weka
All students will require access to a personal computer while in the Data Analytics program. Students will need to install various software programs throughout the program. Directions on what and how to download and install will be provided within the respective courses. The program recommends that students run with the following:
Microsoft Windows 7, 8.1 or 10 / Mac OSX 10.9 or above / Linux operating system
Intel Core i5 (or AMD equivalent) recommended; at minimum an Intel Core i3 (or AAMD equivalent) is required
8 GB RAM
20 GB disk space
Students may use Google Cloud Platform or an alternative in some courses of the program.
You may also be interested in
If you would like more information or have a question about the Certificate in Big Data Analytics, please Contact us
Register for this Program