If you choose to live on campus you are steps from classrooms, libraries, and athletics facilities.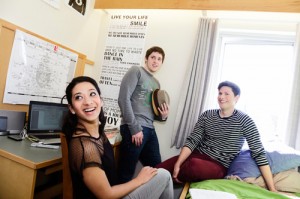 Living on campus is a fun and enriching experience. You can live in one of the dormitories on the York University campus, within walking distance of classrooms, gym facilities, on-campus restaurants, student centres, libraries, and computer labs – everything right outside your door. The York University Security Control Centre is open 24 hours a day / 365 days a year to keep you safe, and houses a dispatch centre, Closed Circuit Television (CCTV), alarm monitoring equipment, and a first aid station.
Long distance telephone calls can be made with the purchase of a phone card.
Residence includes laundry facilities, as well as communal kitchens. Cooking is not permitted, but students can rent small fridges for their rooms.
Residence is a smoke-free environment, and smoking is not allowed indoors, as per Ontario law.
Facilities
The York University campus is a vibrant, self-contained community with much to offer, and many things to do. Check out our facilities.
York University Residence includes:
Communal bathrooms on each floor
Female-only sections
Laundry facilities
Common room, including a microwave, cable television,
a communal fridge, and multiple chairs and sofas
A residence room includes:
A single bed, with a set of bed sheets
A dresser, with a towel
A desk, a chair, and a reading lamp
A telephone and Internet jack