Become a leading-edge master marketer
 It's never been easier to reach the right audience with your marketing message. Innovations in digital marketing tactics and tools have made it possible to serve your content to just about any target audience you can dream of, in real time with real results. However, this rapid growth in technology has caused a skills gap in the digital marketing job field. Many marketing professionals from different backgrounds struggle to keep current with their knowledge and technical expertise. The result is that, even though almost half of all marketing jobs require digital skills, employers are having trouble finding qualified digital marketing professionals to join their teams.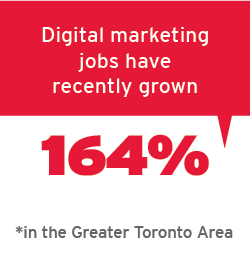 "I learned more in this program in two months, than I did in five years on the job. The instructors' approach has been invaluable."

- Chris Deineka, Student, Certificate in Digital Marketing
Add real-world digital skills to your marketing toolkit
Adding current knowledge of digital marketing tools and tactics is the best way to stay relevant and hirable in today's job market.
Enroling in this program could be the best career decision you ever make.
Created in collaboration with industry leaders, the 3 course Certificate in Digital Marketing teaches you not only fundamentals of strategy and technical expertise, but also gives you the opportunity to work on real-world projects . You'll have the chance to practice the core job skills top employers demand when hiring digital marketing professionals and graduate with a portfolio of project work, which you can use to land your next job.
You'll gain in-depth digital marketing knowledge, including:
Digital marketing strategy
User data and segmentation
Campaign planning
Web analytics
Email marketing
Marketing automation
SEO (Search Engine Optimization)
SEM (Search Engine Marketing)
CRM (Customer Relationship Management) communications
PPC (Pay per click) advertising
This knowledge, paired with your portfolio of project work, puts you ahead of the pack for your next job. That's a pretty amazing return on investment.
"We always start with training a new employee on the principles and strategy behind [digital marketing] – if we hired someone who already had this knowledge, they'd hit the ground running faster and more quickly have an impact on our business. I'd definitely pay more for that!"


- Cora Brady, Managing Director, Bob's Your Uncle (Advisory Council Member)
Program Delivery
As of March 16, 2020, all our Continuing Education programs will be delivered 100% online. The School of Continuing Studies has launched and delivered many quality online programs over the years. This is not new to us, and there will be no interruptions or compromise in learning quality for those considering starting their studies with us.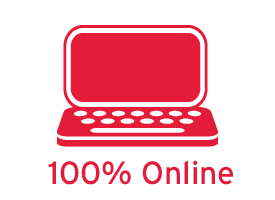 ONLINE FORMAT
This format was designed to make our program accessible to those working full-time, or those who may not be able to complete the course on a full-time basis.
You will go through the program with the same group of people, allowing for a deeper peer-learning experience.
You will know when each course is scheduled at the beginning so you can plan accordingly.
Courses will not be cancelled, so you can complete the program on time.
You should expect to allocate six to nine hours per week to complete your work.
The courses are interactive and include case studies, weekly discussions, group work, videos, simulations, and narrated audio and video presentations.
The Certificate in Digital Marketing is ideal for anyone who currently works in marketing, or a related role.
This program can enhance the careers of people with experience or educational background in:
Marketing
Business
Web or Graphic Design
Communications
Journalism
By the end of this program, successful students will be able to…
Perform as a strategic digital marketing specialist
Examine emerging digital marketing trends and discover how they can be used to enhance existing marketing strategies
Identify the steps of their customer's journey and apply them to their digital marketing strategy to attract and retain customers
Increase the quantity and quality of traffic to their website by using digital marketing channels and advertising tools (e.g. SEO, SEM, social media, display, etc)
Make data-driven decisions across all digital platforms by using metric reporting and measurement to guide your marketing strategy
Explore CRM best practices and marketing automation to enhance meaningful communications engage with your customers
Build a portfolio of work to demonstrate their knowledge and skills
Upgrade cross-functional job skills that top employers are looking for
Jill Borra
Senior Director, Content Strategy, RBC
Jill is Senior Director, Content Strategy in the Office of the CEO at RBC, where she helps convene and inform national conversations on economic and societal issues facing Canada, focusing on innovation, diversity, sustainable economic growth and the coming skills revolution. Prior to joining RBC, Jill led the creation of a multi-channel, insights-driven thought leadership strategy at The Bank of Nova Scotia. Previously, she led an international team at a global travel brand, delivering award-winning communications, digital media and content marketing strategies. Jill spent the better part of her early career at The Globe and Mail, coaching multiple teams to success in a variety of senior roles. As Executive Editor, she drove strategic direction and development of innovative initiatives and products with a focus on audience growth and engagement, data-driven insights and digital platforms and partnerships. She currently sits on the Board of the Canadian Club Toronto and the Advisory Board at York University's School of Continuing Studies. Jill holds an Honors BA degree from McGill University and a post-graduate degree in Journalism from Concordia University.
Cora Brady
Managing Director, Bob's Your Uncle
Cora leads an advertising agency devoted to thoughtful food and beverage brands. She has led the agency through a transition to take a content first approach, strengthening the digital and social chops across all roles within the agency, including establishing an in-house content studio. The agency provides a full range of strategic, creative and digital services to its clients. Serving leading brands and fast-growing innovators, Bob's Your Uncle is recognized as one of Canada's premier boutique agencies. Previous to BYU, Cora co-founded Canada's first Influencer marketing agency where she helped launch brands like General Mills, Walmart Canada, Finish & Lysol into the social sphere.
Alex Conde
Senior Manager, Content Strategy & Development, Questrade Financial Group
For over 10 years, Alex has worked in the field of content marketing in financial services; helping educate Canadians to understand the best products and services for them. As a veteran storyteller, he promotes the value of tailored and targeted content as part of any top-notch marketing experience, across any industry.
Justine Melman
VP, Marketing & Communications, Flybits
Justine Melman is a seasoned consumer marketer with almost two decades of experience delivering cutting-edge marketing, user engagement and social media campaigns for major global and Canadian brands including Holt Renfrew, The Globe and Mail, eBay Canada, Ally, Yahoo! Canada and Cineplex. Justine also brings a transformative perspective to the customer experience, helping brands implement and evolve their CX strategy.
Justine was a 2015 nominee for the American Marketing Association's Marketer on the Rise award.
Rebecca Shevel
Director, Marketing, Custom Solutions & Project Management, Fifth Story
Rebecca Shevel is a dedicated and innovative Marketing Director, Media and Advertising leader with +20 years of experience growing brands, audiences and revenue. She has done this by developing relationships, creating multi-platform marketing, content & strategic advertising solutions. Rebecca's approach is to be consultative, strategic and holistic with her clients and team.
Rebecca passions include content marketing, digital media and emerging technology. She has extensive experience working directly with clients (B2B & B2C), boutique and national media agencies. Rebecca brings a unique view when solving business challenges, having worked on the media supplier and agency sides of business. Rebecca enjoys helping define KPIs for clients to ensure the recommended strategy is fully supported by the best content, marketing and digital tactics.
Rebecca has worked with and for numerous Tier-1 brands in a variety roles. Currently, she is the Director of Marketing and Custom Solutions at Fifth Story, working with the Account Directors to help create an array of content marketing and digital solutions for clients; while also focused on building the Fifth Story brand via partnerships, sponsorships, PR and targeted marketing.
Michelle Cody
Senior Director, Marketing Planning & Operations, Rogers
Michelle Cody's bio will be posted soon.
Tami Coughlan
Head of Sales & Partnerships, Pelmorex Corp.
Tami Coughlan's bio will be posted soon.
CARRIE LYSENKO
Carrie Lysenko has been knee deep in Digital since the early 2000s.  She has led the growth and development of one of Canada's most beloved sites and apps at The Weather Network for over a decade.  She now heads up Product at VerticalScope, which is the largest online community and forum provider in the world.
Erica Yao
Erica is a performance marketing consultant with a diverse background in both corporate companies and global media agencies. Her journey in digital marketing started in 2011 with digital media planning of display, search, and social campaigns for clients such as IBM, Cogeco, Tim Hortons, and US pharmaceutical companies. At Rogers Communications, she's led many e-commerce and digital product initiatives to transform their user's digital experience, drive B2B lead generation activities, and consumer acquisitions. Currently, she is an independent consultant for a number of small to mid-size companies in e-commerce, technology, and real estate, helping clients excel in digital marketing.
Scott Hicks
Scott has focused his career on being an innovator at the intersection of marketing and technology. He is responsible for aligning marketing technology with business goals, serving as a liaison to IT, and evaluating and choosing technology providers.
With over 20 years of experience in telecom and digital media, Scott has been very successful at developing and implementing innovative marketing strategies and transformational business initiatives that deliver results and measurable ROI.
Scott has helped companies such as MasterCard, Kraft Foods, Post Foods, Timex, SIRIUS Satellite Radio, Rogers, and The Ontario Hockey League leverage new technologies to drive business value.
CSDM1000 Fundamentals of Digital Marketing
This course explores how media is consumed across all devices and platforms to create an ecosystem for marketers and advertisers to effectively communicate products, services and brands.  This course will study the intersection of offline and online media, global and national trends in the digital industry, the impact of data collection and privacy and how to navigate as a digital strategist in this environment.  You will learn how to reach target consumers through Search Engine Marketing (SEM), Email Marketing, Video, Social, Mobile and emerging technologies.
CSDM1010 Marketing for Search Engines and Social Media
This course will focus on teaching you how to apply the foundational learnings from the Fundamentals of Digital Marketing course. You will be taught how to leverage best practices for optimizing websites through Search Engine Optimization (SEO), run Google Ads (SEM), learn how to develop a content calendar and plan across social channels, and develop ads on social media platforms like Facebook and Instagram. You will also learn how to track / measure key metrics utilizing native platforms. Includes project work with real companies
CSDM1020 User Engagement and Marketing Automation
In this course you will learn how to map user journeys and build marketing process flow charts. You will be introduced to various marketing automation tools and software and learn how they can be used to improve the effectiveness of your marketing efforts. You will apply your learnings from the previous courses to plan marketing funnels and drip campaigns across a variety of platforms utilizing sophisticated remarking tactics. You will also learn best practices around collecting, storing, segmenting and utilizing user data and how to keep people engaged post purchase. Concludes in a group project that develops a cross platform full funnel digital marketing campaign
You may also be interested in
If you would like more information or have a question about the Certificate in Digital Marketing, please Contact us
Register for this Program