Master the evolving landscape of risk management
Effective risk managers are more essential to modern organizations than ever before. The rapidly changing digital space is full of potential threats—not to mention the many new risks in enterprise and information technology that require assessment and management. Even operational risks like human resources have grown increasingly complex. Employers in the private and public sector require trained risk managers to both mitigate negative risks and identify positive opportunities.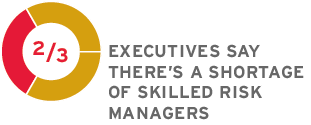 More and more businesses are investing in ways to identify and manage the risks that they face. While the forms and types of risk change and evolve, one thing is certain—the field of risk management is on the rise and qualified professionals can thrive in this industry. Over the next two years, 88% of Canadian organizations plan to invest in their risk management capabilities.
In other words, there has never been a better time to learn how to identify, assess, monitor and limit risks.
Take the next step in your career
Certified Risk Managers currently make an average salary of $87,654 per year, a figure that may rise as the demand for qualified individuals grows.
Program Overview
The new Certificate in Risk Management prepares working professionals for risk manager and risk management analyst positions. It also provides valuable training for managers who have recently taken on risk management responsibilities. The specialized knowledge and skills gained will be immediately applicable in the workplace while also opening doors for future opportunities in the field.
Program Format
Starting in the Summer 2021 Term (May 2021), the Risk Management program is offered via blended learning, which combines online coursework with two required live, online sessions per course.
Format:  Online Blended
(Online Coursework + 6 Live Online sessions)
Format: Part-Time, Blended
Delivery: online coursework + 2 required online session per course
(6 live online sessions held over Sundays)
Program Length: 6 months
In total, there are six (6) live online sessions. The live online sessions are facilitated by expert instructors and allow you to interact with your instructor and peers.
Our flexible blended format is designed to meet the needs of a wide range of students. You will be able to complete the full, 3-course program entirely online over the course of 6 months, and balance your full-time work, family, or other commitments.
New to live online learning? Watch this video!
Our interactive live online sessions allow you to engage with instructors and fellow students in a learning environment that is practice-oriented and dynamic, while our asynchronous coursework allows you to study and progress on your own time.
Program Courses
Risk Management Principles and Fundamentals (ONLINE)
Understanding hazard, operational, financial, and strategic risk concepts. Learn to identify, analyze, and treat risks. Explore processes, frameworks, and techniques for monitoring and reporting on risks, utilizing risk management standards and guidelines.
Risk Assessment & Treatment (ONLINE)
Explore methods for assessing risk and identifying appropriate treatments for risk minimization. Study theories of accident causation, root cause analysis, the application of various strategies for treating risks, and how to motivate risk treatment within an organization.
Risk Financing (ONLINE)
Examine the selection, implementation and monitoring of risk financing techniques. Explore subjects such as transferring risk through insurance, types of insurance such as self-insurance plans, retrospective rating plans, captive insurance, finite and integrated risk, and capital market options.
Prepare for your Canadian Risk Management (CRM) designation
Graduates of this certificate are eligible and encouraged to write the exams for the Canadian Risk Management (CRM) designation, administered and conferred by the Global Risk Management Institute (GRMI), and recognized by the Risk and Insurance Management Society (RIMS). Attaining the CRM designation, in combination with the Certificate in Risk Management, will distinguish you as a qualified and skilled candidate in the field.
If you are interested in pursuing the CRM designation, the GRMI and RIMS have their own requirements regarding application, admission, program and membership. Students should contact the GRMI and RIMS directly for more information. See the RIMS website for accreditation requirements
.
Who should take this program?
Risk management professionals preparing for their CRM designation.
Managers, supervisors, and team leaders who have recently taken on risk management responsibilities.
Business students and current business professionals who are looking to enter the growing field of risk management.
For professionals working in:
Finance
Health
Insurance
Construction
Food Safety
other industries that deal with risk
"The Certificate in Risk Management is designed to provide risk professionals with relevant theoretical knowledge and application techniques to position them for success".

~ Dinesh Garbharran, Interim CRO, TD Insurance & VP, Risk Management, TD Bank (Advisory Council Member)
The Certificate in Risk Management is a direct registration program. No application process is required; simply enrol in the session of your choice to get started.
You may also be interested in
If you would like more information or have a question about the Certificate in Risk Management, please Contact us
Register for this Program