Develop a solid accounting foundation and the professional skills required to succeed.
SPECIAL ANNOUNCEMENT: The Accounting Post-Grad Certificates from the School of Continuing Studies have received CPA Ontario Recognition.
Read more
.
Excelling in an accounting position requires much more than just technical knowledge. In fact, many top employers believe that emotional intelligence, critical thinking, communication, and business acumen are equally important skills to have. Accounting professionals who master these key competencies routinely receive the best job offers and promotions throughout their careers.
If your goal is to become a Chartered Professional Accountant (CPA), we can help you. Our Post-Graduate Certificate in Accounting will deepen your understanding of accounting while simultaneously sharpening your critical thinking, communication, and management skills.
Designed in consultation with senior industry executives, thought leaders, and prominent York University academics, the Certificate will equip you with relevant and in-demand knowledge and all course content will be immediately applicable in the workplace. The program culminates with a unique final capstone course where you will apply your knowledge to real-world business challenges, so you'll be prepared for your next job interview.
The Post-graduate Certificate in Accounting will qualify you for roles in the accounting and finance fields, to get the necessary industry experience before you ultimately achieve the CPA designation.
Program delivery.
Our flexible accounting education is designed to meet the needs of a wide range of students. The entire program can be completed in just one academic year of full-time study, which is considerably quicker than comparable certificates. You will also benefit from studying alongside a network of peers who are completing the program on the same schedule.
Need a break from your studies? You can always transfer to the next cohort.
Preparing for your CPA designation.
The Post-Graduate Certificate in Accounting is the first step towards becoming a practicing Chartered Professional Accountant. Step two is applying to the Post-Graduate Certificate in Advanced Professional Accounting, an accelerated program that continues your CPA preparation and provides valuable training in accounting and finance. Both certificates can be completed in less than two years of full-time study.
Once you've earned your certificates, you are now ready for the graduate level CPA Professional Education Program (PEP). Unlike students who complete college accounting programs, you will be fully prepared for graduate level courses as a result of your university training. With your York education and the CPA PEP under your belt, you will then go on to write your CPA Final Exam and receive your designation.
For a full list of our accounting courses and their respective CPA preparatory course equivalencies, please click here.

"I chose the Post-Graduate Certificate in Accounting at York due to its fast-track ability in order to get my CPA. The most rewarding aspect is the tight knit class that we had. Small classes help for better learning. I learnt a lot about the business world in general and how to relate in it. It was like a crash course in 'How to be Successful'"

- Ari Rubin, Graduate

Who should take this program?
College or university graduates outside the field of accounting who are looking to add to their resume with the goal of:
Launching a career in finance or accounting
Seeking the Chartered Professional Accountant designation
Enhancing and validating their accounting acumen
Adding a post-secondary accounting credential to support their plans for career growth
Earning a Canadian accounting credential from a respected institution
"For someone already working in the field, pursuing an accounting certificate may be an ideal way to demonstrate a personal desire to contribute more to the organization or aspire to a more senior position. An accounting certificate from a respected institution, combined with relevant practical experience on your CV are important considerations in the job selection process."

Nadine Petsche – Director, Accounting Policy and Financial Reporting, Office of the Provincial Controller Division, Ontario Treasury Board Secretariat

Read more about Nadine Petsche and why she recommends pursuing continuing education as a way to further develop accounting skills
This full-time post-graduate certificate program will prepare you for a successful career in accounting and finance roles in just one academic year while helping you to effectively balance your professional and personal responsibilities.
International students benefit from additional supports, including York's exclusive Mastering Canadian Business and Canadian Academic & Business English courses, to help you excel in this accelerated full-time program.
Canadian Students
This unique post-degree program provides the educational experience that upper-year undergraduate students enjoy with an exposure to a multi-cultural environment that only York University can provide. Graduates of this program will be uniquely positioned to thrive in Toronto's diverse workplaces — a critical asset for global companies.
Develop a rich professional network that includes global and local peers and instructors with significant industry experience. As a pioneer in professional education, York has the expertise to offer you a vibrant, meaningful post-degree experience. You'll graduate work-ready and promotable in Canada's largest labour market.
Courses are offered at our vibrant Keele campus conveniently located near several 400-series highways and accessible by the TTC, GO, York Region, Brampton, and Viva transit systems. Please view our interactive map for more information on the campus including parking and amenities.
International Students
York University's Post-Graduate Certificate in Accounting is absolutely unique in Canada. This program provides the educational experience that Canadian upper-year undergraduate students enjoy with the academic language supports needed for success. As a leader in academic English education, York has the expertise to offer you a vibrant, meaningful post-degree experience.
Unlike other Canadian Accounting certificates that only offer classes in the evening and on weekends, York offers a full-time schedule. Despite the accelerated format of the full-time program, the course scheduling provides opportunities for students to study and work outside  the class schedule.
Graduates of this program will be uniquely positioned to thrive in vibrant multi-cultural workplaces. Develop a rich professional network of local students, international peers, and Canadian instructors with significant industry experience. You'll graduate work-ready and promotable.
Courses are offered at our vibrant Toronto campus. While everything students require can be found on our safe and welcoming campus, convenient transit and highway access helps you enjoy all that the Toronto, Canada, area has to offer.
Graduates of the Certificate in Accounting are prepared for a wealth of different career options within the industry. Please see below for the anticipated educational, certificate, and work experience requirements for each position type.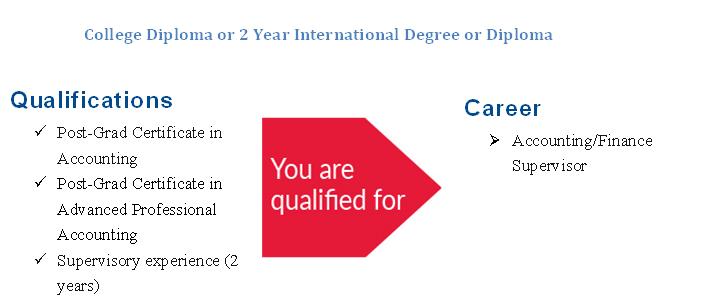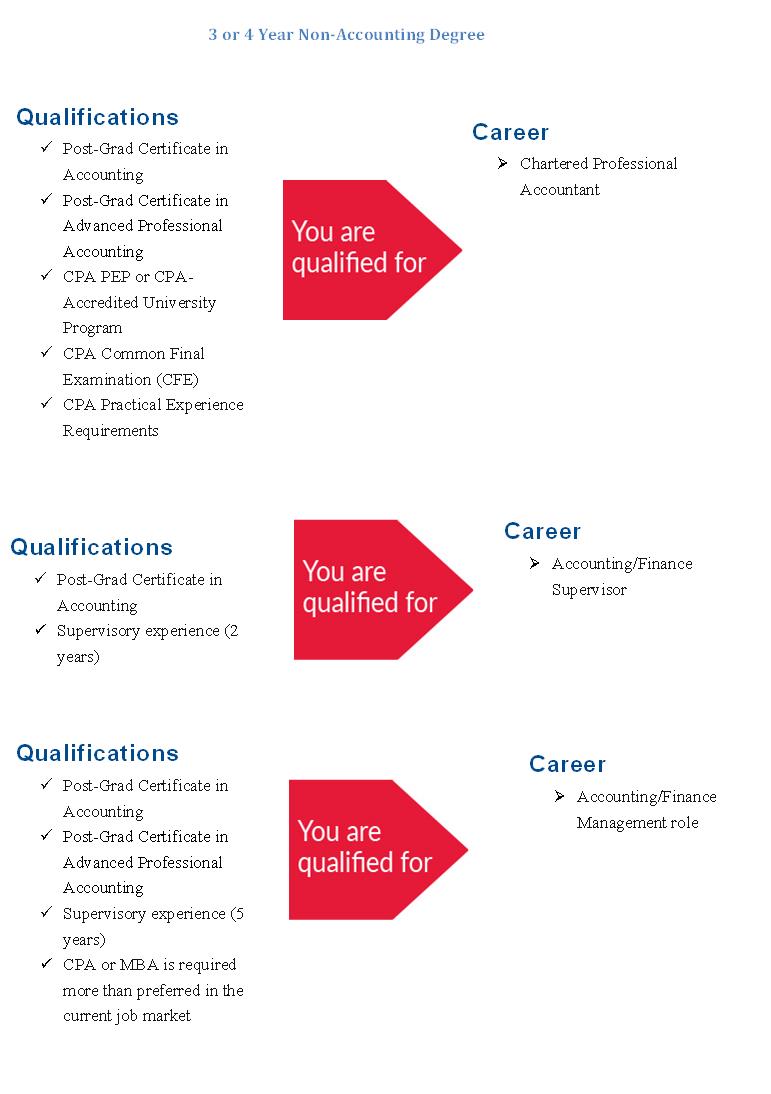 Accounting Advisory Council
Senior executives from many of Toronto's leading organizations help us ensure that our graduates have the skills and knowledge that employers value most, including the following:
Gary Spraakman, Faculty of Liberal Arts & Professional Studies, York University
Allister Byrne, Former President & CEO, Canadian Institute of Chartered Business Valuators (CICBV) retired
Edward Jonasson, CFO, Xagenic Inc.
Tom Kofman, CA, CPA, Chairman, M Partners Inc.
Tara Lenaghan, MBA, FICB Head, Global Learning & Development Operations, KPMG International
Andrea Linhofer, Partner, Deloitte
Grant McEwen, CPA, CA, SVP & CFO, Chubb Insurance
Nadine Petsche, MBA CPA CA, Director, Accounting Policy and Financial Reporting, Office of the Provincial Controller Division, Ontario Treasury Board Secretariat
Drew Stewart, Head, Capital Markets & Product Operations Accounting, BMO
Susan Wolcott, Thought Leader for CPA Canada, Accounting Instructor, and Independent Scholar
Supinder Babra, MBA, BBA, CPA, CMA, CCP
Supinder has 17 years' experience working as a Financial Controller in various manufacturing industries from packaging, refinery services, lumber and door opening solutions in North America.  He has been teaching since 2007 with CPA Ontario and is currently teaching at York University Schulich School of Business in the BBA and MBA programs and with the York University School of Continuing Education. He teaches Management Accounting, Financial Accounting, Finance, Audit, Capstone, Accounting Information Systems and Tax.  Supinder holds the following designations: an undergraduate BBA degree from Schulich, an MBA from Warwick University, CPA, CMA In Ontario and CCP in Canada.
Syeda Fahmida Habib, DBA, MBA, M.App.Fin
 Dr. Syeda Fahmida Habib is a passionate, student-centered educator with 24 years teaching experience at University/College level. Her core area of teaching has been finance and banking. Fahmida has also taught accounting, marketing and general management courses. She has been involved in text book writing, curricula, course material and assessment development as well as managing teaching teams. Fahmida has authored a textbook on Islamic Finance and Banking for Wiley Publishers in 2018. She completed her DBA from SMC University, Zurich and has a Masters in Applied Finance from Macquarie University, Sydney plus an MBA, majoring in marketing.
Fahmida believes that learning happens when the material is adapted to the learner's abilities and interest. She has had great rapport with her students and colleagues. Fahmida has worked with mature multicultural student groups and strives to instill in her students her own passion for life- long learning and learning beyond borders. She also encourages them to work professionally, independently, in teams and contribute to their workenvironment, their societies and to their families.
Dorjana Nano, PhD, MFin, BA
Dorjana is a highly committed and passionate educator holding a PhD and a master's degree in Finance, and Bachelor in Accounting. Having 14 years of teaching experience in universities and professional experience in accounting, finance and marketing with leading International companies. Have been published tens of articles in prestigious research journals. Skilled in teaching, mentoring, research, communication, public speaking and problem solving. Awarded academic title "Docent" for high academic achievements, High Commendation for exceeding the goals beyond expectations and listed on the Dean' Honor list for great academic results.
Sue-Ann Maislin, M.Ed
As a leader and the owner of S.A. Maislin Consultants, Sue-Ann is passionate about partnering with individuals and organizations to create healthy, sustainable and high-performing
workplaces. As a business professional, she can attest to the importance of professional competencies such as emotional intelligence and communication skills, as well as thinking and problem-solving skills for career success. Sue-Ann designs and facilitates educational programs that address relevant workplace issues, including business communication, mental health in the workplace, team building, time management, resiliency, respect and professionalism in the workplace, coaching and feedback, as well as leadership development programs for new and emerging leaders.
Sue-Ann played a leading role in the research and development of 'The Mental Health Leadership Certificate Program™, supporting effective and informed response to mental health and performance issues, in partnership with Queen's University Faculty of Health, Morneau Shepell and Bell Canada.
Adam Prokop, MBA, MSc, MFin, CPA, CMA, CAIA
Adam has taught and developed accounting, finance, general business, mathematics, supply chain, and operations courses for several years across Canada. He has worked in various sectors including finance, energy, real estate, and government. He currently works as a senior risk analyst and consultant in the real estate industry, as well as a corporate trainer specializing in technical skills development.
Adam holds the Chartered Professional Accountant (CPA, CMA) designation, the Chartered Alternative Investment Analyst (CAIA) designation, a Master of Business Administration (MBA) from McMaster University, a Master in Finance (MFin) from Queen's University, a Post Graduate Diploma (PGD) in Organizational Psychology from University of London, and a Master of Science (MSc) in Supply Chain Management from Wilfrid Laurier University.
Irma Spahiu, PhD, LLM, MIM
Irma Spahiu is an academic and a lawyer with expertise in Administrative and Regulatory Law. She has a Master of Laws and a PhD in Law from Osgoode Hall Law School, and a Master in International Management from the University of Montesquieu-Boardeaux IV. She currently teaches law-related courses at the U of T and UOIT. Her recent teaching experience and practice includes areas of access to information and privacy rights, with a focus on Canadian and European legal frameworks.
FAQs
Our Post-Graduate Certificate in Accounting is offered in a full-time, in-class format, as well as an online format. To select the appropriate program, consider the format that best suits your learning style, your schedule, and your need for flexibility.
FULL-TIME IN-CLASS FORMAT:
Classes meet daily (Monday–Friday) with specific days allocated as study days.
Class size will range from 25–50 students, with a mix of domestic and international students.
All classes are held at the main campus of York University at Keele and Steeles.
You should expect 12 to 14 hours of reading per week in addition to assignments and test preparation.
ONLINE FORMAT
This format was designed to make our program accessible to those working full-time, or those who may not be able to complete the course within a specific timeframe.
Courses may be completed according to your schedule; there is no "live" requirement.
You will go through the program with the same group of people, allowing for a deeper peer-learning experience.
You will know when each course is scheduled at the beginning so you can plan accordingly.
Courses will not be cancelled, so you can complete the program on time.
You should expect to allocate six to nine hours per week to complete your work.
Final exams will be done online for an additional fee from the comfort of your home on the last Sunday of the course.
The courses are interactive and include case studies, weekly discussions, group work, videos, simulations, and narrated audio and video presentations.
The School of Continuing Studies has a student record review process of students that have completed courses in the previous semester. Students who have successfully completed all the program requirements are eligible to graduate. Students are not required to formally apply to graduate.
Students will have their course grades reviewed by the Program Manager as they approach the end of the program. Students should expect to receive their Certificates in August/September by mail.
Students enrolled in all of our Certificate programs have access to the York University Library. The School of Continuing Studies will provide you with the library application form.
It is wise to budget approximately $150 – $200 per course. All the books and reading materials will be available at the York University bookstore. You can also order your books online at http://bookstore.yorku.ca/
If you would like to visit the bookstore in person, store hours are as follows:
Monday & Tuesday 9am–7pm
Wednesday–Friday 9am–5pm
Open Saturday for the month of September.
CLOSED Saturday & Sunday.
Students in a cohort travel together through the program, learn through shared experiences as a group, and complete courses in a designated sequence.
The cohort model provides an opportunity to network and build professional relationships that may extend beyond the program. Therefore, the courses cannot be taken at your own pace.
Two weeks before the start of the program, you will receive a letter via email containing all necessary program information including:
Program Schedule of Dates and Times
Classroom location
York University policies and procedures
Information on how to access the library at York University
School of Continuing Studies contact information
You may also be interested in
If you would like more information or have a question about the Post-Graduate Certificate in Accounting, please Contact us
Key Policies
More Information
Apply for this Program