Become a leading-edge master marketer
It's never been easier to reach the right audience with your marketing message. Innovations in digital marketing tactics and tools have made it possible to serve your content to just about any target audience you can dream of, in real time with real results. However, this rapid growth in technology has caused a skills gap in the digital marketing job field. Many marketing professionals from different backgrounds struggle to keep current with their knowledge and technical expertise. The result is that, even though almost half of all marketing jobs require digital skills, employers are having trouble finding qualified digital marketing professionals to join their teams.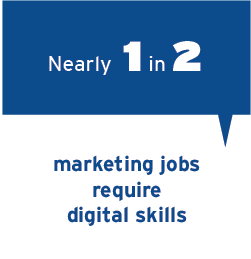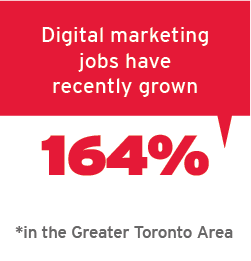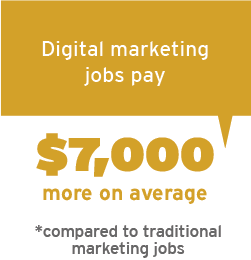 Add real-world digital skills to your marketing toolkit
Adding current knowledge of digital marketing tools and tactics is the best way to stay relevant and hirable in today's job market.
Enroling in this program could be the best career decision you ever make.
Created in collaboration with industry leaders, the 3 course Certificate in Digital Marketing teaches you not only fundamentals of strategy and technical expertise, but also gives you the opportunity to work on real-world projects with actual companies. You'll have the chance to practice the core job skills top employers demand when hiring digital marketing professionals and graduate with a portfolio of project work, which you can use to land your next job.
You'll gain in-depth digital marketing knowledge, including:
Digital marketing strategy
User data and segmentation
Campaign planning
Web analytics
Email marketing
Marketing automation
SEO (Search Engine Optimization)
SEM (Search Engine Marketing)
CRM (Customer Relationship Management) communications
PPC (Pay per click) advertising
This knowledge, paired with your portfolio of project work, puts you ahead of the pack for your next job. That's a pretty amazing return on investment.
Program Delivery
We know that fitting continuing education into your schedule isn't easy. So, we make it easier by offering a flexible study format that works around your commitments.
The Certificate in Digital Marketing is a 6-month part-time program, taken mostly online. You'll come to our Keele Campus in Toronto, ON for 3 weekends over the course of the entire program. This format allows you to easily balance your studies with your work and home life.
Finish in 6 months
The Certificate in Digital Marketing is ideal for anyone who currently works in marketing, or a related role.
This program can enhance the careers of people with experience or educational background in:
Marketing
Business
Web or Graphic Design
Communications
Journalism
By the end of this program, successful students will be able to…
Perform as a strategic digital marketing specialist
Examine emerging digital marketing trends and discover how they can be used to enhance existing marketing strategies
Identify the steps of their customer's journey and apply them to their digital marketing strategy to attract and retain customers
Increase the quantity and quality of traffic to their website by using digital marketing channels and advertising tools (e.g. SEO, SEM, social media, display, etc)
Make data-driven decisions across all digital platforms by using metric reporting and measurement to guide your marketing strategy
Explore CRM best practices and marketing automation to enhance meaningful communications engage with your customers
Build a portfolio of work to demonstrate their knowledge and skills
Upgrade cross-functional job skills that top employers are looking for
Fundamentals of Digital Marketing Strategies
User Engagement and Marketing Automation
Marketing for Search Engines and Social Media
Course information is subject to change.
Program policies will be posted soon.
You may also be interested in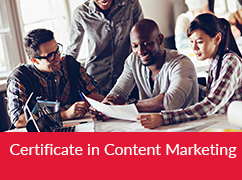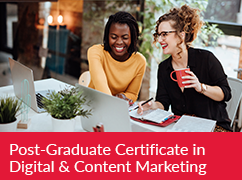 Register for this Program