Human Resources Professional Association
The Post-degree Certificate in Human Resources Management is recognized by the Human Resources Professional Association (HRPA) as meeting the coursework requirement required for the Certified Human Resources Professional (CHRP) designation. This requirement is met by students who complete all nine courses in the Certificate with a grade of 70% or better with no single course below 65% within ten years of the date they are registered to write the National Knowledge Exam (NKE).
Students pursuing an external designation, such as CHRP, are responsible for ensuring that they satisfy the issuing association's requirements.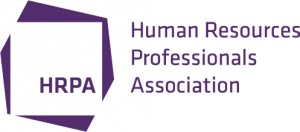 Certified Human Resources Professional (CHRP)
The CHRP is the most recognized human resources professional designation in Canada. CHRPs earn more and get promoted faster than non-designated HR professionals. Earning a CHRP designation has become an integral step to building a successful human resources career in Canada. In fact, in 2011 66% of all job postings in the HRPA's Hire Authority job bank requested that applicants have, or be working toward, a CHRP. A degree from an accredited university is a requirement of the CHRP.
Learn more about the benefits of meeting the CHRP qualifications.
Apply for this Program