As of March 16, 2020, all York University English Language Institute programs will be delivered 100% online.
Our English Language Institute has launched and delivered many quality online programs over the years. This is not new to us, and there will be no interruptions or compromise in learning quality for those considering starting their studies with us. For any enquiries or questions about our programs please contact
yueli@yorku.ca
.
Spend three glorious weeks working on your English and enjoying a Canadian summer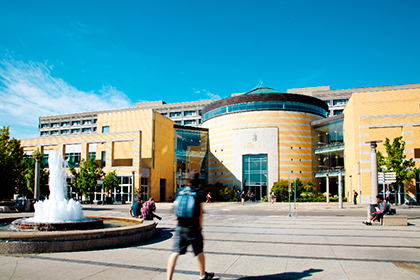 The Summer Immersion Program gives you the opportunity to attend academic lectures, receive one-on-one instruction, and practice language skills on trips to some of the country's most well-known landmarks – including the famous Niagara Falls.
Improve your English language skills while making lifelong friends from around the world
Over the course of up to a month, you will learn from qualified instructors and interact with student community leaders. The program will help you improve your ability to:
Initiate a discussion and engage in conversation
Express yourself more confidently and clearly
Conduct informal/formal individual and group presentations
Listen for general and specific information and in various contexts
Discuss experiences and ask questions about the experiences of others
Practice your English while exploring all that Toronto has to offer
Students have access to the computer labs, libraries, athletic facilities, and restaurants of the York Campus, while either living on campus or with a local family for a fully immersive Canadian experience.
During your program you will also experience Toronto the way locals do – spending a day exploring the waterfront, watching the Toronto Blue Jays play baseball, exploring Toronto's ethnic neighbourhoods, seeing all of Toronto from the CN Tower, and getting up close to Niagara Falls.
Our Community Leaders, current York undergraduate students, lead many of the cultural events and will also introduce you to some of the 300+ clubs on campus. There's always plenty to do at York!
Some of the Topics Covered:
Canadian Culture
Multiculturalism in Canada and customs around the world
Expressing needs and making requests
Discussing problems and solutions
Celebrities and pop culture
Discussing hypothetical situations
Canadian and global current events and issues
Program length: Up to 1 month.
Two sessions per summer: one in July, one in August
Class size: 16 students
Classroom hours/week: 34 hours of instruction and activities
This 3-week program consists of about 34 hours of instruction and activities per week, offered Monday-Friday. In addition there are excursions through the week.
University Life, a range of co-curricular activities designed to provide a balanced program of in- and out-of-classroom learning, includes:
Orientation to the York University campus
Access to self-study facilities available for use before and after class
Daily student-led discussion sessions
Campus activities that will bring students into contact with other members of the York community
York Admissions advising sessions
Workshops on university life skills, including topics such as time management skills, applying for admission, and testing strategies
York English Language Test (Levels AP7-AP9 only)
Attendance at university lectures (Levels AP6-AP9 only)
An e-mail account, internet and library access, textbooks and limited printing and photocopying services are included in the tuition fee.
These
activities
 allow students to socialize with other participants in the course, attend cultural events, and visit places of interest in and around Toronto.
A visit to the CN Tower, Niagara Falls, an NBA game, a Soccer Club, and a Games Club are examples of s the many trips, clubs, and activities available to English Language students.
Previous education: High school graduate
You're at least 18 years old*
* If you're under 18, you still may be eligible. Contact the York University English Language Institute to confirm.
Gallery
There are no upcoming dates for this program at present. Please check again later or request further information below.
Given the experiential and practical nature of the courses and the application of Ontario's Freedom of Information and Protection of Privacy Act (FIPPA) to York University, The School of Continuing Studies works to ensure that instructors and participants acknowledge and respect the privacy and confidentiality of personal information that may be presented in the context of instruction. Instructors will limit the amount of personal information that is collected, used or disclosed in their sessions, and will ensure that all identifying personal information (including proper name, address, etc.) is omitted from all written documents in order to protect personal privacy and confidentiality. Instructors should not bring or share personal or other confidential files or records with the class or allow students to do so.
We are committed in protecting your privacy and your financial security, and we do this in several ways:
Your credit card information is never received or stored by our system. Only your financial institution has access to your credit card information.
Your Student Portal is password-protected. To access any personal and academic information, you must enter your username and portal password.
Online: Available sessions
Bank Transfers: Please contact the English Language Institute if you intend to pay by bank transfer. Please be aware that most international bank transfers requests will be charged a bank transfer fee. Please ask your bank for details. Students are responsible to ensure the money they have sent to English Language Institute covers any bank transfer fees.
Money Order: The Money Order should be made payable to York University. Please mail the original Money Order to our office at the following mailing address:
York University English Language Institute
Suite 035 Founders College
4700 Keele Street
Toronto, Ontario
M3J 1P3 CANADA
Please send required documents to our fax number: 416-736-5908 or email at yueli@yorku.ca
English Language Institute Application Fee: $60.00 (one-time only, non-refundable) for new students.
Deposit of $500.00 (non-refundable) is required to complete your registration and receive a Letter of Acceptance.
Health Insurance (Emergency Medical coverage) is available for an additional cost of $35.00.
If you are unable to join the first day of the course, please immediately contact us in order to find out the last possible day to attend the program. Attendance deadlines do apply.
*Fees subject to change
Homestay is not available for the Summer Language Program.
You may apply for residence if you are between the ages of 18 and 29.
Summer residence does

not

include a meal plan
Please refer to the following document for Program Cancellation & Refund Policy questions & answers:
Students and instructors are expected to maintain a professional relationship characterized by courtesy, collegiality and mutual respect and to refrain from actions that would be disruptive to such a relationship;

It is the responsibility of the instructor to maintain an appropriate academic atmosphere in the classroom and the responsibility of the student to cooperate in that endeavour; and,

The instructor is the best person to decide, in first instance, whether such an atmosphere is present in the class and may at their discretion, take steps that they feel are appropriate to resolve an issue or dispute.
In any case, where a student feels that this policy has been violated, they are urged to: notify the instructor of the course/program as soon as possible. Students may be asked to provide a detailed written description of their complaint to the instructor. The instructor may take measures they feel are appropriate to resolve the issue and/or may forward the complaint to the English Language Institute for review. Please refer to the full policy document on the York University website at: http://www.yorku.ca/scdr/
Register for this Program