The York University campus is a vibrant, self-contained community with much to offer.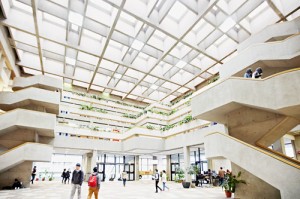 York University has six libraries, numerous computer labs, four gym facilities, five sports fields, nine outdoor tennis courts, five squash courts, three dance/aerobic studios, an ice arena, a swimming pool, a fitness centre, and a tennis stadium. York Lanes is a shopping mall with restaurants, a medical centre, beauty salon, travel agency, post office, and banks. The York Student Centre houses York's 225 student clubs, many places to eat, and an art gallery.
The majority of English Language Institute classes are located in a four-college complex (Founders, Vanier, McLaughlin, and Winters) on the north side of York University's Keele Campus. This complex includes offices, study areas, gardens, computer labs, and courtyards.
Residence
Food & Shopping
Sports & Recreation
Other