The Nexus is the English Language Institute's Premier English Language Learning Lab, with a wide range of dedicated resources.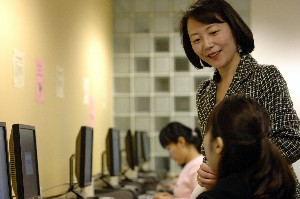 Nexus is your resource centre for English language learning. You can use language learning software, surf the Internet, work on assignments and presentations, do your listening homework, check e-mail, print assignments, and borrow materials such as DVDs, magazines, and books. The Nexus is open every day from 8:30 am to 6 pm (4:30 pm on Fridays.)
Printing Policy
Students may print up to 20 pages per day for free in Nexus. If you print more than the maximum of 20 pages a day, you will be charged 10 cents/page. If a student does not pay for the extra printing, the student's certificate and final evaluation will be withheld.
While you are studying at the English Language Institute, you can take advantage of York University's excellent computing resources. These include state-of-the-art computer labs, wireless and wired Internet access, online research tools, learning technology in the classroom, and much more. Please visit the following links to find out more about York's technology-enhanced learning initiatives:
Computer labs | Wireless access | Printing | Libraries | Residence services