Learn from the professor who (literally) wrote the book on The Law of Work.
Be prepared for the employment law exam required to obtain a HRPA designation, with this in-class course taught by an industry expert. This exam prep course is taught by Professor David Doorey, one of Canada's leading labour and employment law professors, and Director of York University's School of Human Resources Management. Professor Doorey's leading text The Law of Work is utilized in university and college employment law courses across Canada and was used by HRPA to verify answers on the Employment Law Exam.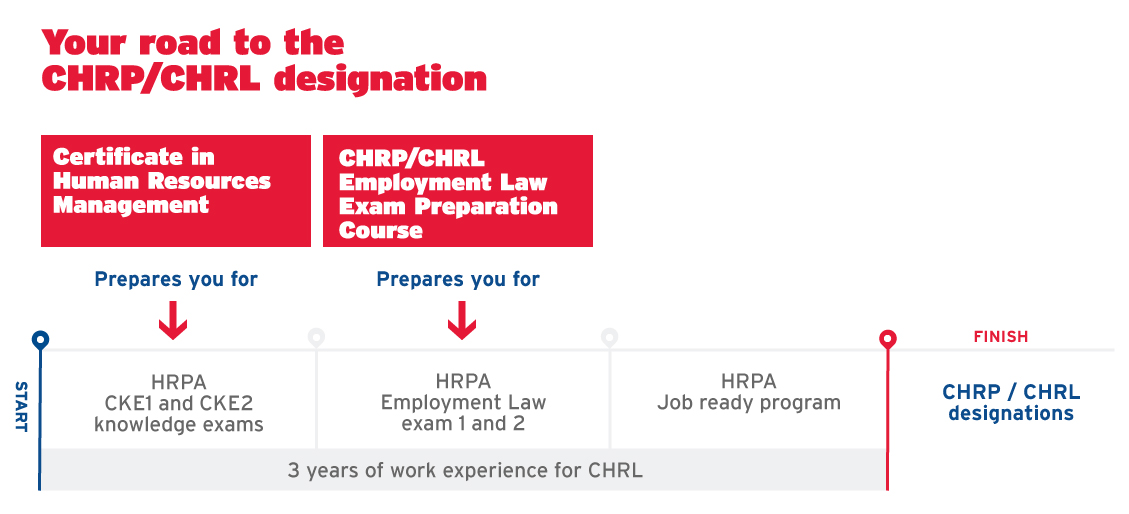 This course is ideal for HR professionals preparing to write the mandatory HRPA employment law exam for both the CHRP and CHRL designations. It is also useful for business professionals interested in improving their knowledge of employment law and its application in Canada.
"Students will leave this course ready to excel in the CHRP/CHRL Employment Law Exams, and with a greater level of confidence in their legal knowledge to deal with real world challenges in the workplace."

Professor David Doorey.
What you get
The Law of Work textbook
Breakfast
Access to a mock exam
Prepare to excel on the HRPA employment law exam for both the CHRP and CHRL designations and confidently navigate employment law in your professional life.  Register for this exciting opportunity quickly as spaces are limited.
Meet Professor David Doorey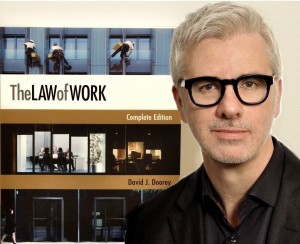 Professor David Doorey is a leading Canadian academic in employment and labour law.  He is the Director of two world-class programs, including York University's School of Human Resource Management and Osgoode Hall Law School's specialist LLM in labour and employment law.  Professor Doorey is the recipient of multiple teaching awards, including the Dean's Award for Excellence in Teaching at York University. His academic articles on work law have been published in top-tier law journals and books, and his article on "Implied Duties of Fair Dealing in Canadian Employment Contracts" received the David Watson Award by the Queens Law Journal for the article making the most significant contribution to legal scholarship.
Professor Doorey was called to the law bars of Ontario and British Columbia and practiced law in both provinces before returning to academia.  He was educated at the University of Toronto (B.A., M.I.R.), London School of Economics (LL.M Labour Law), and Osgoode Hall Law School (LL.B., PhD).  Professor Doorey's popular blog, Law of Work, is a multiple recipient of the Canadian Law Blog Award for best law blog in Canada.  He is a regular media commentator on matters relating to work law and industrial relations.
"Professor Doorey's expertise in employment and labour law is unquestionable.  His ability to take complex legal issues and explain them in an easy-to-understand and interesting way highlight his effective teaching style.  He ensures that you understand the concepts and can apply legal principles appropriately in practice. I highly recommend Professor Doorey!"

Patricia Antonio, Manager, Human Resources at Brampton Engineering Inc.
Given the experiential and practical nature of the courses and the application of Ontario's Freedom of Information and Protection of Privacy Act (FIPPA) to York University, The School of Continuing Studies works to ensure that instructors and participants acknowledge and respect the privacy and confidentiality of personal information that may be presented in the context of instruction. Instructors will limit the amount of personal information that is collected, used or disclosed in their sessions, and will ensure that all identifying personal information (including proper name, address, etc.) is omitted from all written documents in order to protect personal privacy and confidentiality. Instructors should not bring or share personal or other confidential files or records with the class or allow students to do so.
We are committed to protecting your privacy and your financial security, and we do this in several ways:
Your credit card information is never received or stored by our system. Only your financial institution has access to your credit card information.
Your Student Portal is password-protected. To access any personal and academic information, you must enter your username and portal password.
Online – Visit our website at continue.yorku.ca to register in any course or program offered by  the Continuing and Professional Education.
Fax– (For credit card payments only) Complete the registration form, including credit card information. Fax to 416-650-8042, with program-specific documentation (i.e., proof of degree).
Mail– Complete the Registration Form and mail to the Continuing and Professional Education.
School of Continuing Studies
YORK UNIVERSITY
Room 123, Atkinson Building
4700 Keele Street, Toronto, Ontario, M3J 1P3
Tel:
+1 416 736 5616
Email:
continue@yorku.ca
Fax:
+1 416 650 8042
Web:
continue.yorku.ca
Ancillary and Service Fees
Withdrawal Fees for courses
$50.00 per course
Continuing Studies Student Record Fee
$ 15.00
Session transfer fee for courses (See below)
$ 100.00 (plus HST) *
Exam/assignment duplication fee
$ 15.00 (plus HST)
Returned cheques
$ 25.00
Certificate replacement fee
$ 52.00 (plus HST)
Alternate examination fee
$ 250.00 (plus HST)
Late Fees
$50 for Courses
All correspondence, including your registration confirmation, grade report, and refund cheque, will be sent to the "mailing address" provided at the time of registration.
To maintain accurate student records, notification of any changes to your name, address, and contact information are required. To update your personal information:
go online to Contact Us and email all changes;
OR
submit a written request to the Registration Coordinator Alison Muliyil
All name-change requests must be accompanied by official documentation justifying such a change.
We will not accept telephone requests to change a name or address.
Income Tax receipts will be available online in February of the following year. Please refer to the income tax guide for allowable deductions.
Students must contact the Program Manager for permission to transfer to another session.
Transfer requests are only granted for documented medical reasons.
All other Courses
Withdrawal and Refund
Students registered in a course offered by the School of Continuing Studies may withdraw from the course.  However, they are strongly advised to consult with the Program Manager before a final decision is made.  A full refund is granted only when the School of Continuing Studies cancels a program.  Refunds will be issued using the initial method of payment or by cheque, if original payment was made by money order.  Withdrawal requests must be submitted on the official School of Continuing Studies Withdrawal form [insert form] to the School of Continuing Studies and subject to the terms below:

Up to 12:00pm EST 7 calendar days days prior to the start of the course, a full refund is permitted less an administrative fee of $50.

If you withdraw between 6 calendar days prior to the start of the program to 7 calendar days after the start of the program, you will receive a 50% refund of program tuition instalment and a $50 administrative fee and no academic penalty.
No refunds will be issued after the first 7 calendar days from the program start.
When necessary, the School of Continuing Studies may alter, postpone or cancel classes. In these instances, students will be notified by email, based on the information provided at the time of registration.
Cancellations or changes will also be posted on the School of Continuing Studies Twitter account.
The School of Continuing Studies reserves the right to withdraw or cancel programs/courses. Should a course or program be withdrawn or cancelled, the School will issue a full refund of fees paid.
Students and instructors are expected to maintain a professional relationship characterized by courtesy, collegiality, and mutual respect, and to refrain from actions that would be disruptive to such a relationship;
It is the responsibility of the instructor to maintain an appropriate academic atmosphere in the classroom, and the responsibility of the student to cooperate in that endeavour; and,
The instructor is the best person to decide, in first instance, whether such an atmosphere is present in the class, and may, at their discretion, take steps that they feel are appropriate to resolve an issue or dispute.

In any case where a student feels that this policy has been violated, they are urged to notify the instructor of the course/program as soon as possible. Students may be asked to provide a detailed written description of their complaint to the instructor. The instructor may take measures they feel are appropriate to resolve the issue and/or may forward the complaint to the Program Manager for review. Please refer to the full policy document on the York University website at: http://www.yorku.ca/scdr/
Register for this Program