Become a cutting-edge digital marketing professional, from the ground up
Digital marketing is a universal career. No matter where in the world you work, there are companies trying to reach the right audience with their marketing message. Innovations in digital marketing and content marketing have made it possible to serve your content to just about any target audience you can dream of, with international reach, with real results. However, this rapid growth in technology has caused a skills gap in the digital marketing job field. Many marketing professionals from different backgrounds struggle to keep current with their knowledge and technical expertise. The result is that, even though almost half of all marketing jobs require digital skills, employers are having trouble finding qualified digital marketing professionals to join their teams.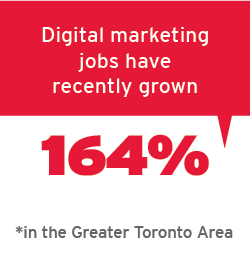 Put your digital and content marketing skills to the test
The 8-course Post-Graduate Certificate in Digital & Content Marketing starts from the basics, giving you a solid foundation in core marketing and business concepts before moving on to master advanced topics in digital and content marketing. You will gain the expertise and confidence to make data-driven marketing decisions, and prove yourself integral to any employer. Get the chance to practice the core job skills top employers demand when hiring digital marketing professionals and graduate with a portfolio of project work, which you can use to land your next job.
This program will take you from digital and content marketing novice to master in just 8 months.
This program gives you a comprehensive education in core areas, including:
Marketing foundations
Business concepts
Web analytics
Email marketing
Content marketing strategy
Editorial planning
Copywriting for web
Consumer research
User data and segmentation
SEM (Search Engine Marketing)
SEO (Search Engine Optimization)
CRM (Customer Relationship Management) communications
PPC (Pay per click) advertising
… and more
"We always start with training a new employee on the principles and strategy behind [digital marketing] – if we hired someone who already had this knowledge, they'd hit the ground running faster and more quickly have an impact on our business. I'd definitely pay more for that!"


- Cora Brady, Managing Director, Bob's Your Uncle (Advisory Council Member)
Program Delivery
In Ontario, gatherings are restricted, and no university is offering classes in person for the foreseeable future. We have been successfully delivering many of our courses online for years. So please know that you will not be compromising on your learning experience.
When the situation changes and it is once again safe to offer face-to-face instruction, full-time programs will make the transition back into the classroom.
Until then, this program will be offered in our "live online" format which offers students the structure and group interaction of a face-to-face experience without travelling to York's campus. Our live online classrooms enable students to hear and interact with the instructor and other students like in a normal classroom. Course materials and assessments vary by course but students can expect online articles, videos, practice opportunities, discussion boards, etc to help learn the content.
Please note that each lesson is recorded so students can review them multiple times to ensure they meet the learning objectives. 
The Post-Graduate Certificate in Digital & Content Marketing is ideal for international students and recent degree graduates who want a comprehensive education in digital and content marketing.
This program can also enhance the careers of people with experience or educational background in:
Marketing
Business
Web or Graphic Design
Communications
Journalism
By the end of this program, successful students will be able to…
Understand the fundamentals of marketing to develop a marketing plan
Learn how organizations manage their business in a digital age to stay current, strategic and profitable
Perform as a strategic digital and/or content marketing specialist
Examine emerging digital marketing trends and discover how they can be used to enhance existing marketing strategies
Identify the steps of their customer's journey and apply them to their digital marketing strategy to attract and retain customers
Increase the quantity and quality of traffic to their website by using digital marketing channels and advertising tools (e.g. SEO, SEM, social media, display, etc)
Explore CRM best practices and marketing automation to enhance meaningful communications and engage with  customers
Develop a content marketing strategy that aligns with their organization's goals
Use social media and digital content to grow and engage with their audience and achieve business goals
Create and optimize content for a variety of channels
Apply content amplification strategies to reach and engage a wider audience through search, display, social, editorial, email techniques, earned vs paid vs owned media
Make data-driven decisions across all digital platforms by using metric reporting and measurement to guide their marketing strategy
Examine digital governance frameworks and risks
Build a portfolio of work to demonstrate their knowledge and skills
Upgrade cross-functional job skills that top employers are looking for
Jill Borra
Senior Director, Content Strategy, RBC
Jill is Senior Director, Content Strategy in the Office of the CEO at RBC, where she helps convene and inform national conversations on economic and societal issues facing Canada, focusing on innovation, diversity, sustainable economic growth and the coming skills revolution. Prior to joining RBC, Jill led the creation of a multi-channel, insights-driven thought leadership strategy at The Bank of Nova Scotia. Previously, she led an international team at a global travel brand, delivering award-winning communications, digital media and content marketing strategies. Jill spent the better part of her early career at The Globe and Mail, coaching multiple teams to success in a variety of senior roles. As Executive Editor, she drove strategic direction and development of innovative initiatives and products with a focus on audience growth and engagement, data-driven insights and digital platforms and partnerships. She currently sits on the Board of the Canadian Club Toronto and the Advisory Board at York University's School of Continuing Studies. Jill holds an Honors BA degree from McGill University and a post-graduate degree in Journalism from Concordia University.
Cora Brady
Managing Director, Bob's Your Uncle
Cora leads an advertising agency devoted to thoughtful food and beverage brands. She has led the agency through a transition to take a content first approach, strengthening the digital and social chops across all roles within the agency, including establishing an in-house content studio. The agency provides a full range of strategic, creative and digital services to its clients. Serving leading brands and fast-growing innovators, Bob's Your Uncle is recognized as one of Canada's premier boutique agencies. Previous to BYU, Cora co-founded Canada's first Influencer marketing agency where she helped launch brands like General Mills, Walmart Canada, Finish & Lysol into the social sphere.
Alex Conde
Senior Manager, Content Strategy & Development, Questrade Financial Group
For over 10 years, Alex has worked in the field of content marketing in financial services; helping educate Canadians to understand the best products and services for them. As a veteran storyteller, he promotes the value of tailored and targeted content as part of any top-notch marketing experience, across any industry.
Justine Melman
VP, Marketing & Communications, Flybits
Justine Melman is a seasoned consumer marketer with almost two decades of experience delivering cutting-edge marketing, user engagement and social media campaigns for major global and Canadian brands including Holt Renfrew, The Globe and Mail, eBay Canada, Ally, Yahoo! Canada and Cineplex. Justine also brings a transformative perspective to the customer experience, helping brands implement and evolve their CX strategy.
Justine was a 2015 nominee for the American Marketing Association's Marketer on the Rise award.
Rebecca Shevel
Director, Marketing, Custom Solutions & Project Management, Fifth Story
Rebecca Shevel is a dedicated and innovative Marketing Director, Media and Advertising leader with +20 years of experience growing brands, audiences and revenue. She has done this by developing relationships, creating multi-platform marketing, content & strategic advertising solutions. Rebecca's approach is to be consultative, strategic and holistic with her clients and team.
Rebecca passions include content marketing, digital media and emerging technology. She has extensive experience working directly with clients (B2B & B2C), boutique and national media agencies. Rebecca brings a unique view when solving business challenges, having worked on the media supplier and agency sides of business. Rebecca enjoys helping define KPIs for clients to ensure the recommended strategy is fully supported by the best content, marketing and digital tactics.
Rebecca has worked with and for numerous Tier-1 brands in a variety roles. Currently, she is the Director of Marketing and Custom Solutions at Fifth Story, working with the Account Directors to help create an array of content marketing and digital solutions for clients; while also focused on building the Fifth Story brand via partnerships, sponsorships, PR and targeted marketing.
Michelle Cody
Senior Director, Marketing Planning & Operations, Rogers
Michelle Cody's bio will be posted soon.
Tami Coughlan
Head of Sales & Partnerships, Pelmorex Corp.
Tami Coughlan's bio will be posted soon.
 HEATH APPLEBAUM
Heath is a global-award-winning communications expert who has taught thousands of PR students at five different universities and colleges across Canada over the past 10 years. Outside of the classroom, he is the President of Echo Communications Inc., a reputation management consulting firm that helps companies across North America. Heath is a sought-after industry thought leader that has spoken at 70 conferences around the world and teaches communicators around the world through the International Association of Business Communicators Academy.
Heath has previously taught at the University of Guelph-Humber, Humber College, University of Victoria, and McMaster University, and has been a PR curriculum developer for Centennial College. His teaching philosophy is predicated on bringing the real world into the classroom to prepare his students for future success. He generously shares his 20 years of diverse marketing, PR and journalism experience from the corporate, agency, consulting and non-profit sectors with his students. Heath has been published in a university textbook and international journals. He was recently re-elected for his fourth consecutive term on the Board of Director's for the Canadian Public Relations Society.
Justin da Rosa
Justin da Rosa is a lifelong storyteller. With a degree in professional writing from York University, he plied his craft as a journalist for five years before becoming a content marketing manager. He currently works as the managing editor for Ratehub.ca, a fintech startup in Toronto that aims to help Canadians make better financial decisions. When not managing Ratehub's content department he freelances as a writer, helping brands tell their stories.
 Ken MacLean
With 20+ years experience, Ken brings an in-depth understanding of the digital marketing ecosystem to his instruction.
Having developed digital engagement programs for leading companies including Nike, Arlene Dickinson Enterprises and Reliance Home Comfort. Ken has utilized a range of tactics including digital CX, content marketing, SEO, and paid search, to achieve high- impact business results.
In his current role as the principal consultant with Marketize, Ken advises SMEs and start-ups seeking to increase their customer base and revenue returns through the digital channel.
JEFF MAY, M.ED, BA (HONS)
Jeff's background in business and human resources management spans more than twenty-five years. In his capacity as an independent consultant, he has worked with some of Canada's most influential companies, completing client engagements in both the public and private sectors. His international experience includes working with post-secondary partners in Indonesia to assist with the development of applied entrepreneurship curriculum and the establishment of community business support centres.
Jeff has taught management development, organizational behaviour, human resource planning and development, and business foundation courses at McMaster and York universities, and at Seneca, Conestoga, and Confederation colleges. He has an undergraduate honours degree in Economics from Laurentian University in Sudbury, and a graduate degree in Education from Nipissing University in North Bay.
Shelley Middlebrook
As President at Fifth Story, Shelley sets the tone, vision and direction of the 40+ employee company. She brings value, leadership experience and business intelligence, working hands-on with clients and her team. In 2013, she led the repositioning of News Canada, a 30+ year business, to Fifth Story, a leading content marketing solutions provider, to meet the evolving needs of their 300+ clients and drive the continued success of the company. ​ ​
Shelley is well-known for her expertise in content marketing. She has been a featured speaker at numerous Canadian and international marcom events. ​ Shelley has over twenty years of experience in media, marketing and communications. Prior to joining Fifth Story in 2012, Shelley held senior leadership roles at Postmedia, The Globe and Mail, CBC, Rogers and Brunico Communications. Shelley has experience with both B2B and B2C markets and in multiplatform media channels. She developed and managed large brand sponsorships programs for the Olympics and TIFF, and has launched and developed start-up brands in Canada and internationally.
Michelle Pellettier
Michelle is a digital marketing strategist and educator with 20+ years in marketing management combined with 10+ years as a continuing education instructor and adjunct college professor. She is a domain expert in using technology to market with specialties in programmatic advertising, search and content marketing. Michelle began her career with IBM Canada and has worked across various marketing roles within F500, small-medium businesses and startups in high tech. She is passionate about lifelong learning and helping others achieve their ambitions. Michelle holds a B.Comm., Rotman Commerce, from the University of Toronto.
Luxy Thuraisingam
As Vice President of Growth Marketing for Cisco Canada, Luxy provides leadership and hands-on management to define marketing strategy development, in collaboration with Americas team, and the broader Cisco global community. A critical key to her success, is building high performing teams who bridge data and real-life applications and draw new paths to run effective marketing operations at scale. She also believes diversity in culture and thinking is the foundation of organizational success and leads by example through inclusion. Outside of the office, Luxy's passion for catalyzing new thinking in marketing has led her to Co-Chair the CMA MarTech council and seats at various boards.
CSCM1000 Planning and Analysis for Content Marketing
The backbone of successful content marketing requires a well considered plan that will achieve your business goals. Learn how to construct an effective content marketing strategy, identifying: the purpose and goals for your content, target audience and buyer's journey, the most effective paid, earned, shared and owned channels to leverage, metrics and key performance indicators, resources and processes required to deliver on the plan.
CSCM1010 Content Creation
Learn about creating content, from ideation and development to editing and dissemination, to reach wide and focused audiences. Learn how various content types function as part of a digital marketing strategy as well as the power of an engaging brand story. Build an effective content plan and a portfolio of work to show prospective employers.
CSCM1020 Content Promotion and Amplification
The famous quote, "If you build it, they will come", from the movie Field of Dreams, doesn't necessarily apply to the content you create. Acquire the skills and knowledge to effectively promote your content. Create and execute a comprehensive content amplification strategy, covering native advertising and influencer marketing, and leverage content distribution channels to ensure your content makes an impact.
CSCM1030 Marketing Fundamentals
Examine fundamentals of marketing theory, concepts and management as applied to marketing's strategic role in meeting customer needs, including product (goods and services), price, promotion, distribution, consumer, segmentation, positioning, ethics, and research to prepare to create a marketing plan.
CSDM1000 Fundamentals of Digital Marketing
This course explores how media is consumed across all devices and platforms to create an ecosystem for marketers and advertisers to effectively communicate products, services and brands.  This course will study the intersection of offline and online media, global and national trends in the digital industry, the impact of data collection and privacy and how to navigate as a digital strategist in this environment.  You will learn how to reach target consumers through Search Engine Marketing (SEM), Email Marketing, Video, Social, Mobile and emerging technologies.
CSDM1010 Marketing for Search Engines and Social Media
This course will focus on teaching you how to apply the foundational learnings from the Fundamentals of Digital Marketing course. You will be taught how to leverage best practices for optimizing websites through Search Engine Optimization (SEO), run Google Ads (SEM), learn how to develop a content calendar and plan across social channels, and develop ads on social media platforms like Facebook and Instagram. You will also learn how to track / measure key metrics utilizing native platforms. Includes project work with real companies
CSDM1020 User Engagement and Marketing Automation
n this course you will learn how to map user journeys and build marketing process flow charts. You will be introduced to various marketing automation tools and software and learn how they can be used to improve the effectiveness of your marketing efforts. You will apply your learnings from the previous courses to plan marketing funnels and drip campaigns across a variety of platforms utilizing sophisticated remarking tactics. You will also learn best practices around collecting, storing, segmenting and utilizing user data and how to keep people engaged post purchase. Concludes in a group project that develops a cross platform full funnel digital marketing campaign
CSDM1030 Business in Digital Age
Business in a Digital Age looks at how organizations structure and manage their business in a digital age to stay current, strategic, and profitable. A consideration of economics, strategy, ethics, ownership, organization, and management are all addressed to give context to business in Canada. A digital lens is used to consider where business might be going, with the creation of a business plan using new models for existing industries in the Canadian business environment.
You may also be interested in
If you would like more information or have a question about the Post-Graduate Certificate in Digital & Content Marketing, please Contact us
Apply for this Program