Crack the code of building game-changing websites, from end to end.
Canada's only full-stack program created by a university!
Full-stack web development is the most in-demand specialization in the field today. Until now, learning the required skills for success has always meant taking months off work. Bootcamps and other full-stack web development programs demand a financial and time commitment that just isn't an option for most people. We believe learning full-stack web development should be accessible to anyone.
Our Certificate in Full-Stack Web Development has the lowest weekly time commitment compared to other programs, giving you all the benefits of intensive learning on a relaxed schedule that fits comfortably with your full-stacked life.
Compared to similar programs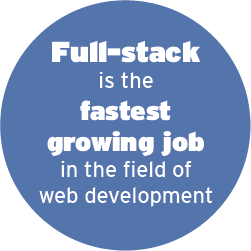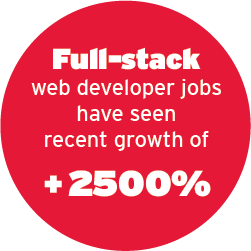 In the Greater Toronto Area
Build, fix and maintain websites with confidence
The Certificate in Full-Stack Web Development doesn't just teach you to write great code. The top employers who helped us create our program tell us that they need full-stack web developers who can not only build an incredible website, but can also dive into an existing website and break it apart to fix issues, when the need arises. Consider this program your training ground to code with confidence!
Build marketable skills working on real-world projects
Students in our Certificate in Full-Stack Web Development work on actual web development projects, giving you the chance to hone your business and communication skills while adding a showcase to your portfolio. This invaluable experience takes your learning out of the classroom and into the type of work environment you can expect in your new career as a full-stack web developer.
This program will provide you with the knowledge and skills needed to build dynamic end-to-end website products, and teach you to leverage middleware to achieve web development project goals.
You'll learn to build incredible websites, using:
HTML5
CSS3
Javascript
jQuery
Bootstrap
Node.js
MySQL
MongoDB
…and more
If that sounds overwhelming, don't worry! You'll be in good hands; our expert instructors have years of diverse experience in the web development industry and are hand-selected for their ability to help you reach your career goals.

Who should take this program?
The Certificate in Full-stack Web Development is for anyone who wants to learn to build exceptional websites and gain a holistic understanding of how websites are designed to meet business needs.
This program is well suited to people with a background in:
Graphic Design
Marketing
IT Support
Science Technology Engineering Mathematics
"By allowing students to keep their day jobs, the Certificate in Full-Stack Web Development is accessible to those who can't afford to lose their source of income for several weeks or months. York University is opening the door for a new range of people to enter this lucrative field."


- Toria Gibbs, Senior Production Engineer, Shopify (Advisory Council Member)
Program delivery
Our Certificate in Full-stack Web Development is designed to make it easy for you to balance class, work and life commitments. This is one of the things that sets our program apart from bootcamps and other similar programs.
This is a 12 month in-class part-time program, with 4 days per course over the weekend (24 days in total).

Finish in 12 months
By the end of the certificate, successful graduates will be able to:
Understand and describe product development, product lifecycle management and client communication as it relates to web development.
Discern and effectively communicate the overall architecture of any given website.
Select the appropriate software and frameworks required to build or maintain a specific product.
Create an end-to-end website that meets the specified business requirements.
Utilize creative problem solving in order to effectively troubleshoot issues and debug broken code.
Work collaboratively within a development team to produce a website solution that meets business goals and project objectives.
All students will require access to a personal computer. Any software needed for web development will be installed for you free of charge.
Sam Burton
Director, Insights, Mozilla Foundation
Sam Burton leads projects — like the Internet Health Report — that help people better understand and take control of their relationships with technology. Sam has worked at the intersections between culture, technology, and human rights for over a decade, leading strategy, advocacy and communications work at diverse organizations including Engineers Without Borders Canada, the Aga Khan Foundation, and the International Freedom of Expression eXchange. Sam holds a Masters degree in Communications from Carleton University, and an undergraduate degree in Media and the Public Interest from Western University.
Susan Davis
Director of Engineering, FreshBooks
Susan Davis currently serves as Director of Engineering at FreshBooks. Her responsibilities include architecture, DevOps and operational excellence, cloud infrastructure, big data, and engineering innovation. In her 25-year career, Sue has been a developer, Agile coach, entrepreneur, and technical leader at companies ranging from small startups (including her own) to large enterprises such as Amazon, Kodak, and Avaya. An early adopter of Agile and Lean development, Sue has spent the last fifteen years guiding individuals, teams, and organizations to greater maturity and winning outcomes.
Toria Gibbs
Senior Production Engineer, Shopify
Toria Gibbs is a Senior Production Engineer at Shopify, where she works on the Search Infrastructure team. She specializes in search and information retrieval systems, container orchestration, and distributed systems. She has several years of experience in full-stack development and a passion for recruiting and mentoring junior developers. Prior to Etsy, Toria worked on financial software systems for Bloomberg. Toria holds a Bachelor of Computer Science from the University of Waterloo. Outside of work, Toria can be found giving technical talks at conferences or teaching technical interview skills to new programmers. Toria also enjoys baking cookies and playing flag football.
Anton Livaja
Head of Product, Statebox
Anton is a software engineer with a diverse background spanning web development, blockchain, conversion optimization, digital marketing, business strategy and more. He taught Web Development at General Assembly's Bitmaker Labs and has a huge passion for teaching, innovation and exploring the cross-section of traditional and cutting-edge technology. His current activities involve all things related to Statebox products, namely product features and roadmaps, marketing, business strategy and partnerships.
Salman Moghal
Cloud Applications Architect
Salman has been involved in the software industry and web technologies since 1993, and has a strong consulting background, specializing in applications architecture and design. Salman has worked closely with customers to design and implement their cloud and microservices API solution based on business requirements using cloud technologies. An avid speaker at industry conferences, Salman is a self-professed Cloud & Cognitive services, Containers, DevOps and IoT evangelist.
Preeti Raman
Managing Director, Addity
An accomplished professional with over 20 years of global technology consulting and teaching experience, gained from working in North America, Germany, Hong Kong and India, Preeti is a passionate advocate for the importance of Critical Thinking, Math and Technology education in driving innovation. In her role as Managing Director, Preeti provides leadership to promote Addity's vision for learning enrichment by planning, implementing, monitoring and evaluating various aspects of the curriculum and the program as a whole. A proactive relationship and alliance builder, with strong people development focus, she is consistently recognized by clients for exceptional leadership and dedicated customer service. She is the past chair of the IEEE Women in Engineering group and an invited speaker at events and part of many Conference Organizing Committees.
Kiro Risk
Director of Engineering, TWG
Kiro loves crafting amazing products and software that run the full technological gamut, while continuously honing his craft. Kiro believes that software is the most powerful tool for creating positive change in the world. As a Director of Engineering at TWG, Kiro helps provide technical vision and planning, translating business needs into technical strategy, hiring, and team growth. Before joining TWG, Kiro worked in California, at LinkedIn, leading initiatives that involved full-stack development, spanning web, mobile, and backend systems. Prior to that, Kiro was at Microsoft, working on tooling around Microsoft Outlook. In his spare time, Kiro maintains Fuse.js – a popular JavaScript fuzzy-search library, as well as writing for the publication JavaScript Refined.
Affaf Ahtisham, MSc (candidate)
Affaf Ahtisham is a seasoned software developer and ScrumMaster with over 10 years of experience across various technology stacks, spanning multiple industries. He currently leads and manages teams of developers across different products, and is directly involved with managing production and release of software and web application solutions through a managed agile process. He has taught at Mohawk College as well as McMaster University within their Web Development & Design programs. He completed his B.Sc in Life Sciences from McMaster University and is currently pursuing M.Sc in Computer Sciences from University of Liverpool.
Tarun Sharma, MSc, MBA
With over 12 years of experience in information technology, Tarun has held various positions ranging from developer to founder & CTO. Tarun has worked on a plethora of Web and Standalone Technologies with cloud & e-Commerce applications development as the primary focus. Tarun can code in over 10 different programming languages and databases, with specializations including Software Engineering, Product Development, Project Management, and Payment integration. Tarun is a great proponent of Open Source, likes to contribute and develop on open source programs, and is currently interested in data architecture, predictive analytics, distributed databases and blockchain systems. Tarun holds Master of Computer Science and Master of Business Administration
Ramses Trejo, MMSc
Ramses Trejo is an accomplished and passionate consultant with close to 25 years of well-rounded international business and technology experience. Web development, entrepreneurship and teaching are at the core of his skills and experience. He enjoys delivering high value digital solutions for his clients, as well as helping students transition from simply coding to developing full-stack innovative web solutions that enable organizations to meet their business objectives.
Given the experiential and practical nature of the courses and the application of Ontario's Freedom of Information and Protection of Privacy Act (FIPPA) to York University, The School of Continuing Studies works to ensure that instructors and participants acknowledge and respect the privacy and confidentiality of personal information that may be presented in the context of instruction. Instructors will limit the amount of personal information that is collected, used or disclosed in their sessions, and will ensure that all identifying personal information (including proper name, address, etc.) is omitted from all written documents in order to protect personal privacy and confidentiality. Instructors should not bring or share personal or other confidential files or records with the class or allow students to do so.
We are committed to protecting your privacy and your financial security, and we do this in several ways:
Your credit card information is never received or stored by our system. Only your financial institution has access to your credit card information.
Your Student Portal is password-protected. To access any personal and academic information, you must enter your username and portal password.
All registrations are processed on a first-come, first-served basis. Registration is not guaranteed and programs can reach its maximum enrolment capacity, so early registration is recommended.
The School of Continuing Studies reserves the right to alter fees, other charges, instructors and course dates/locations.
Online – Visit our website at continue.yorku.ca to register in any course or program offered by the School of Continuing Studies.
All correspondence, including your registration confirmation, grade report and refund cheque, will be sent to the email address provided at the time of registration.
To maintain accurate student records, notification of any changes to your name, address and contact information are required. To update your personal information:
Log in to the Student Portal with your student ID and password and update your personal information OR
go online to Contact Us and email all changes OR
submit a written request to the Registration and Student Records Coordinator at regscs@yorku.ca
All name-change requests must be accompanied by official documentation justifying such a change.
We will not accept telephone requests to change a name or address.
Income Tax receipts will be available online in February of the following year. Please refer to the income tax guide for allowable deductions.
Students must contact the Program Manager for permission to transfer to another session.
Transfer requests are only granted for documented medical reasons. Please contact the program manager for information on the required documentation.
When necessary, the School of Continuing Studies may alter, postpone or cancel classes. In these instances, students will be notified by email, based on the information provided at the time of registration.
Cancellations or changes will also be posted on the School of Continuing Studies Twitter account.
The School of Continuing Studies reserves the right to withdraw or cancel programs/courses. Should a course or program be withdrawn or cancelled, the School will issue a full refund of fees paid.
Students and instructors are expected to maintain a professional relationship characterized by courtesy, collegiality and mutual respect, and to refrain from actions that would be disruptive to such a relationship;
It is the responsibility of the instructor to maintain an appropriate academic atmosphere in the classroom, and the responsibility of the student to cooperate in that endeavour; and,
The instructor is the best person to decide, in first instance, whether such an atmosphere is present in the class, and may, at their discretion, take steps that they feel are appropriate to resolve an issue or dispute.
In any case where a student feels that this policy has been violated, they are urged to notify the instructor of the course/program as soon as possible. Students may be asked to provide a detailed written description of their complaint to the instructor. The instructor may take measures they feel are appropriate to resolve the issue and/or may forward the complaint to the Program Manager for review. Please refer to the full policy document on the York University website at: http://www.yorku.ca/scdr/
Students registered in certificate programs will be evaluated using the following categories of achievement:
| | | | |
| --- | --- | --- | --- |
| Grade | Grade Point | Per Cent Range | Description |
| A+ | 9 | 90-100 | Exceptional |
| A | 8 | 80-89 | Excellent |
| B+ | 7 | 75-79 | Very Good |
| B | 6 | 70-74 | Good |
| C+ | 5 | 65-69 | Competent |
| C | 4 | 60-64 | Fairly Competent |
| D+ | 3 | 55-59 | Passing |
| D | 2 | 50-54 | Marginally Passing |
| E | 1 | (marginally below 50%) | Marginally Failing |
| F | 0 | (below 50%) | Failing |

Note: all of the above-noted grades are used to calculate averages and credits.
Definitions of Grading Descriptions
A+ Exceptional. Thorough knowledge of concepts and/or techniques and exceptional skill or great originality in the use of those concepts/techniques in satisfying the requirements of an assignment or course.
A Excellent. Thorough knowledge of concepts and/or techniques together with a high degree of skill and/or some elements of originality in satisfying the requirements of an assignment or course.
B+ Very Good. Thorough knowledge of concepts and/or techniques together with a fairly high degree of skill in the use of those concepts/techniques in satisfying the requirements of an assignment or course.
B Good. Good level of knowledge of concepts and/or techniques together with considerable skill in using them to satisfy the requirements of an assignment or course.
C+ Competent. Acceptable level of knowledge of concepts and/or techniques together with considerable skill in using them to satisfy the requirements of an assignment or course.
C Fairly Competent. Acceptable level of knowledge of concepts and/or techniques together with some skill in using them to satisfy the requirements of an assignment or course.
D+ Passing. Slightly better than minimal knowledge of required concepts and/or techniques together with some ability to use them in satisfying the requirements of an assignment or course.
D Barely Passing. Minimum knowledge of concepts and/or techniques needed to satisfy the requirements of an assignment or course.
E Marginally Failing.
F Failing.
Students must achieve a passing grade in each course as they progress through the program. In the event that a student does not receive a passing grade, they must retake that course in the following session—and subsequently pass that course—before proceeding to successive courses.
Students may, with sufficient grounds, request a reappraisal of any "tangible" work required for a course/program. Tangible work may include written, graphic, digitized, modelled, video recording or audio recording formats. Students seeking a grade reappraisal must complete and submit the attached form, along with the original work and instructions for the assignment, to the Program Manager within 2 weeks of the date of issue of the letter of grade.
Students and instructors will be informed in writing of the reappraisal result and the reappraiser's comments. The School of Continuing Studies will ensure the anonymity of both the student and the reappraiser.
You may submit a financial petition if you experience a serious documented medical illness or a death of an immediate family member that causes you to drop courses. Financial petitions may be granted at the discretion of the University, and will be considered for a period of one year after the occurrence of the illness or death.
The Financial Petition form is located here: http://sfs.yorku.ca/refunds/petitions/
Please complete the form and return it via email cpehelp@yorku.ca or via fax at 416-650-8042.